After news broke on Aug. 5 that Twenty-First Century Fox (NASDAQ:FOXA) was dropping its bid to acquire Time Warner, Inc. (NYSE:TWX), its shares rose 3% to close at $32.33 the following day while Time Warner's stock plummeted 13%. While this is obviously bad news for Time Warner's current shareholders, does this present a buying opportunity for market participants today, or should the true emphasis be on Twenty-First Century Fox?
The one that got away
In an attempt to grow during a period of consolidation in the telecommunications industry coming from companies like Comcast (NASDAQ:CMCSA) (CMCSK) with its Time Warner Cable (TWC) purchase and AT&T (NYSE:T) with DirecTV (DTV), Twenty-First Century Fox decided to make a play for Time Warner. According to its original proposal, shareholders of Time Warner would have received cash consideration of $32.42 per share, plus 1.531 shares of Twenty-First Century Fox for each Time Warner share.
Given the closing price of $35.19 for Twenty-First Century Fox on July 15 (the day prior to news of the buyout breaking), the share swap component of the deal valued a buyout of Time Warner at $86.30, which equates to $76.1 billion in aggregate. Including Time Warner's long-term debt, the effective acquisition price would have ballooned to $96.3 billion.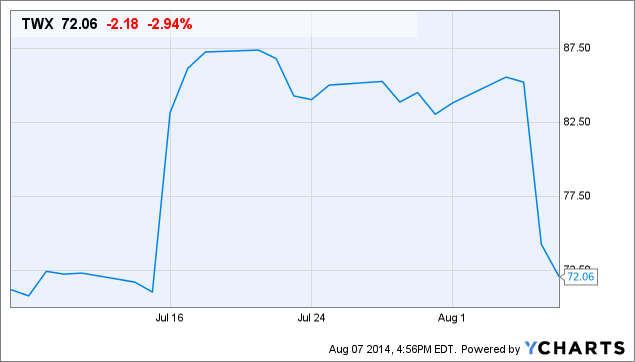 With Twenty-First Century Fox's proposed acquisition representing a nearly 22% premium over Time Warner's prior day's closing price of $71.01, it might come across as surprising to some that the company's management team declined the deal. Yet, citing that its long-term path will likely create far more value for investors down the road, and claiming that value "is superior to any proposal that Twenty-First Century Fox is in a position to offer," it probably shouldn't be terribly shocking that the planned acquisition couldn't move forward.
What's next for Twenty-First Century Fox?
In light of a bid for Time Warner falling through, Twenty-First Century Fox has set about rewarding its shareholders in another way. Instead of acquiring a rival, the business has decided to initiate a significant share buyback. According to its press release on Aug. 5, management claimed that it would acquire $6 billion worth of its own stock over the next twelve months. This, it appears, is the real reason behind an asset sale conducted by management whereby it sold some of its European assets to BSkyB in a deal valued at $9.3 billion ($7.2 billion post-tax), not so that it could make a second bid for Time Warner.

Click to enlarge
Assuming that Twenty-First Century Fox's share price does not change materially over this timeframe, the buyback plan will reduce the company's shares outstanding by over 8%. This scenario is, however, very unlikely because of the volatility of stocks in general. If, for instance, the average purchase price of shares over the next 12 months is just 20% higher than its closing price on Aug. 6, the percent of shares outstanding will decline by a more modest 7%, whereas a 20% decline in share price will lead to 10% of the company's stock being bought back.
Takeaway
Right now, Time Warner is being pushed down because of Twenty-First Century Fox's decision not to push forward with a buyout. Although this presents shareholders with an opportunity to buy Time Warner, some focus should be on Twenty-First Century Fox. A deal looks unlikely to commence anytime soon, but with a substantial stock buyback on the table, there's a great deal of opportunity for shareholders to increase their value in the months to come. As odd as this may sound, it would likely be better if Twenty-First Century Fox's shares fall significantly since the end result would be fewer shares distributed between the business's shareholders at the end of the day.
Disclosure: The author has no positions in any stocks mentioned, and no plans to initiate any positions within the next 72 hours. The author wrote this article themselves, and it expresses their own opinions. The author is not receiving compensation for it (other than from Seeking Alpha). The author has no business relationship with any company whose stock is mentioned in this article.