What Would Soros Say about the Specialty Bookstore Industry?
(The motivation for this series: I don't think any authors out there bring a perspective on reflexivity, so I will attempt to do the same for reflexivity on stocks based on my study of Soros.)
The Market.
As of this writing, Barnes and Noble (NYSE:BKS) was trading at $875m, a 0.89 Price/Book, and Borders (BGP) at $106m, a 2.33 Price/Book, up 16-37% yesterday on the news that Bill Ackman is financing an acquisition for BKS at $963.7m. A few quick notes:
This -HAS- to be one of the easiest merger arb plays in recent times. In fact, forget the short BGP leg of it. The mere fact that BKS still has 5 suitors vying to catch this falling knife puts a floor on how far BKS can fall. (The announced acquisition price is about 4% rich to the current market valuation, but we don't yet have a reliable offer from BGP yet) Yes, this number has fallen from 20 to 5, but BKS -will- sell, and there -is- a right price for everything. More on this later.
Actually, shorting BGP doesn't sound too bad. According to the same article: "Borders, which has suffered from shrinking sales and market share, recently redeployed some floor space from books to toys and games for children." I don't even know where to begin: "mission creep" and "low-margin business" might be good places to start.
BKS and BGP might be to Ackman what SHLD was to Lampert: according to the WSJ, Ackman has been a buyer of Borders stock since mid-2006, and he was an investor in Barnes & Noble until unwinding those holdings in late 2008. Here is the extremely painful report card:
The publicly available newsflow about the big-buyer market for BKS and BGP shares is pretty thin:
Borders. We know that Bennett LeBow bought in to BGP at $2.25 per share but with 35m warrants at a $2.25 strike. However we do see a turnaround kid coming in for BGP, with as good a resume as any shareholder could hope for: "During Mike's tenure at Jo-Ann, where he served for three years as Executive Vice President, Operations, the stock price increased from $3 per share to $29 per share."
Barnes and Noble. Ron Burkle has been a pretty aggressive bidder for BKS (which responded exposing his godawful record, then laid out its "comprehensive plan to build value for

all

shareholders"). Leonard Riggio, Founder and Chairman, has mentioned the possibility of an MBO.
The Underlying Trend and Prevailing Bias.
Everyone's prevailing bias is easy to spot: The physical book retailing business has gone the way of the horse carriage manufacturing business. In fact, I am reminded of this hilarious Onion report: "Historic 'Blockbuster' Store Offers Glimpse Of How Movies Were Rented In The Past". I myself have thrown away a majority of books that I grew up with and loved well, but now have electronic versions of. Yet, I also know philistines who insist that the feel of the page somehow makes the reading experience "better". We will never agree, and that is the beauty of it.
The eBook reader competition is intense: with Amazon's (NASDAQ:AMZN) Kindle at the "low end" in the high $100s and aggressively underpricing bestsellers, Apple's (NASDAQ:AAPL) iPad in the $500s is doing the same thing, but with way more style. Google (NASDAQ:GOOG) also launched its eBooks program which is compatible with the Kindle.
At stake is no less than the future of our reading culture itself, and BKS and BGP are taking this fight two different ways.
BKS claims to have 20% of the digital marketplace for books and 18% of the physical book space. It is pretty optimistic about its Nook and has even gone for color recently. It has launched Publt, a kind of vimeo for indie authors, which is cute. But most importantly in my view, it has acquired its College bookseller, which combined with its NOOKStudy program and collaboration with Blackboard, Inc. mean BKS is going pretty heavily in for the education sector. This is a smart move: as a recent grad I can GUARANTEE you that a) professors are forever going to require humungous, thick lumps that nobody reads until the night before the midterm, and b) the secondary market for books is studiously weeded by the publisher's gardening practice of coming out with a new edition every year or so. College bookstores, of which BKS is king, also serve as retailers for all sorts of other things from furnishings to computers.
BGP, for all I can tell, is essentially in denial. Beyond that "toys and games for children" quote above, I invite you to read the 2Q11 transcript. Quote the CFO, with my comments bolded and italicized:
I would like to highlight two important financial initiatives currently underway... Firstly... we continue to pursue lease buyouts on stores which are dilutive to our EBITDA. (read: we will continue to use your money to financially engineer our statements to look better, at a gain to the landlord). Secondly, we continue to focus on increasing the efficiency of our supply chain... bla bla bla... lower inventory levels. (read: that's pretty much all we got to increase turnover ratios, sorry)

Want more?

Promotional spending was 240 bps higher, [but] our bookstores generated negative comp store sales of 6.8%.

Oh yes, they are also racing to the bottom in their eReader strategy:

To make eReading accessible for everyone, we have lowered the price on our Kobo device to $129 and our Aluratek device to $99, which is among the most aggressive priced eReaders in the market. Anyone who's used an eReader knows it has to come with content to match, or the thing is just a useless paperweight.
The one bright spot? Borders.com, where sales increased 56% in 2Q to $15.6m (Barnesandnoble.com pulled in $120m). this is in part due to the new "Borders Textbook Marketplace". Please see above for my opinion of the secondary market for textbooks. Their other strategic initiatives include creating "an oasis-type of environment" for people to have not-very-good or Starbucks-franchised coffee, and collaborating with Build-A-Bear Workshop, possibly top on my list of most unbelievable business models in the world. In short, BGP is going for downsizing, coffee, and a family environment.
The Reflexive Connection.
There are a few reflexive connections to think about here, and I will go through them in order of complexity. I will make use of their SEC Filings (BGP, BKS):
BGP - Sale of its Paperchase stationery business completed July 13 helped reduce its borrowing and gave it some $6m cash to play with. This takes its cash hoard to $31m, which coupled with $800m in inventories is supposed to help pay down $231m in short-term and current LT debt, $348m accounts payable, and $207m accrued payroll. I would not want to be a BGP employee here.
BGP - Bennet LeBow's transaction (detailed above) is interesting. It injected $25m in equity on 21 May; the company promptly lost $46.7m. As of 31 July, the company's book equity is at $33.4m. However, if the shares should ever trade above $2.25 again, an exercise of LeBow's in-the-money warrants would inject upwards of $80m into the company, which, though dilutive, would help reinforce an upward trend in the fundamentals. Given current earnings, this does not appear likely, but it bears keeping in mind.
BKS - does not seem to have used the capital markets much and so is not subject to a reflexive connection to their fundamentals. However, Ackman-financed bid is again BGP borrowing to acquire BKS - making BKS' current price sustainable only as long as it looks like the bid is going to be made good or if one of the other 4 investors step forward with something higher. There is no other natural buyer for BKS shares at these prices - we are clearly in bulk trading territory.
The Flaw.
The perception is that the books industry is going into the dumpster. As I have detailed, it isn't as simple as that. Rarely can I sum up the flaw in participants' perception so easily. Ready? Here it is:
click on charts to enlarge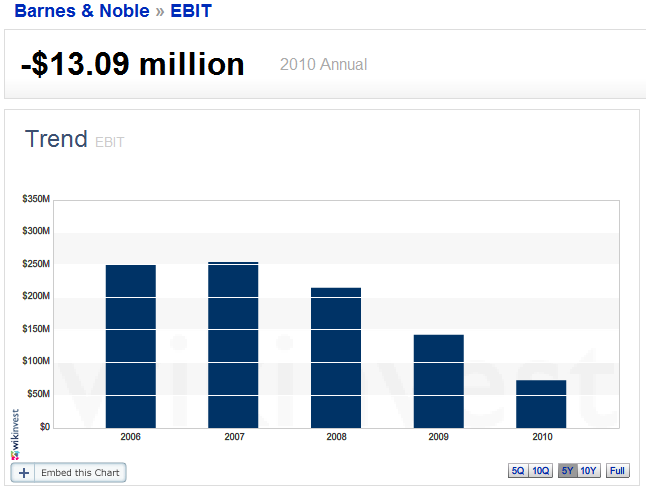 This little piggy trades for 0.89 price/book.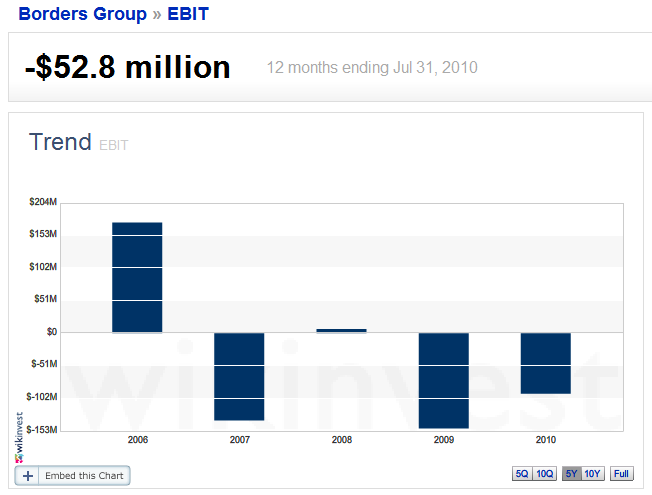 This little piggy goes for 2.33 P/B.
Long BKS, Short BGP. But get your Kindle/iPad out in the meantime - this acquisition battle will have to drag on for a while yet. Risks to this view: Long BKS - the physical book industry continuing to shrink, despite BKS gaining market share. Also, if the Ackman bid falls through this will have a serious short term effect on the stock price. LEAPs are perhaps a better way to play this if you can. Short BGP - that turnaround artist might do something we haven't yet accounted for.
Disclosure: I have no positions in any stocks mentioned, and no plans to initiate any positions within the next 72 hours.