Brief:
McDonald's announced another round of bad news on Friday, August 8th. They announced a comparable sales decline of 3.2% in the United States and a decline of 7.2% for the Asia Pacific region. This article will describe why you should sell your McDonald's shares and get into a company with much better earnings and growth prospects.
Market saturation and competition:
McDonald's (NYSE:MCD) has roughly 35,000 locations worldwide. One of McDonald's fundamental issues is that they can't just keep opening up new restaurants. In many huge markets like the United States, there are enough McDonald's restaurants already. Additionally, the issue isn't solely McDonald's chains. There is enormous fast food competition throughout the globe from other fast food brands such as YUM! Brands (NYSE:YUM) Chipotle Mexican Grill (NYSE:CMG), Burger King (BKW), Wendy's (NYSE:WEN), Dunkin' Donuts (NASDAQ:DNKN) and El Pollo Loco (NASDAQ:LOCO) to name a few. If McDonald's cannot differentiate themselves from their competitors, they will surely lose market share. The only way I see McDonald's competing right now is on pricing - and even on pricing, some close competitors like Yum Brands are able to keep up. One last major fundamental headwind is that people are becoming more and more health conscious as time goes on - as we all know, McDonald's is not the healthiest food by any stretch of the imagination.
Menu problems:
In late 2013, McDonald's made a push to break into the chicken wing market - just in time for the Super Bowl. Unfortunately for McDonald's, it was a huge failure. They also renamed the dollar menu to "dollar menu & more" which continued to over-complicate the menu and confuse customers. In January 2014, CEO Don Thompson was quoted saying "In the U.S. we've lost some of our customer relevance across several parts of the day," adding, "The key is going to really be to re-establish the trust of customers… That means basic execution at a restaurant level, marketing engagement at a much stronger level and also to make sure that our menu is relevant." So far, they have failed to turn that around.
Labor issues:
In the midst of all this, McDonald's has been faced with yet another headwind - at least in the United States. Workers are striking and demanding wage increases up to as much as $15 per hour. While the likelihood of that type of pay increase is very small - there is still a future risk of workers unionizing. There is also a risk of states increasing minimum wage and McDonald's being forced to pay higher wages. Several states have already done that.
China food quality issues:
One of McDonald's Asia meat suppliers was recently busted in an undercover operation by a local TV station. The video showed workers at Shanghai Husi Food co using expired meat, and changing expiration dates on packaging. The factory was immediately shut down, but the damage has already been done. Sales in the affected regions make up roughly 10% of McDonald's revenues and McDonald's was recently forced to lower guidance for the region. This isn't McDonald's fault, as some other food chains belonging to Yum Brands were also affected. Regardless, it is another major short to medium term headwind for the company and a good reason to avoid the stock.
Outlook:
On Friday, McDonald's announced that its global comparable sales for July fell 2.5%. That includes a 3.2% drop in sales in the United States, and a 7.2% drop in sales in the region made up of Asia, Africa and the Middle East. They added "as a result of the China supplier issue, the co.'s global comparable sales forecast for 2014 is now at risk." Global sales has previously been expected to remain flat throughout 2014. Why would you want to own a company that currently has declining sales? You wouldn't. The stock is currently paying a 3.2% dividend, but the shares could easily lose that much value if the outlook remains weak. McDonald's has been significantly underperforming the S&P 500 since 2012 and I expect it to continue to underperform.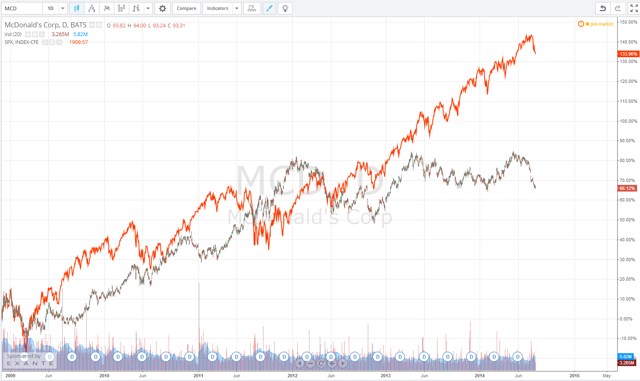 Better Alternative?
Since there are so many competitors in the industry - there's got to be a better one to own, right?
Chipotle Mexican Grill seems to be one of the best alternatives right now. Chipotle has steady earnings growth estimates, store growth, a growing catering business, and growing margins due to recent price increases. With all of this said, I would avoid McDonald's shares and consider accumulating shares of Chipotle.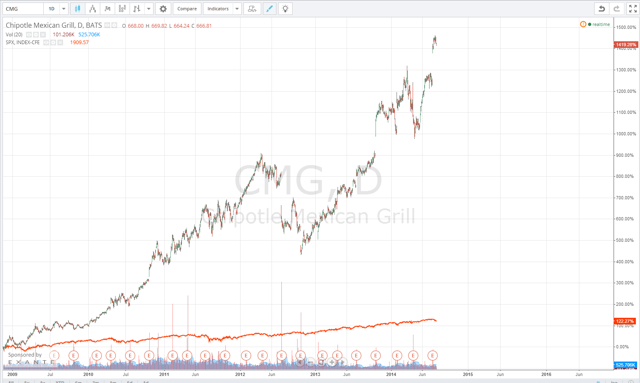 Disclosure: The author has no positions in any stocks mentioned, and no plans to initiate any positions within the next 72 hours. The author wrote this article themselves, and it expresses their own opinions. The author is not receiving compensation for it (other than from Seeking Alpha). The author has no business relationship with any company whose stock is mentioned in this article.