I never really followed Almaden Minerals (NYSEMKT:AAU) until August 9, 2010. On that day the company put out a press release with this headline:
"Almaden intersects 302.41m of 1.01 g/t Au & 48 g/t Ag (1.7 g/t AuEq) and 1.67m of 60.66 g/t Au & 2112g/t Ag (93.2 g/t AuEq) in the Ixtaca Zone, a new discovery in Mexico"
From that day forward I have been following the company and its Ixtaca project. 302m at 1.7g/t AuEq got my attention, it got a lot of people's attention as the stock price went from about $1 at the time of the announcement to $5 a few months later.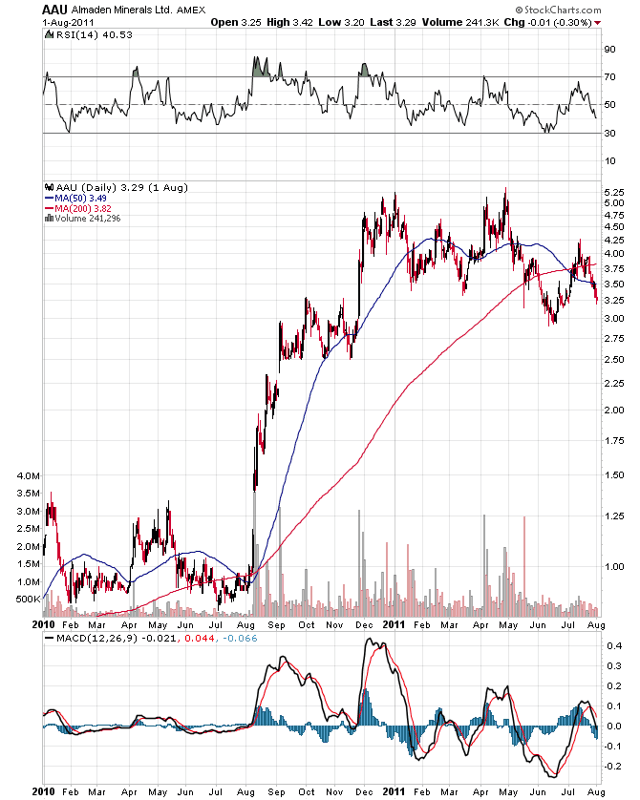 (Chart Source: Stockcharts.com)
The Ixtaca Project
The Ixtaca Zone (highlighted in red below) is an epithermal gold-silver target in the southwest portion of the 100% Almaden owned Tuligtic Claim in Puebla State, Mexico.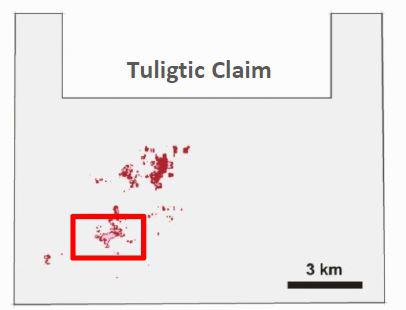 (Source: Almaden Minerals)
Almaden bought the property in 2001 and started exploring on it as it recognized Eastern Mexico as an unexplored region with exceptional mineral potential. It has a similar geology to gold-rich Eastern Nevada and hosts several exceptional deposits including the Pachuca Mine.
What's so special about the initial drill hole?
When you are looking for a gold or silver mine, one of the most important criteria is the grade. With open pit deposits you want something around 1.00 g/t gold to make it economical. Some heap leach operations have lower grades but 1 g/t seems to be average these days. When you start to get around 1.5-2.0 g/t gold is when you go from being a good deposit to a great deposit. These aren't hard and fast criteria. There is more to judging an open pit deposit but at first glance this should be what to look for.
Next when looking for an open pit deposit you look at the size. The greater the width and depth of a deposit the bigger the mine. If you have a drill hole near the surface that hits 1 g/t gold over 10 meters, that's not too exciting. 1 g/t over 100 meters gets a little more attention.
There are other things to consider as well such as location. A mine in Canada, the US, or Mexico would be ideal. Something in Central America, Asia, or parts of Africa might be too risky.
Now let's go to what Almaden said in the initial press release:
"Hole TU-10-1 intersected multiple vein zones over its entire length, averaging 1.01 g/t gold and 48 g/t silver over 302.41 meters from the base of overburden at 47.50 meters depth to the bottom of the hole at 349.91 meters depth. Vein intersections include 0.70 meters of 129 g/t gold and 4288 g/t silver (within an interval of 4.10 meters from 174.5 to 178.6 meters that averaged 25.71 g/t gold and 936 g/t silver)."
The bottom line is Almaden drilled 300 meters averaging 1.7 g/t AuEq (gold equivalent) just 47.50 meters below surface in Mexico. That's not an average drill hole, not even a good drill hole, that is an exceptional drill hole.
You have 300 meters of high grade gold and silver just below surface which means it could become a large open pit gold and silver mine, and it's located in mining friendly Mexico. This is why the stock took off.
The Ixtaca PEA
During the last 4 years Almaden has drilled out the deposit and finally in April of 2014 it released a Preliminary Economic Assessment on the Ixtaca project.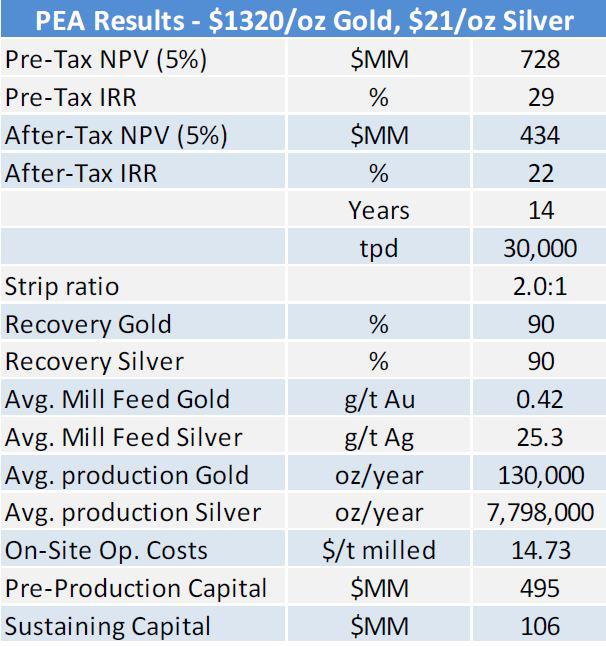 (Source: Almaden Minerals)
When I first saw this I was surprised by how good it was. It will be an open pit mine with a 30,000 tpd mill and produce 130,000 oz of gold and 7.8 million oz of silver per year for 12 years (14 years total but last 2 years will be processing minimal ore). Cap-ex is a very manageable $495 million.
A look at the economics show that at $1,320 gold and $21 silver, the project would have an after-tax IRR of 22.2%. The leverage to the gold and silver price is also very strong.

(Source: Almaden Minerals)
The PEA was based on the latest resource estimates which show a substantial amount of gold and silver with 97 million ounces of silver and 1.65 million ounces of gold in the Measure and Indicated category, and 18.24 million ounces of silver and 362,000 ounces of gold in the inferred category.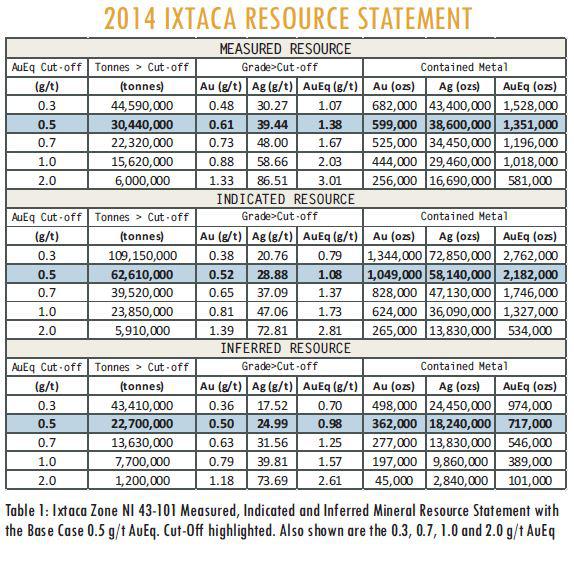 (Source: Almaden Minerals)
The Market Just Isn't Paying Attention
After Almaden released the PEA on the Ixtaca project the stock barely moved. Some seemed to be less than impressed with the results, which is shocking to me. I don't know what gold and silver environment these investors are living in, but projects like these aren't typical now. An 8 million ounce per year silver mine would be huge enough as it is, throw in 130,000 ounces of gold per year and you have something very special.
Right now Almaden is trading around $1.40 and has a market cap of $90 million. This should be trading at $5.
Other than the new 7.5% mining tax in Mexico, there isn't anything negative that has occurred to Almaden since Ixtaca was discovered. Even the new tax isn't considered that big of a deterrent as it's unlikely to significantly impact investment in country.
More than likely the reason Almaden hasn't moved is because the market for gold and silver miners has been horrible the last few years. It's been a three year bear market that has taken gold and silver stocks down 50%-90%. Gold has rebounded since it bottomed in late 2013, and so has Almaden (up about 30% for the year), but Almaden should be trading much higher.
This reminds me a lot of Semafo (OTCPK:SEMFF) back in mid-2013. It was trading around $1.50 yet they had so much positive news on their high grade discovery at their Mana mine. The stock price made no sense being at that level. This is what it has done in the past year: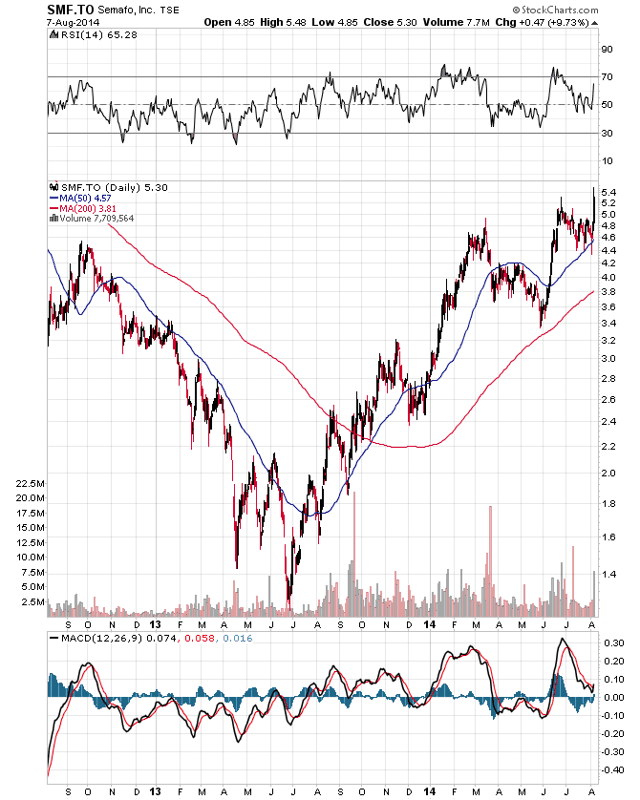 (Chart Source: Stockcharts.com)
Almaden Reports on Confidentiality Agreements
Investors might not be paying attention to the positive news out of Almaden, but other gold and silver miners are. Less than a month after releasing the PEA on their Ixtaca Project, Almaden put out a press release that said:
"Almaden Minerals, in response to third party enquiries, reports that it has entered into a number of confidentiality agreements in respect of its various projects."
It's clear that Almaden is garnering a lot of attention right now behind the scenes. Curiously enough, Almaden's stock price didn't move at all when this press release came out.
Some possible suitors could be Pan American Silver (NASDAQ:PAAS), Alamos Gold (NYSE:AGI), and First Majestic Silver (NYSE:AG). These companies have a strong presence in Mexico, and they each produce silver along with gold. Plus Pan American and Alamos both have about $400 million in cash, which would mean they wouldn't have to raise much capital to complete Ixtaca. Even some of the larger gold companies could be interested in Almaden. I will say this, if Almaden does announce it has reached an agreement to be acquired, I wouldn't be surprised to see a bidding war as I think more than one suitor is going to be interested.
What's Almaden worth?
As I said before, Almaden has a market cap of only $90 million, it should be worth about $300 million. But nobody is going to offer Almaden that right now. A 100% premium would be about as high as you could expect. That's a pretty good return for investors, but it would be too low of a price given the asset that Almaden owns.
Let's take a look at what some other gold and silver miners trade at.
| | | | |
| --- | --- | --- | --- |
| | Silver Production | Gold Production | Market Cap |
| Fortuna Silver | 6 million ounces | 32,000 ounces | $714 million |
| Silver Standard | 8 million ounces | 110,000 ounces | $750 million |
| McEwen Mining* | 8.5 million ounces | 170,000 ounces | $855 million |
| Almaden Minerals | 7.8 million ounces | 130,000 ounces | ? |
*Assuming El Gallo 2 and Gold Bar
How could Almaden be only worth $90 million when companies that are producing similar amounts of gold and silver are worth 8-9x that? Factor in the $495 cap-ex cost for the Ixtaca Project and you still get a valuation of $300 million for Almaden.
The Ixtaca project will generate $761 million in after-tax net cash flow using a gold price of $1,320 and a silver price of $21. Should gold and silver rise to $1,530 and $29 respectively, then the after-tax net cash flow increases to over $1.4 billion. A company could acquire Almaden for $300 million and still make almost $500 million in net cash flow at current gold and silver prices after deducting the purchase price.
In February 2013, Coeur Mining purchased Orko Silver for $350 million. Orko owned the La Preciosa project in Mexico. According to the PEA on the project, La Preciosa would produce 9.1 million ounces of silver and 15,100 ounce of gold per year for 14 years. Cap-ex was $348 million. At $21 silver, the after-tax IRR was 6% and the payback period was 11.5 years. In other words the project is uneconomical at current silver prices. When Coeur bought Orko, gold and silver were trading at much higher prices. But you have to ask if Orko was worth $350 million in a high gold and silver priced environment, what would Almaden be worth if gold and silver go back up to those levels? Keep in mind that Ixtaca has the much higher IRR and will produce 115,000 more ounces of gold per year than La Preciosa.
Almaden won't develop Ixtaca themselves
Almaden is a prospect generator, meaning their business model is they explore for deposits, de-risk them, and then sell them for cash or cash plus a royalty. The Ixtaca project is a company maker, and Almaden could change up their business model if they wanted, but given their low market cap and the fact that they have only $16 million in cash, they could never develop Ixtaca themselves.
What happens now?
I think any offer that Almaden gets at the moment will be too low, at least an initial offer. They have enough cash in the bank to keep de-risking the Ixtaca Project, and a Pre-Feasibility study should come out next.
The company has hardly explored most of Tuligtic Claim where the Ixtaca Project is located. They have many more targets near the main Ixtaca zone(red box below) that they are now drilling.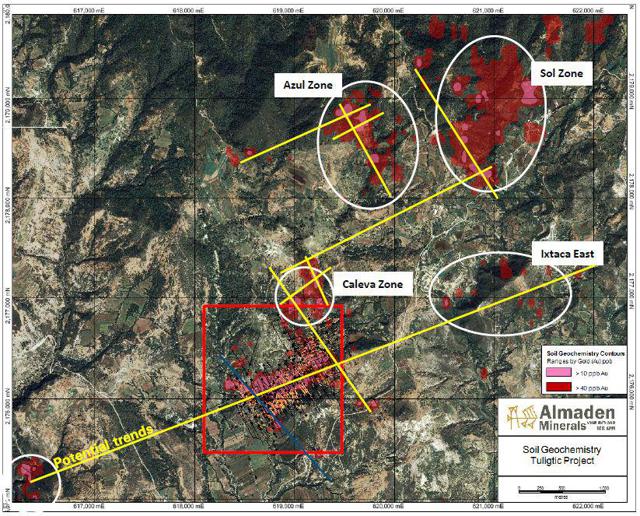 In other words, there is a good chance that Ixtaca will just keep getting better.
Conclusion
Almaden Minerals Ixtaca Project is a substantial gold and silver deposit. It's a high-grade open pit mine that will produce almost 8 million ounces of silver and 130,000 of gold per year, and is also located in a favorable mining region. The market right now is seriously undervaluing the shares, as the stock should be 350% higher than where it is currently trading at. The company has announced it has entered into a number of confidentiality agreements in response to third party enquires. While investors are ignoring how good Ixtaca is, clearly other gold and silver miners aren't. I expect a bidding war should Almaden get an initial acquisition offer. Almaden though has enough cash to continue forward with the Ixtaca Project should they reject any or all offers made. The company can de-risk the project even more, and take it to the Feasibility stage. With the large unexplored land package around the main Ixtaca zone, there is a good chance that the project will just keep getting better.
Disclosure: The author is long AAU. The author wrote this article themselves, and it expresses their own opinions. The author is not receiving compensation for it (other than from Seeking Alpha). The author has no business relationship with any company whose stock is mentioned in this article.
Editor's Note: This article covers one or more stocks trading at less than $1 per share and/or with less than a $100 million market cap. Please be aware of the risks associated with these stocks.