The news: The Food Price Index for the Food and Agriculture Organization (FAO) of the United Nations rose 3.7% in December (the fifth consecutive increase). And that's good and bad. (See graphic below. Source: UN Food and Agriculture Organization.)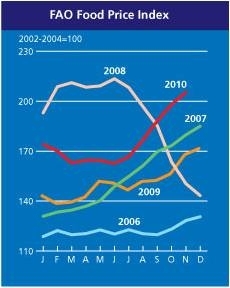 There has been a pretty steep incline in agricultural commodity prices in the second half of this year (driven in part by droughts and flooding in grain producing countries). And what's more: The FAO doesn't expect food prices to fall below pre-food crisis (of 2008) levels for at least a decade.
Obviously, higher food prices aren't a boon for consumers, and they are really bad news for the 1 billion chronically hungry. But they spell good news for producers' income (particularly farmers in poor countries).
And it has been a positive for U.S. producers. John Deere (NYSE:DE) (the largest agricultural equipment maker) expects net farm cash income to gain 31% this year and 15% in 2011. And the company is not alone. The U.S. Department of Agriculture reported last week that net farm income is expected to jump 31% this year to $81.6 billion (that's 26% above the ten-year average).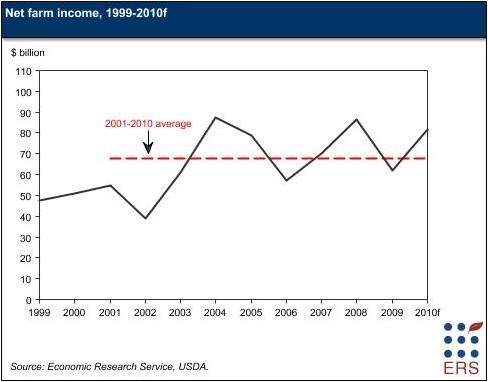 In contrast to income, total production expenses are expected to rise a moderate 2%.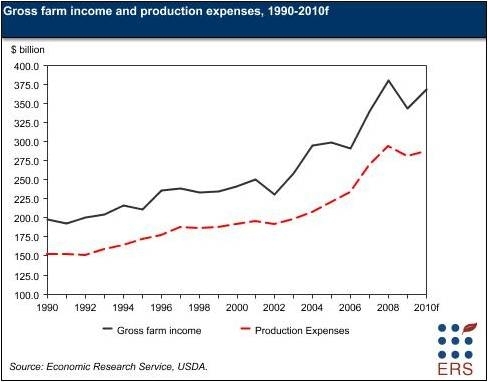 But it hasn't been good news for everyone in the agricultural commodities space. Crop farmers have benefited from price action, but livestock farmers are hurting ... a lot. Input costs (in particular feed) have risen significantly: Corn jumped 33% in the 2 months ending Oct. 31, according to Bloomberg. Beyond that, over the course of the past decade we have seen volatility in input prices (evidenced by the fluctuations in farm income over 10 years).
But on the whole agricultural commodities have had a good year (the S&P GSCI Agricultural Index is up something like 24% year-to-date). So here's the thing: A weaker dollar gives U.S. exporters an edge (the U.S. dollar Index declined 8.5% in the third quarter). Just how much of an edge? The USDA forecasts agricultural exports (in particular grains, soybean and cotton) will rise to a record $126.5 billion in 2011 ... that's $11.5 billion higher than the previous 2008 record. And meanwhile, imports could reach $85.5 billion, supported by demand for coffee beans, cocoa, palm and coconut oil and sugar.
The bottom line: The weather-related disruptions that occurred this year (and the resulting supply-side shocks) will continue to impact prices to the upside going into next year. And food production will need to increase 70% in order to support a global population of 9 billion by 2050, according to the International Fund for Agricultural Development.
For exposure to the agricultural space, take a look at PowerShares DB Agriculture (NYSEARCA:DBA): This ETF tracks an index that gives equal weight to futures of feeder and live cattle, corn, wheat, hogs, coffee, cocoa, cotton, soybeans and sugar. Based on trend lines, the fund is currently in an upward trend.
Click to enlarge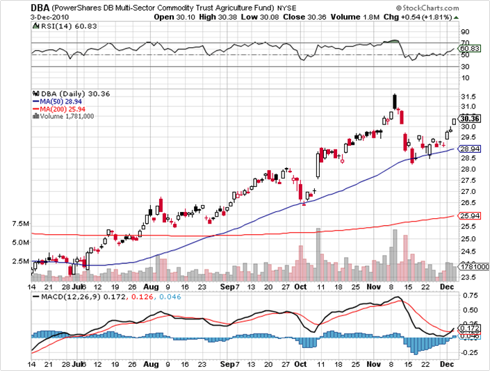 Click to enlarge
Source: stockcharts.com
Disclosure: I have no positions in any stocks mentioned, and no plans to initiate any positions within the next 72 hours.