Overview
In this article, I was originally going to list out 3 reasons as to why 3M (NYSE:MMM) remains a buy for long-term investors. However, when researching the stock, I discovered there are a lot more than 3 reasons to own this stock. So, in this article I will be outlining 30 reasons as to why 3M remains a solid buy.
#1 - Longevity
3M has been around since 1902 and continues to perform well. While longevity doesn't necessarily guarantee future results, it does provide a level of stability that newer companies do not possess.
#2 - Dividend Aristocrat
3M has consistently raised its dividend every year since 1959.
#3 - Yield
3M's current yield of 2.45% is the highest it's been in over a year and is greater than the average yield for the S&P 500.
#4 - Dividend Growth
3M's dividend has grown substantially at 137.50% over the past ten years. Compared to a few other Aristocrats such as AT&T (NYSE:T) (which has seen a 47.20% increase in its dividend over the same period), the growth is significant.
#5 - Price
3M is currently trading at a PE ratio under 20. When looking back, this is in line with fairly priced historical values of the stock.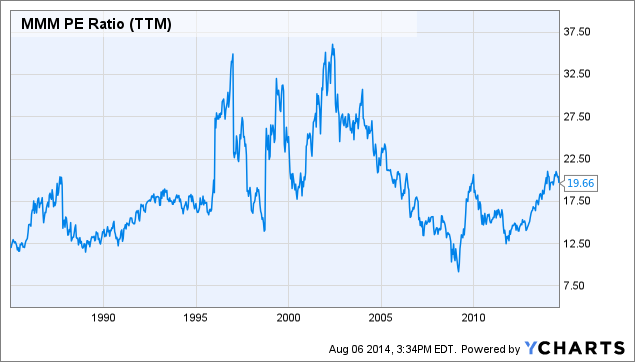 MMM PE Ratio (NYSE:TTM) data by YCharts
#6 - Earnings
In its most recent quarterly report, 3M reported double digit earnings growth (11.7% year-over-year increase).
#7 - Sales
3M's Q2 marked the highest quarterly sales in the company's history (pretty impressive for a company that is over 100 years old).
#8 - Margins
In the company's latest earnings call, 3M's CEO stated:
In the second quarter, margins rose to nearly 23%, up 80 basis points from last year. I am pleased that all five business groups delivered margins greater than 20%, demonstrating the breadth of our strength.
#9 - Commitment to shareholders
In Q2, 3M returned approximately $2 billion to shareholders through dividends and share buybacks.
#10 - Huge Product Line
In May, 3M received its 100,000th patent and the company continues to rollout new products every year.
#11 - Free Cash Flow
In first half of 2014, 3M's free cash flow equaled $2.1 billion ($143 million higher than 2013 level).
#12 - Treo Solutions
In April, the company acquired Treo Solutions, a leader in data analytics.
#13 - New 3M True Definition Scanner
This fall, 3M is releasing a new system that will aide dentists and orthodontists in producing faster, easier scans with superior accuracy.
#14 - Diversity
3M contains more than 35 business units that are organized into the following segments:
Industrial
Health Care
Electronics and Energy
Safety and Graphics
Consumer Products
#15 - Profit
Looking at the chart below, you can see that 3M has been able to consistently increase its gross profit over the long run, with only a few short-term dips in between.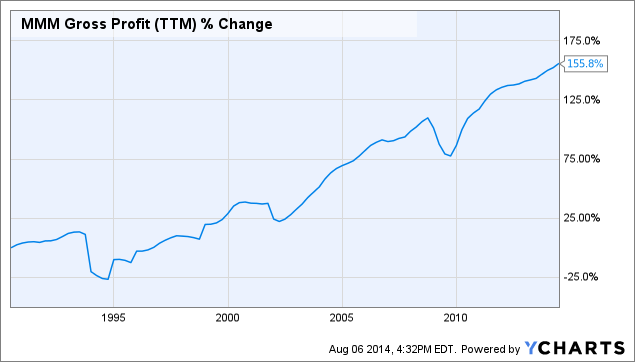 MMM Gross Profit (TTM) data by YCharts
#16 - Shares Outstanding
3M has been able to significantly reduce the number of shares that are outstanding. Over the past ten years, the number has decreased by over 12%.
#17 - Book Value
3M's book value has consistently increased over the long run. In the past ten years, the company's book value has increased by 68.65%.
#18 - Emphaze AEX Hybrid Purifier
3M recently introduced a new purification technology platform designed to help biopharmaceutical manufacturers achieve high product purity by improving efficiency and process economics.
#19 - Return on Assets
3M has been able to maintain a strong return on assets, currently 14.24%. Looking at the chart below, you can see how it compares to companies such as General Electric (NYSE:GE) and Johnson & Johnson (NYSE:JNJ).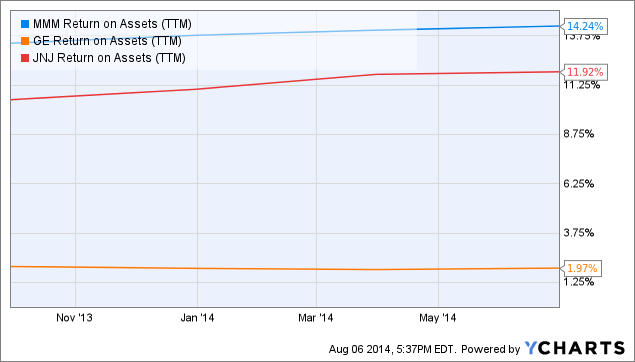 MMM Return on Assets (TTM) data by YCharts
#20 - Return on Equity
Similar to return on assets, 3M has been able to see impressive returns on equity as well.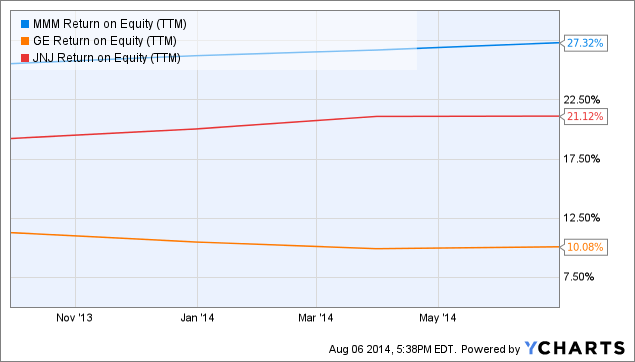 MMM Return on Equity (TTM) data by YCharts
#21 - Return on Invested Capital
3M performs well in this category as well, with higher returns compared to JNJ and GE.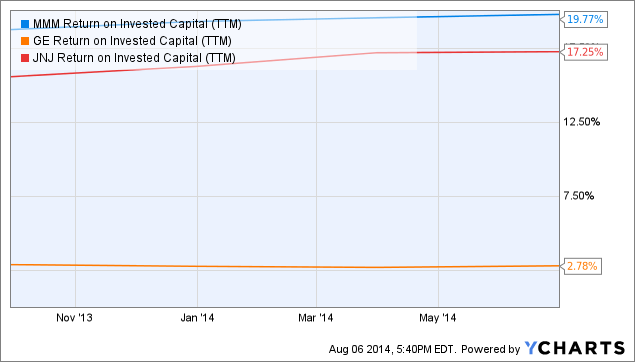 MMM Return on Invested Capital (TTM) data by YCharts
#22 - Geographic Growth
In Q2, 3M saw growth throughout each of its various markets: Asia-Pacific, Europe, the Middle East, Africa, the United States, Latin America, and Canada.
#23 - Strong Strategic Direction
3M continues to evolve its business around the three strategic levels the company has put into place: portfolio management, investing in innovation, and business transformation.
#24 - Asset Utilization
3M is consistently efficient with its assets. Looking at the chart below, you can see how it compares to GE and JNJ.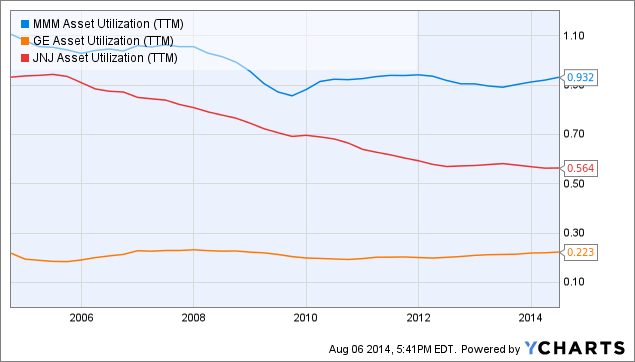 MMM Asset Utilization (TTM) data by YCharts
#25 - Payout Ratio
3M's payout ratio remains low at just over 40%, providing a high level of security that the company's dividend should continue and has plenty of room for additional growth going forward.
#26 - Debt
3M maintains a reasonable and safe level of debt. The company currently has a quarterly debt to equity ratio of 0.40x.
#27 - Enterprise Value
3M's enterprise value is currently at $95.03B. The value has increased 77.01% over the past five years.
#28 - Research and Development
As 3M continues to place emphasis on new/improved products, the company has increased its R&D expense. Even though this expense has increased by over 30% during the past five years, the company continues to be able to produce significant increases in earnings.
#29 - Sumitomo 3M Ltd.
3M is acquiring the remaining interest in Sumitomo 3M Ltd., giving the company 100% ownership. The transaction is expected to close in September and should help continue growing 3M's revenue/earnings in the future.
#30 - Fundamental Score
3M scores a 10 in ycharts' fundamental score. This score judges how strong the company's fundamentals are. You can find more details on how this score is calculated here.
Conclusion
As you can see from the 30 reasons I described above, I feel that 3M is a solid option for long-term investors. As with any investment, there are associated risks; however, I believe that the company's upside potential far outweighs the negative risks associated with this stock. As always, I suggest individual investors perform their own research before making any investment decisions.
Disclosure: The author has no positions in any stocks mentioned, and no plans to initiate any positions within the next 72 hours. The author wrote this article themselves, and it expresses their own opinions. The author is not receiving compensation for it (other than from Seeking Alpha). The author has no business relationship with any company whose stock is mentioned in this article.