By David Russell
National Semiconductor (NSM) has rallied to a level that was resistance earlier this year, and the bears are coming out.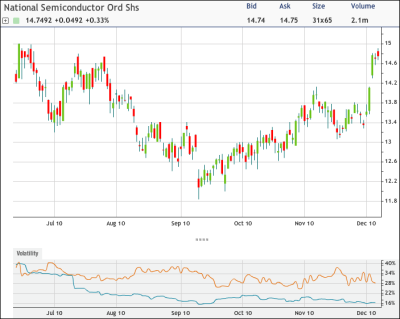 optionMONSTER's Depth Charge tracking system detected the purchase of more than 4,000 December 14 puts, most of which priced for $0.18 to $0.20, against open interest of 368 contracts. Overall option volume in the name is 7 times greater than average so far in the session.
NSM is up 0.33 percent to $14.75 in early afternoon trading. It gapped higher at the open but drifted lower after testing $14.91, its highest price since June. That level also corresponds to various peaks over the last 18 months, which may be leading some chart watchers to expect a reversal.
The stock has been rallying along with other chipmakers, but investors may now be worried about its next earnings report on Thursday -- especially if they recall the last release on Sept. 9, when management warned of slowing growth and issued weak revenue guidance. NSM gapped lower on that news and has been battling its way higher since.
In another noteworthy trade, about 1,380 January 15 calls were sold for $0.45 to $0.55. Volume was slightly above open interest, so the activity may have resulted from a trader exiting a long position or predicting a top in the share price. Like the put buying, the call selling reveals a generally negative outlook for the stock.

Disclosure: No position