About half of the Russell 3000 stocks pay dividends. In fact, 1,551 of them pay some dividends, 1,292 companies have a yield greater of 1%, 815 companies have a yield greater of 2%, 473 companies have a yield greater of 3%, and 158 companies have a yield greater of 5%.
A ranking system sorts stocks from best to worst based on a set of weighted factors. Portfolio123 has a powerful ranking system which allows the user to create complex formulas according to many different criteria. They also have highly useful groups of pre-built ranking systems, I used one of them the "All-Stars: Lynch" in this article. The ranking system is based on investing principles of the well-known investor Peter Lynch.
The "All-Stars: Lynch" ranking system is quite complex, and it is taking into account many factors like trailing P/E, relative P/E, PEG ratio, institutional ownership, liabilities, sales growth and EPS growth, as shown in Portfolio123's chart below.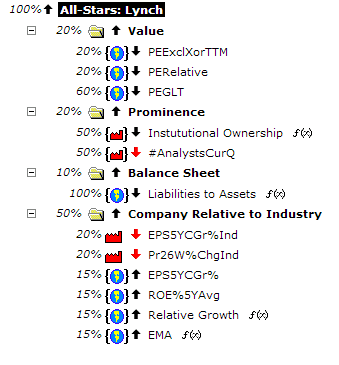 In order to find out how such a ranking formula would have performed during the last 15 years, I ran a back-test, which is available by Portfolio123's screener. For the back-test, I took all the 7,014 stocks in Portfolio123's database.
The back-test results are shown in the chart below. For the back-test, I divided the 7,014 companies into fifty groups according to their ranking. The chart clearly shows that the average annual return has a very significant positive correlation to the "All-Stars: Lynch" rank. This brings me to the conclusion that the ranking system is useful.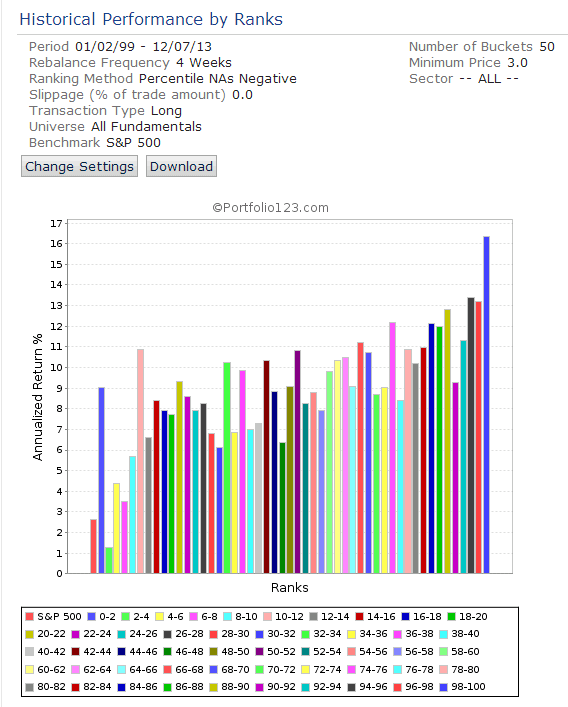 After running the "All-Stars: Lynch" ranking system on the companies which are included in the Russell 3000 index and pay a dividend with a higher than 4% yield, on August 08, I discovered the twenty best high-yielding stocks, which are shown in the table below. In this article, I will focus on the first stock in the list, Orchids Paper Products Company (NYSEMKT:TIS). I recommend readers use this list of stocks as a basis for further research. All the data for this article were taken from Yahoo Finance, Portfolio123 and finviz.com.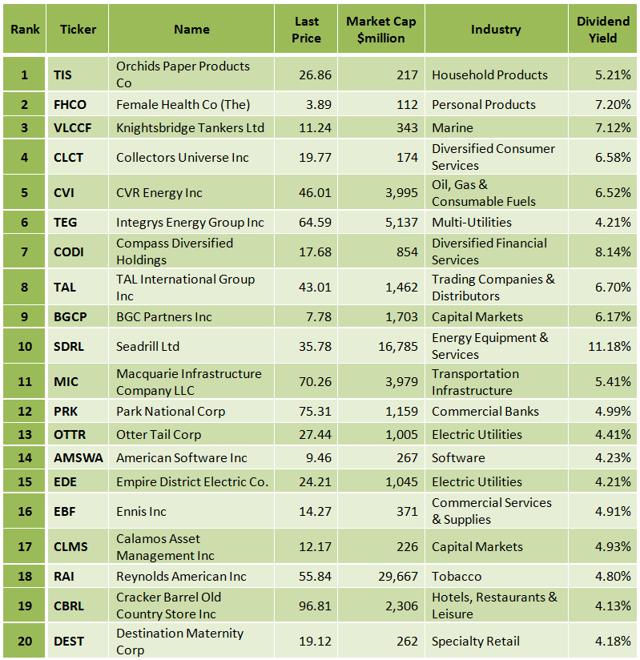 The Company
Orchids Paper Products Company manufactures and sells tissue products for the at-home market in the United States. The company was founded in 1976 and is headquartered in Pryor, Oklahoma.
Valuation Metrics
The table below presents the valuation metrics of TIS, the data were taken from Yahoo Finance and finviz.com.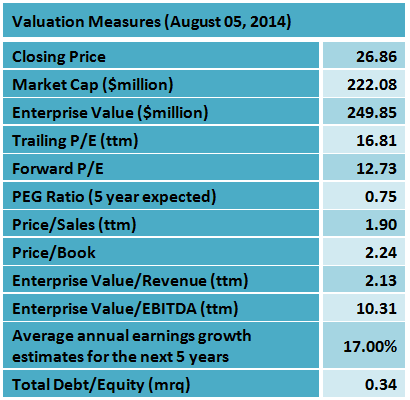 Orchids' valuation metrics are very good; the trailing P/E is at 16.81, and the Enterprise Value/EBITDA ratio is low at 10.31. According Yahoo Finance, TIS' next financial year forward P/E is pretty low at 12.73, and the average annual earnings growth estimates for the next five years is very high at 17.0%; these give an extremely low PEG ratio of 0.75. The PEG Ratio - price/earnings to growth ratio is a widely used indicator of a stock's potential value. It is favored by many investors over the P/E ratio because it also accounts for growth. A lower PEG means that the stock is more undervalued.
Latest Quarter Results
On July 23, Orchids reported its second-quarter 2014 financial results, which missed EPS expectations by $0.25 (64%).
Net sales totaled $29.2 million, which were flat compared to the second quarter of 2013. Converted product sales were essentially flat at $27.7 million. Excluding stock compensation and transaction costs, net income was $2.2 million, a decrease of $1.1 million, or 33%, compared with $3.3 million of net income in the same period of 2013. Excluding stock compensation and transaction costs, diluted net income per share for the second quarter 2014 was $0.27 per diluted share compared with $0.42 per diluted share in the same period in 2013.
In the report, Mr. Jeff Schoen, President and Chief Executive Officer, stated:
Despite a challenging sales environment in the first half of 2014 due to increased promotions on branded products affecting private label sales, and inventory reductions at our customers, our focus on product development, new distribution, operational efficiencies, and the Fabrica partnership has positioned us well for future growth and profitability. We believe that the second quarter performance was an anomaly and a strong base of business has been established for the rest of the year that we expect will deliver record results in both sales and earnings for the second half of 2014. Moreover, the Fabrica strategic partnership and the on-going capital projects will increase our ability to produce higher quality grades of value and premium tier products to drive future sales, supporting our vision of being recognized as a national supplier of high quality consumer tissue products in the value, premium, and ultra-premium tier product categories.
Dividend
Orchids has been paying dividends since March 2011. The forward annual dividend yield is very high at 5.21%, and the payout ratio is at 82%.

On July 23, 2014, the board of directors of the company authorized a quarterly cash dividend of $0.35 per outstanding share of the company's common stock. The company expects to pay this dividend on August 18, 2014 to stockholders of record at the close of business on August 4, 2014.
Although the company had excessive cost in the latest quarter, cash used in investing activities was $17.4 million in 2014 compared to $5.6 million in the prior period, its board of directors authorized cash dividend at the same magnitude. Orchids generated cash flow from operating activity in 2013 of about $21 million and $3.1 million in the first six months of 2014.
The decision of the company to keep paying a generous dividend demonstrates that it is a part of Orchids' strategy. Therefore, I believe that the dividend is sustainable.
Technical Analysis
The charts below give some technical analysis information.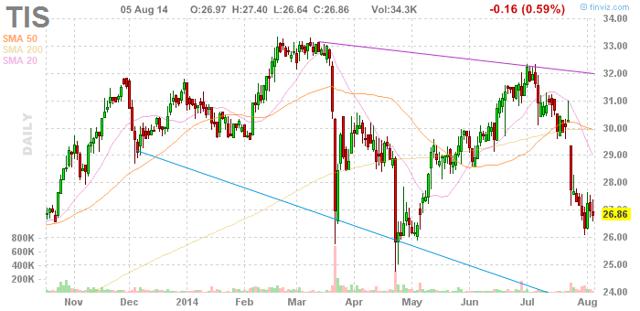 Chart: finviz.com
The TIS stock price is 8.09% below its 20-day simple moving average, 10.47% below its 50-day simple moving average and 10.41% below its 200-day simple moving average. That indicate a short-term, mid-term, and a long-term downtrend.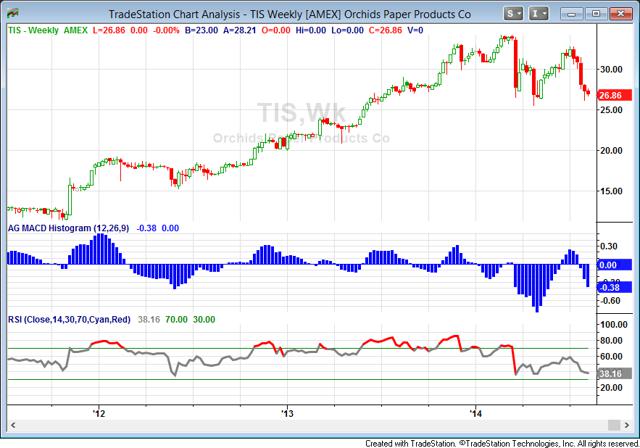 Chart: TradeStation Group, Inc.
The weekly MACD histogram, a particularly valuable indicator by technicians, is negative at -0.38 and descending, which is a bearish signal (a rising MACD histogram and crossing the zero line from below is considered an extremely bullish signal). The RSI oscillator is at 38.16 which do not indicate overbought or oversold conditions.
Analyst Opinion
Only three analysts are covering the stock, two of them rate it as a Strong Buy, and one analyst rates it as a Buy.
Major Developments
On May 05, Orchids announced a strategic alliance with Fabrica de Papel San Francisco to support the growth of Orchids' U.S. west coast sales. Fabrica, which is based in Mexicali, Baja California, Mexico, is a recognized world-class, low cost manufacturer of high-quality tissue paper products. As part of this alliance, Orchids will acquire Fabrica's current U.S. business, including certain manufacturing assets and access to 18,000 metric tons of capacity each year to support the value, premium and ultra-premium requirements of the U.S. market, with an option to purchase an additional 7,000 metric tons in each of the first two years. Products will be produced at Fabrica's facility in Mexicali, Mexico and shipped directly to Orchids' U.S. customers. Orchids will pay an aggregate of $36.7 million under various agreements, including shares of Orchids' common stock having a value of $20 million and cash of $16.7 million, which Orchids expects to fund with a new term loan, discussions of which are proceeding well.
Although the deal with Fabrica involves a big cost for Orchids, it also promises substantial growth prospects for the company. Orchids expects this alliance will allow it to effectively and efficiently service customers in the western United States and support Orchids' vision to become a national supplier of high-quality consumer tissue products in the value, premium and ultra-premium tier markets.
TIS' stock performed very well in 2013 with a 62.4% gain; however, this year it has already lost 18.2%, while the S&P 500 index has risen 3.9%, and the Nasdaq Composite Index has also increased 4.2%. In my opinion, the retreat in its stock price is exaggerated since the second quarter performance was an anomaly and Orchids expects to deliver record results in both sales and earnings for the second half of 2014.
Conclusion
Orchids is poised to benefit from the alliance with Fabrica that should contribute for further growth in revenue and earnings since it opens to the company customers in the western United States.
Orchids has compelling valuation metrics and strong earnings growth prospects; its PEG ratio is very low at 0.75. Furthermore, TIS' stock is ranked first among all Russell 3000 stocks yielding more than 4%, according to Portfolio123's "All-Stars: Lynch" powerful ranking system. In addition, the very generous dividend represents a gratifying income. All these factors bring me to the conclusion that TIS' stock is a smart long-term investment.
Disclosure: The author is long CLMS, SDRL. The author wrote this article themselves, and it expresses their own opinions. The author is not receiving compensation for it (other than from Seeking Alpha). The author has no business relationship with any company whose stock is mentioned in this article.