By Chris McKhann
The yen has been trending higher for three years, but one trader is looking for a further break lower in the Japanese currency.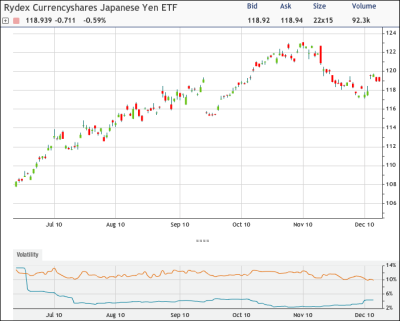 The CurrencyShares Japanese Yen Trust (FXY) is trading at $119.08, down 0.5 percent on the day. Shares of the exchange-traded fund climbed from around $80 in mid-2007 to a high of $123.10 a month ago. They found support at $117 last week before popping back to their current level.
Today's volume is twice the fund's daily average, and puts outpace calls by 20 to 1 so far. Almost all the volume is in the June 115 puts, where 5,000 were bought for $2.60. This was against open interest of just 106 contracts, so it was clearly a newly opened position.
The put buying is a bet that the FXY will fall back to where it was at the end of July through expiration. It may be a protective hedge against long stock, as we do see considerable buying in the minutes after the puts were purchased.
In either case this is a long volatility play, one of many such positions we have seen increasingly in recent weeks. The average implied volatility, at 11 percent, is above the 30-day historical volatility of 9 percent, but at 52-week lows.

Disclosure: No position