Stocks enjoyed a marvelous day of trading on Friday. But despite this latest notable recovery in the headline indices, trouble is increasingly brewing under the stock market surface, as a growing number of stocks are finding themselves mired in their own individual bear market. Investors should take note, for only so many individual stocks can drift into bear market territory before the broader market finally follows along. Of course, where there are meaningful corrections there is often opportunity to be found. As a result, today is a good time to get started in hunting for bears.
The bounce in stocks as measured by the S&P 500 Index (NYSEARCA:SPY) on Friday was impressive once again. Just hours after the news of military action in Iraq helped send stocks futures plunging lower during the overnight hours and made a break below 1900 on the S&P 500 Index appear all but certain, stocks completely regained their footing by the open and proceeded to explode higher throughout the trading day. By the close on Friday, stocks had managed to recover to the point that they actually ended incrementally positive for the week. The move was extraordinary, even for a bull market that has defied the odds (and often the fundamentals) on many occasions during its five and a half year reign.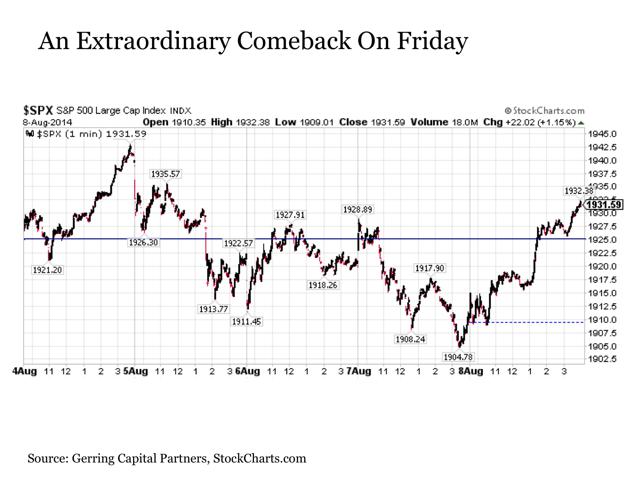 Despite this latest rally, the market is showing an increasingly worrying rot underneath the surface. Examining stocks on an individual basis across the various market cap size strata that make up the equity universe is revealing in this regard. For the purpose of this analysis, the definition of a bear market in an individual stock will be defined as a -20% decline in price over the past 52 weeks.
At first glance, it appears all is well among the individual stocks in the market. When looking at the 30 stocks that make up the Dow Jones Industrial Average (NYSEARCA:DIA), none are currently in a bear market and only 13, or just 43.3%, are even trading lower year-to-date despite the fact that the entire index itself is still lower for 2014 on a closing price basis. So far, so good.
Standing back a step further by looking at the key market benchmark in the S&P 500 Index continues to provide reassurance. Of the 500 stocks in the Index, only 29 are currently in a bear market. This represents just 5.8% of the entire Index, which is fairly minimal. Moreover, only 159 stocks, or just 31.8%, are even trading lower for 2014 to date. In many respects, this is even more reassuring than the more concentrated Dow data.
Of course, the market consists of more than just 500 stocks. And it is in this larger universe where the problems continue to develop.
Overall, there are 4,867 individual stocks that trade in the United States either on the NYSE, the NASDAQ or the AMEX. Within this larger universe, 1,950 companies, or 40.1% of the universe, is currently mired in a bear market. And 2,411 stocks, or roughly half of all stocks that currently trade on a U.S. exchange, are lower for the year. In addition, a notable 57.7% of all stocks are underperforming the return on Wilshire 5000 Index year-to-date. This strikes a stark contrast to the data for the large cap concentrated S&P 500 Index.
So where exactly is the trouble emanating? In order to determine exactly what stocks are currently under heavy pressure, it is worthwhile to break down the market by size strata.
As would be expected based on the above information, the readings among larger companies appear fairly solid. Mega cap stocks with market caps in excess of $200 billion are completely unscathed, with no names currently in a bear market. As for the 597 stocks considered large caps with a market cap between $10 billion and $200 billion, the results are also favorable with only 37 names, or just 6.2%, currently in a bear market. And while the 1,051 mid-cap stocks with market caps between $2 billion and $10 billion are showing some signs of deterioration with 223, or 21.2%, currently in a bear market, these are still fairly solid readings.
It is once we move down the size spectrum to small caps where some notable rot starts to emerge. U.S. exchanges list 3,173 small cap stocks with market caps at less than $2 billion. Among this list, 1,687 companies, or a resounding 53.2%, currently find themselves in a bear market with declines in excess of -20% to date from their previous high over the past 52 weeks. In short, the events unfolding in the small cap area of the market are notably different than what is being seen across the headline dominating large cap segments.
The increasing number of individual small cap stocks in bear territory is problematic for the broader market for a number of reasons. Perhaps most significantly, it signals that stock market gains are becoming more concentrated with fewer stocks. This lack of breadth in securities supporting the market advance has often foreshadowed a pending correction in the broader market averages, as the remaining big names that are carrying the weight for the entire market finally buckle under the pressure. Such is a risk we are seeing accumulate under the market surface today and is worth monitoring as we continue to move into the seasonally daunting period from August to October.
With Bear Markets Come Potential Opportunity
The fact that an increasing number of stocks across the equity universe have fallen into bear market territory is something that also comes with potential opportunity. Most importantly, it is worthwhile to explore whether a set of high quality names exists within this expanding bear market universe that may merit consideration following their recent sell off over the past year. So let the bear hunt begin.
Out of the list of 1,950 individual stocks that are currently in a bear market, a small handful of stocks in particular stand out for their continued quality characteristics in the face of heavy downside price pressure. Two names actually hail from the large cap area of the market.
The first is Walgreen (WAG), which is currently down -20.54% from its 52-week high set in mid June. The drug store retailer is notable in the fact that it ranks among the best companies in terms of the long-term stable growth of earnings and dividends as suggested by its inclusion in the S&P 500 High Quality Rankings Index (NYSEARCA:SPHQ). The company also offers a 2.1% dividend yield support by a payout that has increased each year for the last 38 consecutive years.
The second is Mattel (NASDAQ:MAT), which is trading -23.84% below its high from the very end of 2013. The toy company like Walgreen also ranks among the best companies in terms of high quality earnings and dividend growth as implied by its inclusion in the SPHQ. The firm also provides a healthy 4.3% yield and a dividend that has been increased each year for the last five years.
Two other names merit mention in this regard from the large cap and mid-cap segments of the market. The first is Mylan (NASDAQ:MYL), which is down -20.29% from its end of February highs and is highly regarded for earnings and dividend quality by virtue of its inclusion in the SPHQ. The other is Covance (NYSE:CVD), which is down -21.22% and until recently ranked among the highest quintile of all mid-cap stocks in terms of price stability.
Three additional names are notable from the small-cap segment of the market.
The first is Stepan (NYSE:SCL), which is down -26.45% from its early April peak but still offers a 1.4% dividend yield that is supported by an impressive 46 consecutive years of dividend increases. Moreover, the stock ranks among the highest quintile of all stocks in the small cap universe in terms of price stability.
West Pharmaceutical Services (NYSE:WST) is another notable name that is down -21.12% since its mid January highs and provides a 1.0% dividend yield made up of a payout that has been increased each year for the last 22 years. And just like SCL, the stock also ranks in the highest quintile in the small cap universe in terms of price stability.
The third is Brady Corporation (NYSE:BRC), which is -26.24% below its peak from last August and has struggled mightily over the past couple of years. The stock currently offers a yield in excess of 3.0% and the company has a 28-year history of dividend increases. Moreover, the stock also until recently ranked within the highest quintile of small cap stocks for price stability.
Of course, a great deal of fundamental and technical analysis should be conducted before an investor determines whether these individual bear market companies warrant consideration in an investment portfolio. But they may merit consideration at a minimum based on their inherent quality characteristics.
Bottom Line
An increasing number of stocks are falling into bear market territory. To this point, most are confined to the small cap segment of the market. Their numbers are rising, however, and the increasing concentration in returns among the largest companies in the stock universe suggests that stocks within the broader averages may also follow to the downside at some point in the near-term future. But for those investors at the ready, opportunity can often be found among those companies that have already been solidly sold and are currently in a bear market. And when bear hunting today, a few notable names rise to the surface that may merit consideration.
Disclaimer: This article is for information purposes only. There are risks involved with investing including loss of principal. Gerring Capital Partners makes no explicit or implicit guarantee with respect to performance or the outcome of any investment or projections made. There is no guarantee that the goals of the strategies discussed by Gerring Capital Partners will be met.
Disclosure: The author is long MAT. The author wrote this article themselves, and it expresses their own opinions. The author is not receiving compensation for it (other than from Seeking Alpha). The author has no business relationship with any company whose stock is mentioned in this article.
Additional disclosure: I am long stocks via the SPLV and XLU as well as selected individual names. I also hold a meaningful allocation to cash at the present time.