Transocean is Down but hardly Out
Transocean (NYSE:RIG) has been sliding since last November, when it peaked at $55.74. Recently, it has been trading well under $40. Just as it was overbought last year, Transocean is oversold today.
Second Quarter Earnings
On 6 August 2014, Transocean reported earnings of $1.61 per share, beating estimates of $1.02-1.11 per share. Revenue was $2.33 billion, beating the expected $2.27B. That figure was lower than both the prior quarter's $2.348B (.5%) and the previous year (1.5%). Second quarter profit was up 91% from a year earlier on lower expenses.
During a cyclical downturn such as the company is seeing now, what you look for is good execution of what it is able to control. Transocean can't control the global demand for oil, but it can control itself. Transocean is executing well and is busy cutting costs.
During the second quarter earnings call, the company reported that total expenses decreased by over 10%. During the call, the company reported that Operating and Maintenance expenses were down $56 million sequentially to $1.21B and that it has already achieved most of the year's onshore target for cost reductions. It expects to wring out $200M of its $300M cost-reduction target this year, with the remaining $100 million in 2015. The cost-cutting will continue, too: "As a matter of fact actually our optimization efforts and opportunities to further improve our cost structure will carry us beyond 2015 as well. It won't stop there either."
The results were also helped by a decline in the tax rate from 58.1% to 12.6% from the previous quarter, mostly due to idle rigs in high tax jurisdictions and rigs in transit. So, the company is managing its assets well and minimizing costs there, too.
The stock is paying a $3.00 dividend for a 6.6% yield. Naturally, since the industry is in a down cycle, investors are worried about the safety of the dividend. CEO/President Steven Newman addressed the dividend directly during the call, stating that "we are committed to maintaining a competitive and sustainable dividend."
Net cash flow was up $500 million from the previous quarter to $636 million, which should help support the dividend. The recent IPO of Transocean Partners was "significantly oversubscribed," and contributed net proceeds to the company of $420 million. In fact, it was 14 times oversubscribed, and priced well above the range. So, investors are showing enthusiasm in the company and its assets, though it hasn't yet translated to RIG's stock price. But it will at some point.
Downturn in Offshore Drilling
Transocean owns or partially owns 78 mobile rigs, with day rates edging up during the quarter from $382,000 to $410,000. Day rates are well off peak levels, but that's part of the business.
Everybody is anxious for the industry downturn to end, which should send the company's stock price skyrocketing. The turnaround isn't here yet, but the company had some encouraging words during the earnings call:
"There's a lot of opportunity as we talked about in numerous calls in West Africa and we're starting to see a bit more of that being executed, which we find is encouraging, but there's a lot more opportunities out there that we need to come to the market so that we can see in front of us when that turn is going to happen. Also we believe that we're going to see some incremental demand coming from Brazil and then we also like the news that we've recently see in India with then coming with four tenders and a deepwater tender. So the conversations are percolating but I think it's a bit early to say, put your line in the sand and say this is when it's going to happen. But it's going to happen."
The supply/demand equation in this sector, as in shipping in general, is fluid. It is both a question of demand for rigs, and supply of rigs. Transocean implied that the present supply/demand equation is self-correcting, because it is going to retire some older units which will help reduce the supply half of the equation. Obviously, the company is just one player among many, but others will be doing the same thing. CEO Newman noted on Fox Business on 7 August that Transocean is using this process to upgrade its rigs:
"I think everybody recognizes that in order to compete for the long term, a drilling contractor needs to continually renew its fleet and regularly reposition itself towards the higher end of asset classes. I just think Transocean is doing a better job of that than anybody else."
Newman also noted that the company has 12 rigs under construction, 7 ultra-deepwater floaters and 5 high-spec jackups. These presumably will replace older rigs and get higher rates from customers down the road than the old rigs because the new rigs will be more efficient. So, the company is making good use of this slow period to position itself for the long term.
Even with the industry downturn, Transocean is working hard at putting its rigs to work. The company noted during the call that Deepwater Invictus secured a new three-year contract worth $595,000/day, and Deepwater Asgard a contract at $600,000/day. The slowdown is relative, the company is definitely still in business.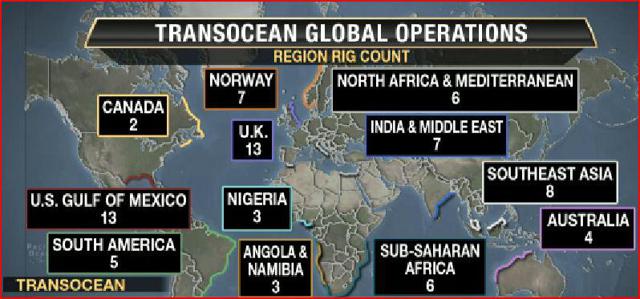 Click to enlarge
Source: Fox Business
Transocean is a global operation, and Newman sees opportunity all around the world:
"Well, I think there are a couple of areas we're looking at. In terms of the historical areas of opportunity for the company have been in the Gulf of Mexico, West Africa and Brazil. We refer to that as the "Golden Triangle." But there are areas in East Africa and India and the South China Sea and the Mexican side of the Gulf of Mexico and the northwest shelf of Australia - there are a number of areas around the world that I think offer interesting opportunities for our customers in the future and great opportunities for our customers translate into good opportunities for Transocean."
With over 75% of Transocean's revenues coming from outside the United States, the company is positioned to pick up opportunities around the world. Transocean's headquarters in Switzerland, Newman noted, is a central location that helps them act fast.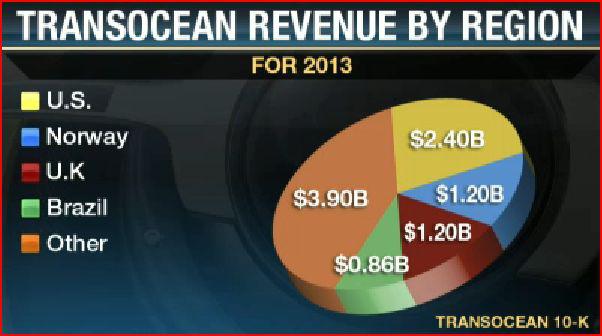 Source: Fox Business
Technicals
The daily chart shows that RIG in the $38s is down around its low of March 2014. The MACD also is as low as it has been at any point over the past six months.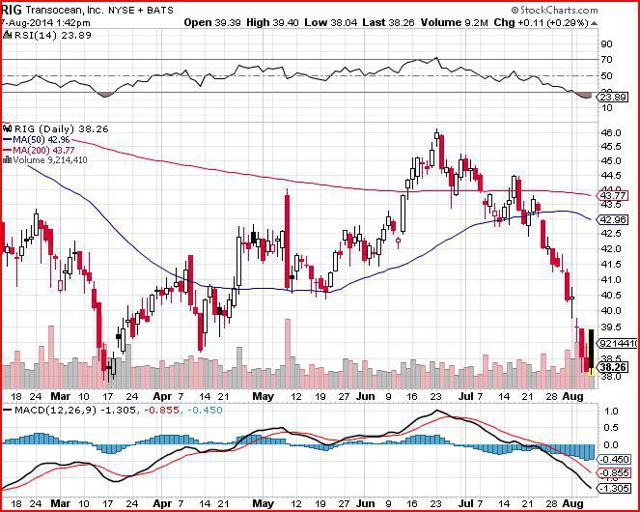 Click to enlarge
Source: Stockcharts.com
The weekly chart shows that the stock bottomed in this region in mid-2012 as well as earlier this year. The lowest the stock has been recently was at the end of 2011, when it dipped quickly to under 36 and made a V-bottom.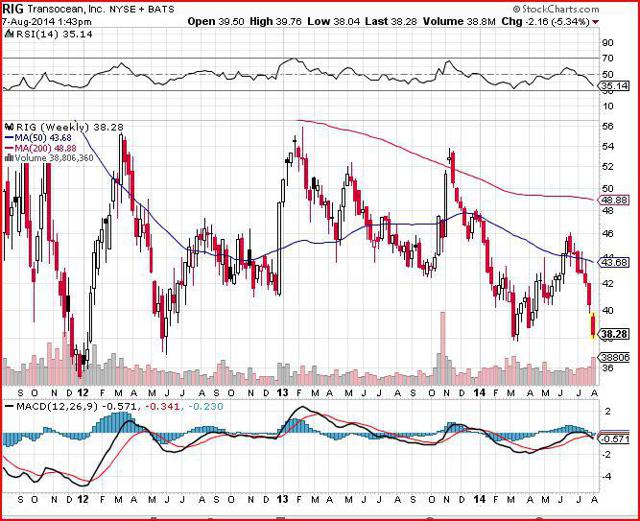 Click to enlarge
Source: Stockcharts.com
The price action suggests this is a good entry point, but we are not necessarily all the way at the bottom yet. The stock should, though, be within 10% of the bottom unless the facts change significantly. The p/e around 9 is a good indication that the stock is fairly valued, if not downright cheap, and has priced in the downturn.
The stock clearly has clear, sharp cycles up and down, so it's important to position yourself ahead of time when it is approaching a peak or trough, as now. Wait too long, and it will zoom higher and leave you behind, as it has done repeatedly in the past. They won't ring a bell at the bottom, and when the bottom hits, RIG's history suggests that it won't stay there - or anywhere near there - for long.
Conclusion
RIG is at a low in its cycle and a good pick for a swing, though it may drift lower and may take some time to cycle back up. If you want to get into the sector, now is the time to start looking at stocks like Transocean and at least put them on your watch list.
Disclosure: The author has no positions in any stocks mentioned, and no plans to initiate any positions within the next 72 hours. The author wrote this article themselves, and it expresses their own opinions. The author is not receiving compensation for it (other than from Seeking Alpha). The author has no business relationship with any company whose stock is mentioned in this article.