We picked Intel (NASDAQ:INTC) off its bottom on September 9 and the stock has already hit the price target we set in our original recommendation. The shares are up 22.51% for us in three months and +1126 bps versus the S&P-500. I can still see the shares grinding higher to $24-$28 in 2011-2012, but it is unlikely we will see additional out-performance versus the S&P from this point forward and that is our main concern with any mega-cap, low-beta name in a rising market.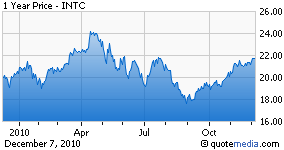 If Intel continues to rise from here but under-performs a rising market, then this will prove to be a timely downgrade.
The news last night from President Obama could trigger a 4%-8% year-end rally and we recommend to clients who are holding low-beta portfolios to drop a couple of low-beta names and add a couple of high-beta names if you can't afford to see this rally continue.
Intel remains attractive at 11X estimates for 2011 with a 2.8% dividend yield. That being said, all we were looking for here was a capture of the market over-reaction (20%) sell-off in this name from August.
We are currently overweight in this sector. We want to sell into this strength gradually. The risk/reward in some of our numerous recent tech recommendations is more attractive relative to Intel at this point in time. We would be biased towards the lagging, recent open recommendations. Intel is still suitable for those who are under-weight tech and or with a high beta portfolio (as there may be less downside risk with Intel if the market reverses and heads lower).

Here's an excerpt from our Sept. 9 Buy recommendation:

I am aware of the three downgrades in the last month … those should have come several months ago at $22-$24, not at $18-$20 (after-the-fact). The bad news is priced in with INTC now trading at 2.2X sales, 9X estimates for next year and just 15X 2004 earnings. With relative strength of just 11/100 this is a classic situation of a market over-reacting to bad news. There is no growth here because of the company size … it takes a lot of energy to move a $100 bln company. That being said, INTC should be trading at 0.85X the market multiple and not 0.70X. The shares are under-valued by 20% with $18 bln in cash and a 3.5% dividend yield. Intel has under-performed the S&P-500 by > 1500 basis points since July 15 and has now broken into the top 10% in the S&P-500 according to our 155-variable computer model. This recommendation is most suited for those who are looking to reduce an under-weight in the technology sector.
Disclosure: No positions