Since my primary investment objective revolves itself around the generation of income, dividend-related events are always something I tend to keep an eye on. With that said, and in the wake of its latest dividend increase, I wanted to highlight several reasons why I've chosen to stay long on shares of Southside Bancshares (NASDAQ:SBSI).
A Brief Summary of the Company
Headquartered in Tyler, Texas, Southside Bank is a community-focused financial institution that offers a full range of financial services to individuals, businesses and nonprofit organizations.
These services include consumer and commercial loans, home loans, loans to municipalities, personal, small business and commercial deposit accounts, trust and wealth management services, safe deposit and brokerage services, credit cards, merchant's services, ATMs, and an array of electronic services on its website.
SBSI Increases Its Dividend 4.8%
Southside Bancshares recently announced a quarterly dividend increase of $0.01/share, which brings its upcoming dividend payout to $0.22/share. It should be noted that the increase will be paid on September 4 for shareholders of record as of August 21. This boost represents a 4.8% increase from its prior dividend of $0.21/share, which was paid to investors on June 5.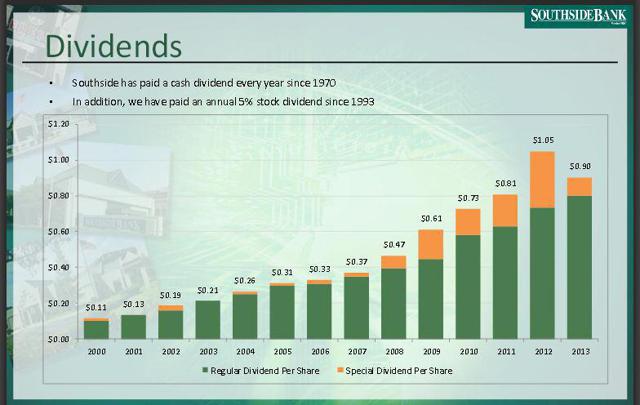 Click to enlarge
When it comes to Southside Bancshares dividend behavior since the year 2000, it's been nothing short of impressive. Over the last 14 years, we've seen the company's annualized regular dividend increase eight-fold from $0.11/share in 2000 to the $0.88/share in 2014 and in each year since the year 2003 the company has paid its shareholders a special dividend as noted in the chart above.
SBSI's Recent Trend Behavior
On Thursday, shares of SBSI, which currently possess a market cap of $555.0 million, a forward P/E ratio of 12.82, and a distribution yield of 2.98% ($0.88), settled at a price of $29.49/share. Based on a closing price of $29.49/share, shares of SBSI are trading 1.28% above their 20-day simple moving average, 4.37% above their 50-day simple moving average, and 8.84% above their 200-day simple moving average.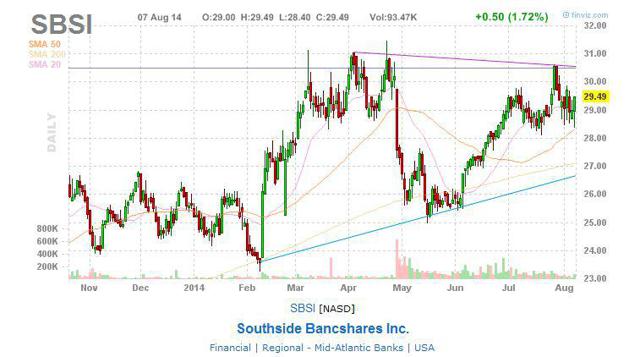 Click to enlarge
Although these numbers indicate both a short-term and a long-term uptrend for the stock, which generally translates into a buying mode for most near-term traders and many long-term investors, I strongly believe the company's trend behavior will continue to improve now that SBSI is on track to become the ninth-largest bank headquartered in Texas once the OmniAmerican deal closes during Q4 2014.
A Brief Look at the OmniAmerican Merger
On Tuesday, April 29, it was announced that OmniAmerican Bancorp (NASDAQ:OABC) would be merging into Southside Bancshares to create the ninth-largest bank headquartered in Texas. The deal, which is expected to close during Q4 2014, is expected to be accretive to earnings in the first full year after closing and is valued at approximately at $307 million.
Under the terms of the agreement, OmniAmerican shareholders will receive 0.4459 shares of Southside common stock plus $13.125 in cash for each outstanding share of OmniAmerican common stock. Based on Southside's closing stock price of $30.46 on April 28, 2014, the per share value of consideration to OmniAmerican shareholders would be $26.71.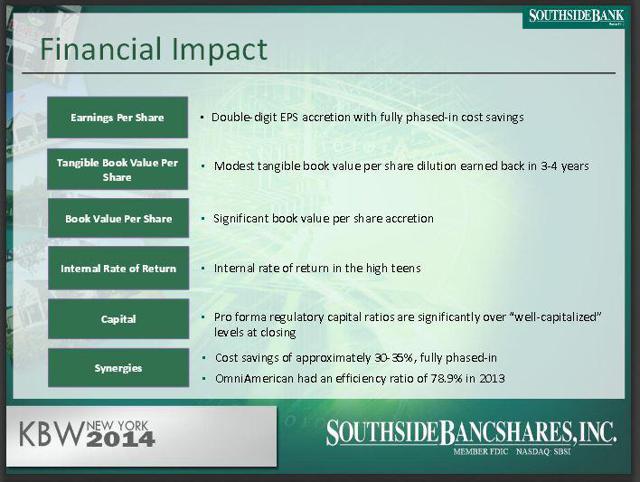 Click to enlarge
In my opinion this merger is a positive for all parties involved. First, shareholders of OmniAmerican not only receive shares in the entity, but are now eligible to earn a 2.98% ($0.88) yield on those shares whereas OABC currently yields 0.82% ($0.20). Secondly, is the fact that the new entity will most likely continue to maintain the solid balance sheets both SBSI and OABC have maintained prior to the merger. And lastly, the expertise and seasoned management teams at both banks will now join forces and play a vital role in the continued growth and further expansion of the new SBSI.
Conclusion
For those of you who may be considering a position in Southside Bancshares, I strongly recommend keeping a close eye on each of the following factors. From an income perspective, the company's dividend behavior over the last fourteen years clearly demonstrates the bank's approach to putting its shareholders first, by enhancing shareholder value through not only increases in its regular dividend but also through the distribution of special dividends every year since 2003. From a growth perspective, the company's recent merger with OmniAmerican not only creates an asset base of just under $5 billion, but also adds 14 branches in the Fort Worth area which could very well act as a model for further expansion throughout Texas.
Disclosure: The author is long SBSI. The author wrote this article themselves, and it expresses their own opinions. The author is not receiving compensation for it (other than from Seeking Alpha). The author has no business relationship with any company whose stock is mentioned in this article.