Cytokinetics (NASDAQ:CYTK) will be presenting data in December at a Major ALS (Lou Gehrig's Disease) conference -- the 21st Annual International Symposium on ALS/Motor Neuron Disease in Orlando, Florida -- from Dec 11-13. This Phase II data will be a significant milestone for the company related to their skeletal muscle program.They have already conducted two interim analyses from this trial, both of which produced encouraging pharmacodynamic trends they the hope will be substantiated and supported in the final data to be presented. In addition to the catalyst above, Cytokinetics will also present at the Canaccord Genuity 5th Annual Cardiovascular, Diabetes and Obesity Conference on Tuesday, December 7, 2010 at the Nikko Hotel in San Francisco, California.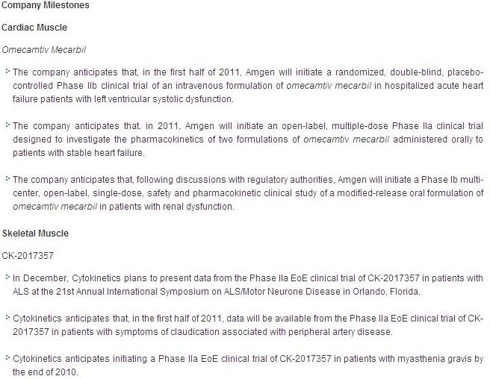 (Click to enlarge)
CK-2017357 is currently the subject of a Phase IIa clinical trials program and has been granted orphan-drug designation by the U.S. Food and Drug Administration for the potential treatment of amyotrophic lateral sclerosis.
From the most recent 2010 Third Quarter Financial Reports the CEO had some very enthusiastic comments about upcoming data:
"We are encouraged by the interim results from both of our ongoing Evidence of Effect trials of CK-2017357, one in patients with amyotrophic lateral sclerosis and one in patients with claudication associated with peripheral artery disease, and are pleased to be proceeding with the futher development of this novel drug candidate. Moving forward, we are readying for the initiation of a third Evidence of Effect trial in patients with myasthenia gravis," stated Robert I. Blum, president and CEO of Cytokinetics. "Data from these trial appear consistent with our therapeutic hypotheses and are planned to be the subject of presentations at upcoming medical conferences starting in December."
At its most recent investor conference in the Q& A portion, the CEO was asked how quickly the company would get the drug in a registration trial and how large would it need to be. He replied that they were already planning to initiate the launch of the next phase study in 2011. It would be a multi-dose study to follow up on what they already expect to be positive single dose data from the upcoming conference.
The company has a lot of milestones and future catalysts moving forward that will set the stage for them as they move from an early stage biotech company to a development biotech company. These will come from both their cardiac muscle and skeletal muscle programs. Their skeletal muscle program is partnered with Amgen (NASDAQ:AMGN) and the program moves forward at their expense. Amgen's joint control is in leading development. Amgen licensed the cardiac program from Cytokinetics for 75 million upfront and 525 million upon milestones achieved.

The company has a market cap of close to 170 million dollars. They have 77 million in cash and very little debt. The share structure is 66 million O/S and about 54 million in the float. Institutions hold close to 55% of the shares while insiders are at about 15%.

The 52 wk low is $2.03 and 52 wk high is $3.78. 10 day avg volume is 140,000. Additionally analyst coverage has been positive. CYTK has an average recommendation of 1.6 (1 = strong buy and 5 = sell) with an average analyst target price of $8.00.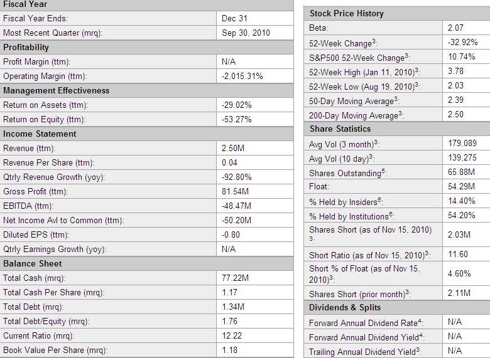 (Click to enlarge)
There are several catalysts at the end of 2010 and into 2011 that investors will be focusing on as Cytokinetics looks to achieve their goals while increasing shareholder value at the same time.

Disclosure: I am long CYTK. My position in a stock can change at any time.