Over the last 24 months, gold has been trading in a holding pattern between $1,200 and $1,400 an ounce. This movement, from a technical perspective, forms a triangle which indicates a break out is possible either to the upside or downside very soon.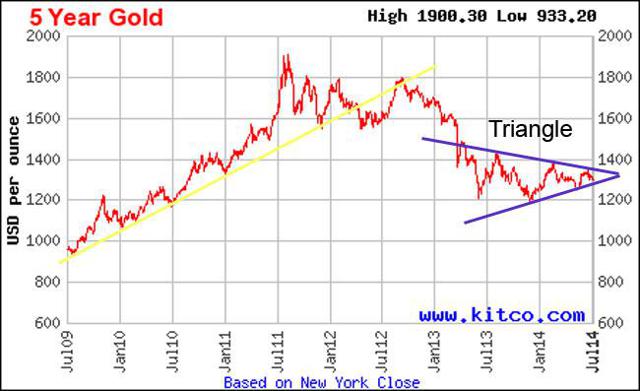 Source: Kitco.com
On a 10-year chart, the pattern is clear. Gold is consolidating after rising for more than eight consecutive years in a row (2004 - 2012). Very few asset classes can go eight years without a consolidation period. There is a reasonable likelihood that gold will return to its long-term pattern towards $1,600 an ounce.
Fundamentals Still In Place
The same fundamentals that drove the initial eight-year price run are still in place and have not disappeared.
Inflation remains tame, but with 0% interest rates and the Fed continuing to print money, I expect this to re-emerge as a factor driving gold prices higher.
Moreover, the production costs for gold continue to rise. The average all-in sustaining production cost of gold is around $1,100 an ounce, higher than the $900 an ounce it was at five years ago. Some mines in South Africa and Australia are already reporting all-in cost of more than $1,400 an ounce.
Gold in easy-to-mine locations has already been exhausted and companies need to look at more expensive options such as underground mining or high-political-risk countries to find reserves.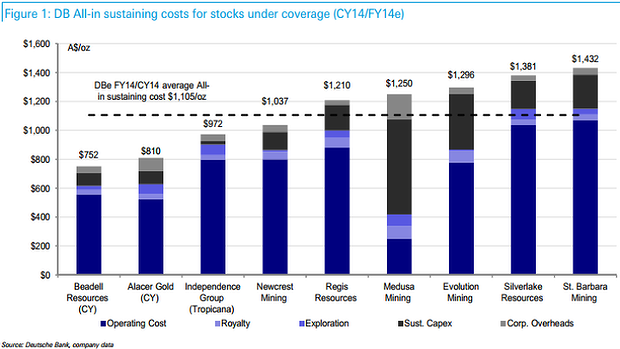 Source: Deutsche Bank
Gold Mining For Leverage
One of the problems of owning gold or even the SPDR Gold Trust ETF (NYSEARCA:GLD) is the lack of leverage in the pure instrument. Even if gold rises to $2,000 an ounce, it would only mean a 55% return. That's reasonable for low risk investors, but hardly anything to write home about.
Gold Mining Shares For More Leverage
One way to get higher returns is to invest in gold mining shares. I prefer this option of indirect operating leverage as compared to directly taking on leverage on margin on the GLD, or through futures on the gold price. The key benefit of this is that I can only lose as much as I put in - a fairly useful requirement to get some quality sleep at night.
However, one of the problems I personally discovered was the unsystematic risk of owning individual gold mining shares. During the 2005-2008 boom, I purchased shares in three gold mining companies. At the end of the price rise, the result was one fantastic performer, one flat stock price and one that cost me 95% of my investment at that time. What I discovered was that while fundamentals of the business had improved, the poor management of some companies resulted in wastage and poor decision-making that destroyed shareholder value.
The gold mining sector is especially prone to 'erratic' management behavior during an upswing, as the management teams tend to lose their self-control due to the impressive cash flows. Consequently, they start making poorly judged acquisitions.
In fact, the two companies that performed poorly, both made serious acquisition mistakes. For instance, Newcrest Mining Ltd. (OTCPK:NCMGY) purchased Lihir Gold for almost $8.5 billion in 2010 and subsequently had to write down almost $6 billion of that investment in 2013 when gold prices fell. Why did they not just return the money to shareholders?
While gold mining stocks have underperformed the precious metal recently, there are reasons why in the next leg, it will be gold mining stocks that will outperform the metal. One reason is simply the amount of consolidation the industry is witnessing. With fewer mines in production and more of them owned by the same companies, I expect miners to be more rational in restricting production for the next leg up in the gold bull market.
Buy the GDX to reduce unsystematic risk
So how do you avoid purchasing the shares of a company and reduce unsystematic risk? The easiest way is to buy a spread of the largest gold mining shares through Market Vectors Gold Miners ETF (NYSEARCA:GDX). The GDX is an exchange-traded fund that physically replicates the NYSE Arca Gold Miners Index. The index is market capitalization-weighted and consists of more than 15 of the world's largest gold companies, ensuring that you have sufficient diversification and quality. Some of the companies that have been accorded a higher weighting are Goldcorp (NYSE:GG) 13.75%, Barrick (NYSE:ABX) 12.94%, and Newmont (NYSE:NEM) 7.64%. Investing in the GDX reduces your decision only to market timing instead of stock-picking.
Personally, I now only invest in gold through the GDX, as I find the diversified return to be more stable than a small basket of gold mining stocks.
Disclosure: The author is long GDX. The author wrote this article themselves, and it expresses their own opinions. The author is not receiving compensation for it (other than from Seeking Alpha). The author has no business relationship with any company whose stock is mentioned in this article.