By Paul Goodwin
Trying to decide whether a new IPO will be a winner just after it comes public is a tough job. Sure, you have some information about the company's sales and earnings before its IPO, so it's not like trying to decide whether a newborn baby is going to grow up to be a CEO or a burger flipper. But it's much harder to gauge the potential of a stock that doesn't have a chart to show how well it's being received by investors.
I look for stocks with a good combination of Story, Numbers and Chart, which translates to:
An appealing business proposition with huge growth potential,
Strong fundamentals in the form of strong revenue and earnings growth, and
A chart that shows an increasing appetite on the part of investors for the stock.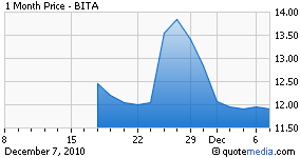 BitAuto (NYSE:BITA) went public on November 17th and has been trading between $12 and $14/share in the days since. So there's certainly no evidence that BITA was an issue investors had been panting for, which knocks Chart out of the picture.
And the Numbers for BitAuto haven't been especially impressive. In the company's short life, it has had more years with losses than profits. And in the four most-recent quarters, the company has reported four losses, including losses of 91 cents per share in the most recent three. You have to decide whether the three quarters of 56% gains in revenues are hopeful enough to counterbalance the losses.
That leaves the Story to carry the water for BITA, and it's a pretty good one.
Investors have been looking for a way to play the Chinese automotive industry for years now, and BitAuto offers a new approach. The company offers online marketing services to both new and used car dealers. Dealers can set up online showrooms and supply price data, videos and inventory for potential buyers. BitAuto can also help with the dealers' marketing efforts.
Everyone agrees that auto sales in China, which have already surpassed those of the U.S., will only grow in the future. China has put staggering amounts of capital into building a great highway system, and the appetite of the Chinese people for cars isn't in doubt.
The question is, will new and used car dealers hire BitAuto or do it themselves?
The Story is strong enough to put BITA on my Watch List, but it can't produce a buy recommendation all by itself. Keep an eye on this young, high-potential issue.
Disclosure: No position