By David Russell
SLM (NYSE:SLM) has been grinding sideways for more than a year, and some investors are looking for a rally.
Also known as Sallie Mae, the student-loan company rose 2.44 percent to $12.17 in afternoon trading. It has traded mostly between $10 and $12.50 (orange lines on chart) since late October 2009.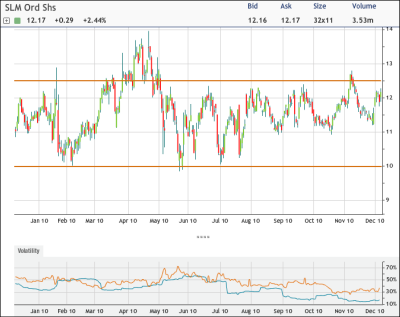 optionMONSTER's Heat Seeker tracking system detected the purchase of 10,000 April 15 calls and the sale of 10,000 January 11 puts. Both priced for $0.22, so the cost of the trade was essentially nothing.
About four minutes later, some 5,000 December 13 were bought for $0.14. Volume was more than triple open interest in all three strikes.
It isn't clear whether the option trades were related, but both were bullish. The first strategy was a variation of a so-called synthetic long that used the premium from selling near-money puts to buy calls that were further out of the money and expire further in the future.
It also exploited higher volatility in the January contracts to pay for the April calls. The trade is an example of how investors can take advantage of different option prices across the calendar to minimize cost.
The position will earn infinite returns if SLM closes above $15 by April expiration and face losses if it dips below $11 by January expiration.
The December calls require a gain of at least 8 percent by the end of next week to earn a profit. Overall option volume in SLM is 13 times greater than average so far today.
Disclosure: No position