On April 13th, I wrote an article published on Seeking Alpha warning investors interested in Ford (NYSE:F) to consider buying at the then current level. (Article) I was motivated to add some additional consideration after reading a very well written article by Achilles Research that mentioned $15 as a possible entry point. The article didn't explicitly say that investors should wait until it hit $15 but readers may have understood it that way.
My article simply pointed out that the stock may not decline to $15 before it started rising again and that investors interested in Ford should be buying it at the price it was trading at the time. The stock looked like it was on its way to 18 before it pulled back to just below 17. With second quarter results recently announced, I think the stock will have another leg up, and not to rub it in for investors that missed the first 10%-plus rise in the stock, this time they should be paying attention.
For those of you who follow Phillip van Doorn of TheStreet.com, he recently wrote an article where he stated:
Investors tend to shy away from companies and industries that appear to be in big trouble. But Ford and GM are at the right stage of the economic and product cycles to be solid investments over the next several years. (Read Article)
Ford July sales were up 10% from the year ago period to 212K vehicles. The sales increase was led by the popular Ford Explorer with a sales increase of 32%, but sales of Ford Fusion (+17%) and Ford Escape (+19%) were also strong. It was the 20th consecutive quarter of profitability for Ford, which for most successful companies is not a big deal, but for companies that almost disappeared, it's something to hang your hat on.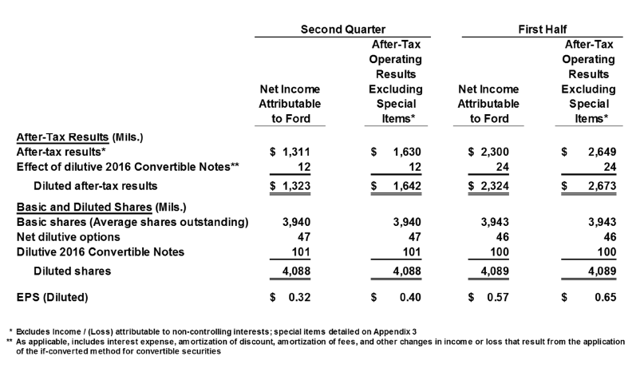 Source: Ford 2Q 2014 Earnings Release
Picking Up Momentum
The table below shows some interesting trends. When comparing the YTD unit sales growth to the most recent month, it seems sales are picking up steam. Ford brand sales are down 0.8% YTD but increased by 9.4% in the second quarter. The same trend is evident by type of vehicle, as cars, utilities and trucks have increased sharply from last year's comparable period.
An analysis by brand shows that only the Fiesta, Taurus, Edge and Flex have declined in sales. But looking at Lincoln, sales exploded due to the introduction of the new MKC.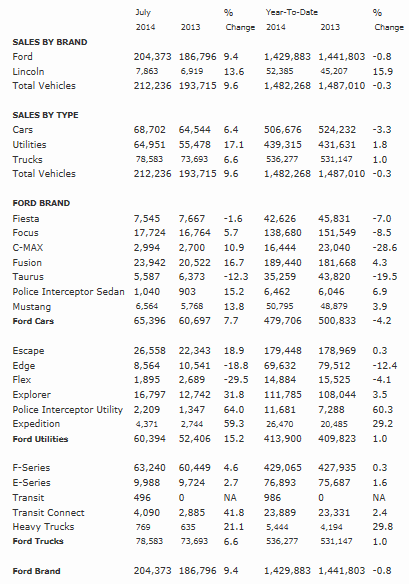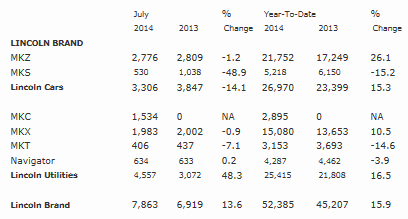 Source: Ford 2Q 2014 Earnings Release
Based on analyst estimates of future earnings, it looks like Ford stock can reach $20 by year end 2014 and close to $30 by 2015 as earnings approach $2 per share. Throw in a dividend yield of 3% and you could potentially have a 50%-plus return.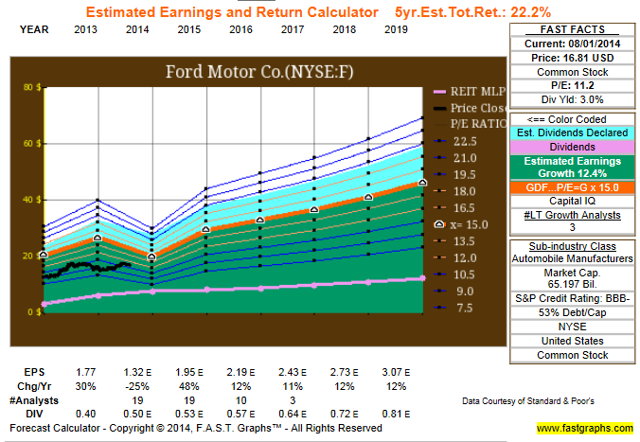 Morningstar's analysis also is in the ballpark, with a fair value estimate of $25 and ironically, a "consider buying" price of $15.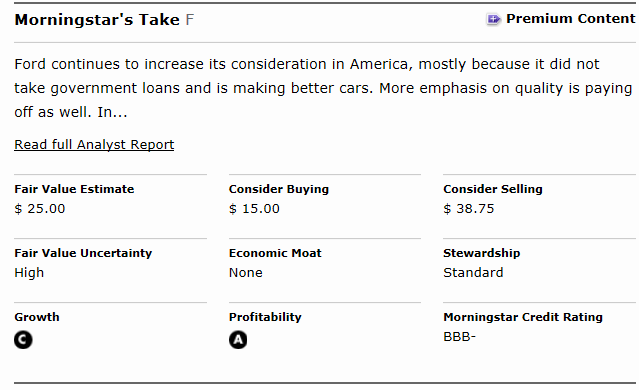 Source: Morningstar
Hindsight being 20/20, it would have been nice to have invested in Ford back in 2009. Despite a 36% decline in 2011, the stock has increased 8 times since 2009. The chart below shows a hypothetical $10K invested in Ford in 2009 would be worth $80K now.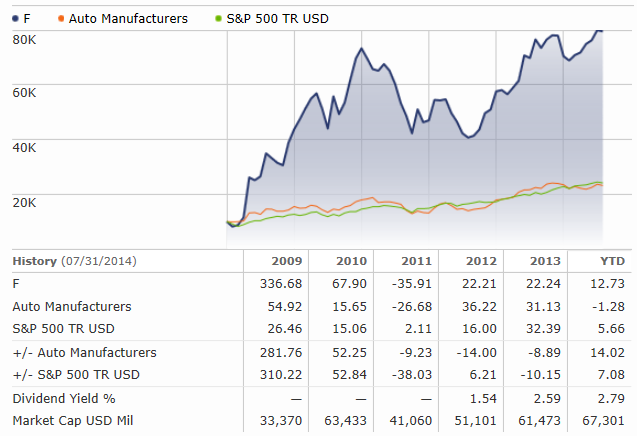 Source: Morningstar
Looking at the chart below, I see a possible support level at about $17. The stock has dipped just below that on recent days but considering the drop in the broader market, I would still view it as an important level to hold. A bounce off of these levels can reach $18 quickly, where it might have some resistance, but given the company fundamentals, sales growth momentum, and multi-year highs in consumer confidence, I think the analyst estimates are accurate and we should see $25 in less than 18 months.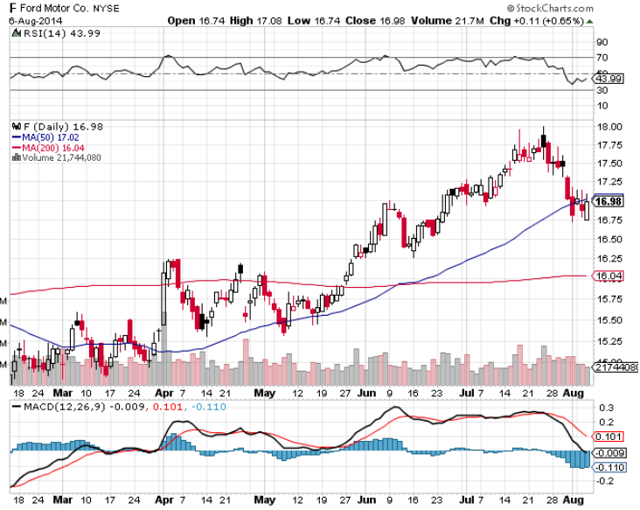 So if you missed the first move, don't dwell on the would haves and could haves. Ford may yet reward you over the next year or so.
Disclosure: The author has no positions in any stocks mentioned, but may initiate a long position in F over the next 72 hours. The author wrote this article themselves, and it expresses their own opinions. The author is not receiving compensation for it (other than from Seeking Alpha). The author has no business relationship with any company whose stock is mentioned in this article.