By Warren Miller
We think International Speedway (NASDAQ:ISCA) represents a compelling opportunity for long-term investors. The company's strong competitive advantages and valuable intangible assets have been overshadowed by dragging demand for motorsports entertainment. We think the market is overweighting recent results, and is ignoring the significant operating leverage that the company will benefit from when demand returns. At its current price, there is little downside, since so much pessimism is already factored into the price, while there is significant unrealized potential upside.
Great Tracks and a Solid Track Record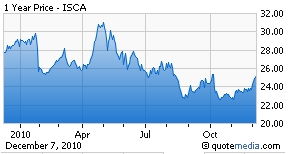 International Speedway operates 13 of the largest and most popular motorsports race tracks in the United States, including Daytona International Speedway and Talladega Superspeedway. Not only have these tracks been host to the most lucrative races of all time, but they are also beloved by racing fans. The company's solid track record of successful races and continued fan support ensure that it will continue to be granted important races by NASCAR. This track record also deters any would-be new entrants because it would be untenable to undertake the huge capital investment required to build a track without assurance in advance that it will be granted important races once built.
In addition, long-term television contracts keep International Speedway's revenue more stable than it would otherwise be given the discretionary nature of races. The company's current contracts were negotiated in 2007, and have annual escalators averaging 3% growth regardless of viewership. Although the current television deal is set to expire in 2014, it's still too early to tell how future negotiations will unfold. International Speedway generated resilient free cash flow, averaging 10% of revenue, over the last five years.
Obviously, the popularity of NASCAR racing is a huge factor in International Speedway's continued success. We think all sports benefit from a network effect, whereby the more fans that follow the sport, the more attractive that sport will be to follow. This is the reason most people do not follow sports that their friends do not follow, and why different sports are popular in different geographies. This network effect makes it very difficult for a sport with as large a fan base as NASCAR to suffer a permanent or secular loss of popularity.
Still, it's not all rosy for International Speedway. Track admissions and concession revenue have declined precipitously since the start of the recession, as consumers have been less willing and less able to spend on such highly discretionary activities. Television viewership of races is also down over the last few years, due partly to the increasing fragmentation of media viewership. However, we think most of the factors that have depressed International Speedway's results are temporary, making the stock an excellent value at its current price.
Full Throttle Ahead?
The popularity of NASCAR racing is the single most important factor in whether or not International Speedway is a good value. If you think the sport is dying and will continue to decline, then you will not find this stock to be a good value. However, if you believe, like us, that NASCAR will experience very slow growth in demand from its currently depressed levels, then please read on.
We expect demand for NASCAR racing to recover with the unemployment rate. Although NASCAR fans are not as stereotypical as is commonly portrayed, they do skew towards a less-educated demographic, which has been hardest hit by unemployment. The current unemployment rate for those without a high school diploma is more than 15% according to the U.S. Bureau of Labor Statistics--much higher than the 9.5% rate in the general population. We don't expect an immediate or rapid recovery in unemployment, or for in demand for motorsports. In fact, in five years, we still forecast that International Speedway's revenue will be 7% lower than its peak in 2007. But we do think it is reasonable to expect revenue growth from currently depressed levels.
As in most capital-intensive businesses, International Speedway benefits from significant operating leverage. Over the last eight years, operating income growth varied, on average, four times as much as revenue growth because the firm couldn't cut its substantial fixed costs when revenue declined. Likewise, it didn't have to pay more in fixed costs when revenue grew. Considering that we expect moderate growth from current levels of demand, we also expect operating margins to expand between now and 2013, resulting in annual operating income growth of 9%.
Of course, we run scenarios where we vary our assumptions for the rate of recovery in demand for motorsports entertainment. To arrive at the current stock price, one would have to assume International Speedway's operating income declines 3% per year over the next five years. However, in our best case scenario, we think International Speedway could growth operating income at more than 10% per year, resulting in a fair value estimate greater than $50 per share.
At its current price of $24 per share, International Speedway is trading at 12 times our 2012 earnings estimate, and 17 times our 2010 earnings estimate. In addition, our Consider Buy price of $26.60 per share represents a mere 5.7x enterprise value to EBITDA ratio.
Why now? Why not now?
As famed economist John Maynard Keynes once said, "The market can remain irrational longer than you can remain solvent." So why do we think the market price will begin to move toward our fair value estimate? We think unemployment is at, or close to, its cyclical high, especially for International Speedway's lower-educated demographic of devotees. In addition, consumer sentiment continues to improve, signaling that more racing fans are likely to be comfortable purchasing tickets. Finally, racing fans have considered the last few years to be less exciting given the recent runaway victories of less popular drivers. This lack of excitement has likely kept some fans from attending races. For all these reasons, we think fear about International Speedway's future is at a peak, and significant pessimism is embedded in the stock price. As a result, there is little downside risk at the current price relative to the significant upside, assuming that NASCAR is not in a secular decline.
Disclosure: Morningstar licenses its indexes to certain ETF and ETN providers, including Barclays Global Investors (BGI), First Trust, and ELEMENTS, for use in exchange-traded funds and notes. These ETFs and ETNs are not sponsored, issued, or sold by Morningstar. Morningstar does not make any representation regarding the advisability of investing in ETFs or ETNs that are based on Morningstar indexes.