Over the past few days, the militant group the Islamic State of Iraq and the Levant, or ISIL, has made substantial progress in its military efforts in Northern Iraq. Fighting between the Kurdish Peshmerga and ISIL has intensified and has brought the fight closer to the Kurdish stronghold of Erbil. Late Thursday night, US President Barack Obama announced his authorization of targeted airstrikes in Iraq. US intervention in the fight against ISIL signifies and confirms the escalation of conflict and is an important step taken to protect US interests as well as to promote the security of Kurdistan and Iraq. Nevertheless, increased conflict in recent days has led to the sell-off of a number of Kurdish oil producers including Genel Energy (OTCPK:GEGYF), which fell by 19.2% in OTC trading last week.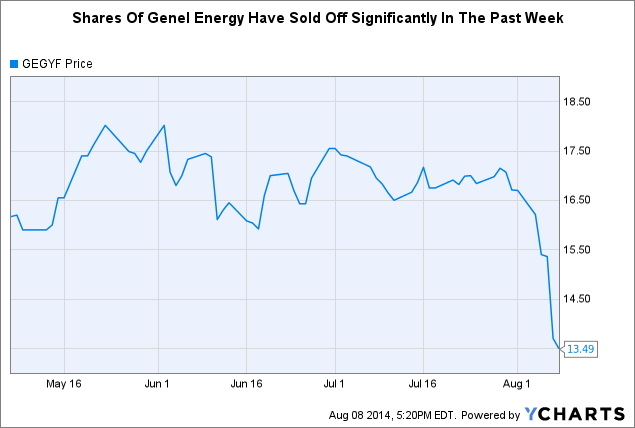 After the close of London trading on Friday, Genel Energy provided the market with an update as follows:
"Following recent events in the vicinity of the Kurdistan Region of Iraq ('KRI'), Genel Energy plc can confirm that the Taq Taq and Tawke fields remain safe and secure. Operations there are unaffected, with combined gross production from both fields averaging c.230,000 bopd this week. We remain confident in the Kurdistan Regional Government's ability to maintain the territorial integrity of both the KRI and oil infrastructure. In line with moves by other operators, we are taking the prudent and precautionary step of withdrawing non-essential personnel from our non-producing assets in the region."-Genel Energy Press Release
While the security situation in Northern Iraq and Kurdistan has deteriorated in the past week, there has been no impact on Genel Energy's operations and it is hard to envision ISIL pushing further east into Kurdish-controlled area so long as the US and the international community supports the territorial integrity of Iraq and Iraqi Kurdistan. Genel Energy remains strongly positioned to grow their production and profitability meaningfully over the next few years. In Genel Energy's first half report, the company posted sizeable production growth and continued to execute on their CAPEX program while maintaining a healthy cash balance. Strong recent trends in exports through Turkey show the potential for the company to eventually realize full international prices for their production. While short and medium term risks remain from conflicts in the immediate region, Iraqi Kurdistan is strongly positioning itself for further independence which can bring substantial gains for Kurdish energy producers including Genel Energy. The long term story of a prosperous and oil rich Kurdistan remains intact, yet volatile events may cloud this outlook.
I originally wrote about Genel Energy in my June 15th PRO article titled, "A Fractured Iraq Should Benefit Genel Energy". The article focused on the long term potential for Genel Energy's production growth and the significant implications of a further autonomous or even independent Kurdish state. Since ISIL's original seizure of Mosul and Tikrit, international support has rallied around Kurdistan's Peshmerga forces to protect the Kurdish homeland and prevent further ISIL territorial gains. The latest sell-off of shares of Genel Energy has created a strong buying opportunity for those who believe in the long term potential of Kurdistan's energy sector and the profits that Genel Energy can produce. I have added to my long position in Genel Energy and believe the company remains a good way to access the growing Kurdish oil sector.
Disclosure: The author is long GEGYF. The author wrote this article themselves, and it expresses their own opinions. The author is not receiving compensation for it (other than from Seeking Alpha). The author has no business relationship with any company whose stock is mentioned in this article.