Nation's Restaurant News has ranked DineEquity, Inc. (NYSE:DIN) as the number one restaurant for the seventh consecutive year. The company has been constantly outperforming its peer group. The second quarter results once again gave the investors a reason to cheer. The improvement in the company's financials was also reflected in the company's stock price.

Source: InFinancials
Headquartered in Glendale, California, DineEquity operates through its subsidiaries, franchises and restaurants under its two brands: Applebee's Neighborhood Grill & Bar and IHOP. With more than 3,600 restaurants in 19 countries, over 400 franchisees and approximately 200,000 team members, DineEquity is counted among the largest full service restaurant companies in the world.
Recent Performance At A Glance!
Growth in revenue was primarily driven by an increase in IHOP and Applebee's domestic system-wide same restaurant sales of 3.2% and 0.6%, respectively.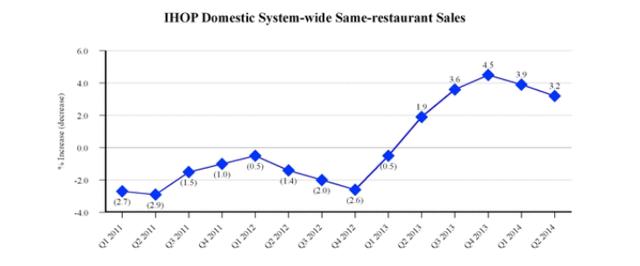 Click to enlarge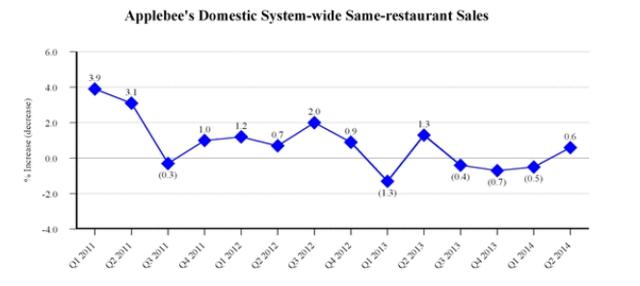 Click to enlarge
Source: DineEquity SEC Filings - 10-Q
In the recent quarter, total revenues of the company jumped to $161 million as compared to $158 million in the corresponding period last year; representing an increase of approximately 1.9%. DineEquity's business model majorly focuses on the franchising business with nearly 99% of its restaurants being franchised. Therefore, franchising proved to be a very important factor in determining the company's profits. The segment's profit contribution to the bottom line has increased from 75.3% to 76% and approximately 79% of the total revenue in the second quarter was contributed by the Franchise and Restaurant operation segment. Furthermore, the increase in sales have resulted from higher average customer check that has been partially offset by decreased customer traffic.
Let's have a look at the contribution of each segment in revenue generation: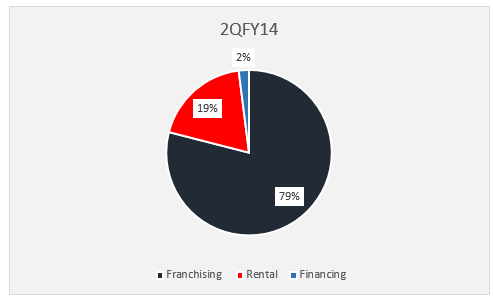 Source: DineEquity SEC Filings - 10-Q
Cut Down In Expenses: The company reported general and administration expenses of $34.8 million for the second quarter of fiscal year 2014 compared to $35.6 million for the same period last year showing a decrease of about 2.25%. The ratio of general and administration expenses as a percentage of sales has decreased from 22.5% to 21.6%, which contributed to the boost in the net profit.
Disposition gains and losses: A one-off gain of $130,000 on disposition of assets increased the net income by 0.69% as compared to loss of $64,000 in the same period last year. Disposition gain is one off and thus does not depict the true operating performance of a business. When adjusted, it will decrease the EPS by $0.007.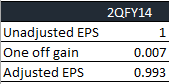 Source: DineEquity SEC Filings
Free Cash flows Position: DineEquity generated free cash flows "FCF" of approximately $50 million in the first half of fiscal year 2014 which represented a decline of approximately 4.1% when compared to last year's figure of $52 million. This decrease in FCF is attributed to the increase in capital expenditures, which rose from $2.9 million to $4 million. Cash flows from operations "CFO" reported in the first six months of fiscal year 2014 were nearly $56 million, depicting an increase of 1.8% when compared to the corresponding period last year. CFO per share has increased from $2.94 to $2.97 in the period under discussion which shows an improved performance.
FCF shows the cash available from operations after making the necessary capital expenditures. It can be used for acquisitions and expansions and shows Company's financial stability. Thus, higher the free cash flows / operating cash flows ratio the more stable and financially strong the company is. In the first half of year 2014, DineEquity witnessed a decline of 5.3% in its 'Free cash flows / operating cash flows ratio' when compared to last year's results. The ratio has moved down from 0.94 to 0.89 showing a deteriorating financial strength.
Future Prospects
Opening Of New Restaurants: DineEquity's management is expecting its IHOP and Applebee's franchisees to each open 40 to 50 new restaurants by the end of this year. As seen above, franchising has been the biggest contributor to the company's revenues. This opening of new franchise restaurants can further help the company in boosting its profits. Moreover, unlike restaurant operations, franchising is not affected by the business risk as it will be based on flat fees.
Refinancing Long-Term Debt: On 30th June, 2014 the existing balances of secured credit facility and senior notes were nearly $465 million and $761 million respectively. DineEquity has recently announced to replace it with a new securitized financing which will involve $1.3 billion senior term notes and $100 million of variable funding notes. The net proceeds of around $174 million will be used to make repayment of exiting debts and other transaction costs as a result of this refinancing. But the company has not yet announced when this refinancing activity will take place and at what interest rate.
The repayment of exiting debts will definitely reduce the interest expenses of the company and thus further increasing the profits but that greatly depends on the interest rate at which the refinancing transaction is completed, if it's quite high it will partially offset the interest cost savings.
Bravo! Another Dividend Announced: DineEquity has recently announced a cash dividend of $0.75 per share for the third quarter that will be paid on September, 26th 2014. This announcement is a great news for the shareholders that will increase their confidence in the company's performance and can help the stock price to appreciate further.
Disclosure: The author has no positions in any stocks mentioned, and no plans to initiate any positions within the next 72 hours.
Business relationship disclosure: The article has been written by a Gemstone Equity Research research analyst. Gemstone Equity Research is not receiving compensation for it (other than from Seeking Alpha). Gemstone Equity Research has no business relationship with any company whose stock is mentioned in this article.