Recently Continental Gold (OTCQX:CGOOF) announced its second quarter earnings results. During the quarter the company generated ($12.7 million) in cash-flow as it generates no revenue and is using its large cash hoard - about $100 million - to develop its massive Buritica Project. The highlights from the quarter are twofold. The first is that management released an updated resource estimate for the company's flagship Buritica Project in Columbia. When I last wrote about the company it had roughly 5.4 million ounces of gold. It now has 7 million ounces, and another 400,000 ounces if you count silver and zinc as gold equivalents.

Click to enlarge
(Source: Continental Gold's Q2 Earnings Announcement)
This growth isn't anything new for the company, which has more than doubled its gold resources in the past three years.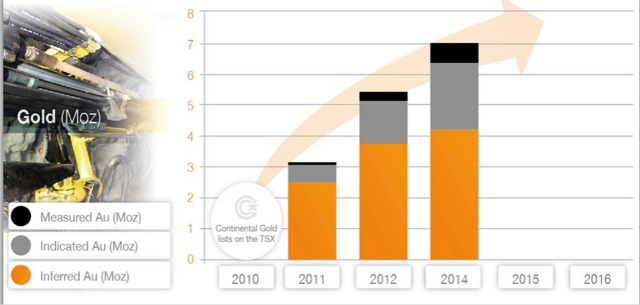 Click to enlarge
(Source: Continental Gold's Presentation)
This resource growth potential is something I highlighted in my article last July, in which I point out that Buritica is an under-explored asset that can potentially contain a gold resource that is several times larger than the current one.
In addition to resource growth the company recently commenced work on its preliminary economic assessment, which it expects to release by the fourth quarter. Given the company's large resource and the high grade of this resource we should expect the report to show that the project has robust economics. However, this is largely priced in considering the company's $450 million valuation and its $350 million NEV.
Given the company's valuation it is clear that investors are well aware of the potential size of the Buritica resource, and given that it is a high grade resource investors are confident in its economic viability. With this in mind I think this is a high risk speculation stock with the "high risk" referring to the fact that the market is pricing in a relatively optimistic scenario as opposed to a high probability of failure. This optimism is not unjustifiable. We've seen the Buritica Project's resource growth. I can also point to the fact that Columbia is an under-explored region, and while there was a speculative gold rush in Columbia that led to a bust in the last cycle (let's call it 2009 - 2013) Continental Gold has come out as a winner. Finally the company is financed through the decision to mine, so we will not see any more stock issued. This is the result of a brilliant decision by the company's management to issue stock near the top of the market.
All of these points are indicative of success, but keep in mind that this is a well-recognized and accepted opinion. Also keep in mind that Continental Gold is a long-term investment, and so buy on weakness and be patient.
Disclosure: The author has no positions in any stocks mentioned, and no plans to initiate any positions within the next 72 hours. The author wrote this article themselves, and it expresses their own opinions. The author is not receiving compensation for it (other than from Seeking Alpha). The author has no business relationship with any company whose stock is mentioned in this article.
Editor's Note: This article discusses one or more securities that do not trade on a major U.S. exchange. Please be aware of the risks associated with these stocks.