Chesapeake Energy Inc (NYSE:CHK) keeps chugging along just fine. Last quarter, capex fell by 27% year-over-year as total adjusted production rose 13%. The best part about Chesapeake's production growth is that it was heavily weighted towards liquids. As its output rose to 694,650 BOE/d, oil production climbed 12%, NGL production skyrocketed 72%, and its natural gas production increased by 7% year-over-year. This shifted Chesapeake's liquids content to 28% of total output from 25% a year earlier. There still is plenty of room left for improvement, which Chesapeake is going to push onwards through its various liquids plays.
The Eagle Ford
One of America's favorite liquids rich plays, the Eagle Ford, is also home to 21 of Cheasapeake's rigs. 35% of its exploration and production capex is being directed towards the Eagle Ford, making it a crucial part of its liquids focus.
In the second quarter Chesapeake pumped out 91,000 BOE/d from the area, with a production mix of 64% oil and 14% NGLs. After factoring in asset sales, this represents 15% year-over-year growth. During the last week of July, Chesapeake's Eagle Ford production rate was ~101,000 BOE/d, or 11% higher than last quarters average output.
Currently Eagle Ford wells are generating a 45% rate of return for Chesapeake, but there is plenty of room to expand that. Management is guiding to cut well completion costs from $6.9 million in 2013 to $6.4 million by the end of this year. Spud to spud cycle times are also expected to decrease by 20% this year, allowing Chesapeake to bring wells online faster, and at a lower cost. Going forward, the Eagle Ford will only become more economical for Chesapeake and will be a major source of production growth.
Powder River Basin
At the end of July, Chesapeake entered into an agreement with RKI to trade its non-operated interest in the Powder River Basin for a larger stake in its operated assets in the PRB. Effectively, Chesapeake was able to boost its net position in the play to 388,000 acres from 322,000 acres, while also increasing its average working interest to 79% from 38%. Chesapeake will pay RKI $450 million as part of the deal.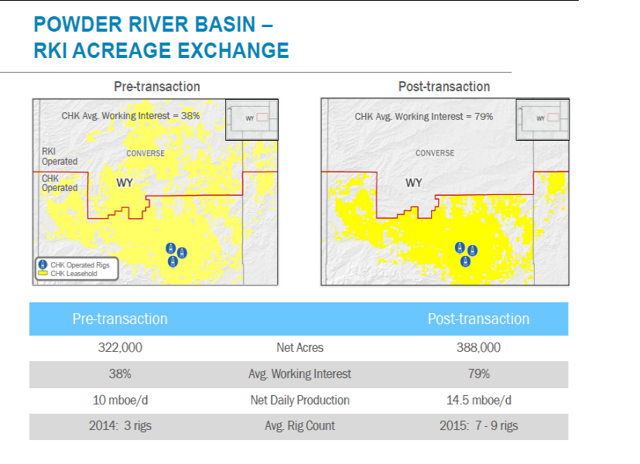 Click to enlargeSource: Chesapeake Presentation
This is a smart move for Chesapeake, as reducing the complexity of the ownership structure will allow it to quickly ramp up its drilling operations in the area. Plus, as Chesapeake boosts its operated PRB rig count from three this year to seven - nine next year, it will reap a much larger portion of the spoils. The deal also grew its production in the PRB from 10,000 BOE/d to 14,500 BOE/d. Over the next few years output is set to explode upwards as Chesapeake shifts into full on development mode, primarily by tripling its rig count.
Massive exploration upside
The Powder River Basin could also yield an enormous amount of reserves. In the Niobrara formation, Chesapeake thinks it can unlock 1.5 billion BOE of resources weighted 50% - 70% towards oil and condensate. On top of that, Chesapeake sees 325 million BOE that is 75%+ oil/condensates in the Upper Cretaceous formations, and additional upside could be uncovered by exploring the Frontier (possible 250 million BOE in resources) and Mowry formations.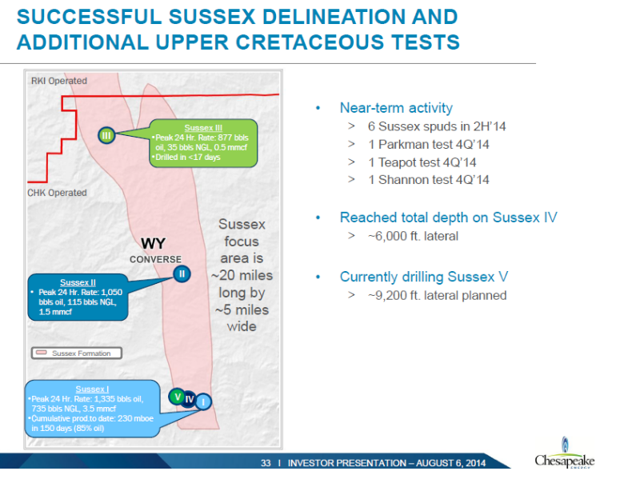 Click to enlarge
Source: Chesapeake Presentation
A few wells have tested the potential of the Upper Cretaceous already. The Sussex I, II, and III posted 24-hour IP rates of 2,674 BOE/d, 1,424 BOE/d, and 998 BOE/d, respectively. Six wells are expected to be spud targeting the Sussex horizon in the second half of this year. Further tests will be carried out in the Parkman, Teapot, and Shannon horizons in the fourth quarter. Wells targeting the Sussex started really strong but petered off, so ideally Chesapeake would want to make sure it can turn that around.
Earnings potential
The earnings upside from the Powder River Basin could be huge. EOG Resources (NYSE:EOG) sees the PRB Turner and PRB Parkman plays yielding returns north of 100%. Two of EOG Resources' recent Parkman wells posted very promising, oil rich results. The Mary's Draw 404-21H well had an 24-hour IP rate of 1,045 bpd of oil and 305 Mcf/d of rich gas and the Mary's Draw 468-34H well had an 24-hour IP rate of 980 bpd of crude and 330 Mcf/d of rich gas. EOG Resources see returns exceeding 100% in the Turner formation due to its high crude content.
In the PRB Turner part of the play, EOG Resources brought two wells online that were also very successful. The Blade 01-2116H well had an 24-hour IP rate of 746 bpd of oil, 122 bpd of NGL, and 1,045 Mcf/d of dry gas, while the Bolt 22-05H well had an 24-hour IP rate of 686 bpd of oil, 132 bpd of NGL, and 1,230 MCf/d of dry gas. Being weighted more so towards NGL and dry gas means the Turner formation will produce returns slightly less than the Parkman, but the returns will still be around 100%.
Going forward, EOG Resources is using multi-well pad drilling, better completion techniques, and spacing optimization to maximize its returns from the plays. Management is allocating a significant amount to the region, and plans on leveraging the plays for future growth. Due to EOG Resources' success in the PRB, Chesapeake could also realize very strong production and earnings growth from the region, making it an important play to watch.
Watch the debt
Under the McClendon years, Chesapeake raked up a huge debt load as it aggressively bought up all the acreage it could. When natural gas prices fell, this back fired and ultimately forced Aubrey McClendon out. To this day Chesapeake's debt load remains high, but due to asset sales, declining capex budgets, and a liquids focus driving cash flow growth, Chesapeake has been able to get its debt under control.
From the end of 2013 to the second quarter of 2014, Chesapeake was able to reduce its net debt by almost $2 billion, cutting it from $12.05 billion to $10.1 billion. This resulted in its total debt to capitalization ratio to fall to 36% from 40%, but future asset sales will be needed to keep pushing that farther down. During the second half of this year, Chesapeake will generate at least $700 million from asset sales.
Ohio's emerging shale boom
Ohio is home to the Utica shale, one of America's best emerging shale plays that Chesapeake has built up an enormous position in. With over 1 million net acres in the play, Chesapeake will be able to greatly reward shareholders with tons of production growth.
In the Utica, Chesapeake produced 67,000 BOE/d in the second quarter, a 373% year-over-year increase and much higher than the 50,000 BOE/d it produced last quarter. The production mix was 10% oil, 30% NGLs, and 60% dry gas, which should slowly trend more so towards liquids by the end of the year. Management is guiding for its year end Utica output to hit ~110,000 BOE/d, with roughly half of that being liquids.
If you want a better look at Chesapeake's Utica operations and how management plans on unlocking 4 billion BOE, take a look at "How Chesapeake Energy Is Banking On America's Next Top Shale Play".
Final thoughts
As long as Chesapeake can keep its debt under control, this company has a bright future ahead of it. The Eagle Ford offers a strong, tried and true growth runway while the Powder River Basin is chalked full of reserve upside. Chesapeake Energy is spearheading the charge into the Utica shale, which so far has posted two years of triple digit output growth and is guided to grow by high double digits next year. A disciplined management team that can control its budget, pay down debt, and open up new plays creates a compelling buy proposition.
Disclosure: The author is long EOG. The author wrote this article themselves, and it expresses their own opinions. The author is not receiving compensation for it (other than from Seeking Alpha). The author has no business relationship with any company whose stock is mentioned in this article.