Magellan Midstream Partners (NYSE:MMP) is an energy company headquartered in Tulsa, Oklahoma. It is engaged in the transportation, storage, and distribution of petroleum products and operates in three segments: refined products, pipeline and terminals, and marine storage.
Magellan Midstream is structured as a Master Limited Partnership (NYSE:MLP). MLPs trade like stocks, but may avoid paying taxes on their earnings if 90% of its income comes from energy production and related activities. That income is paid in the form of a minimum quarterly distribution (MDQ) which is similar to a quarterly dividend. And the yields on MLPs can be quite attractive. In this low-interest rate environment and with fundamentals in the energy sector improving, the energy-related MLPs have been on fire this year. Their performance has been reminiscent of last year's biotech sector.
Magellan Midstream Partners owns the longest refined petroleum products pipeline system in the country. As a result, it can tap into nearly 50% of the nation's refining capacity and store more than 90 billion barrels of petroleum products such as gasoline, diesel fuel, and crude oil.
Magellan Midstream Partners, L.P. assets consist of:
· 9,500-mile refined products pipelines with 53 connected terminals & 27 independent terminals
· 1,100 miles of crude oil pipelines and storage facilities storing about 18 million barrels
· Marine terminals along coastal waterways storing approximately 27 million barrels
Source: Magellan Midstream Partners, L.P.
I purchased Magellan Midstream in October of 2011 and continue to own it. Since I purchased it for my Income clients, Magellan Midstream has soared in value.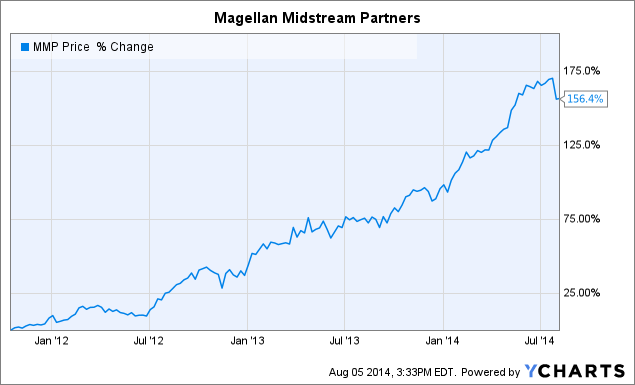 Energy stocks (NYSEARCA:XLE) continue to do well in the current market environment, up 10.6% year-to-date versus only 4.9% for the S&P 500 Index.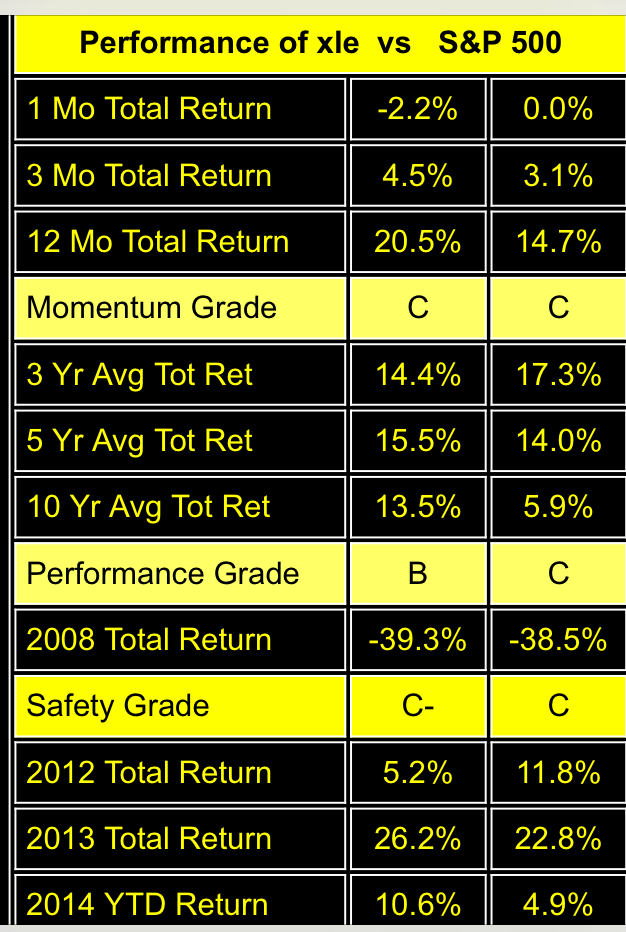 Data from Best Stocks Now app
Magellan Midstream Partners' stock continues to benefit from the domestic oil boom, as we move closer as a country toward energy independence. The Permian Basin in west Texas is a key area of focus for the company, with most of its major assets, both current and under construction, located in the Permian. These include the Longhorn crude oil pipeline and the BridgeTex pipeline, which is still under construction.
BridgeTex is a joint venture with Occidental Petroleum (NYSE:OXY) to build a crude oil pipeline that will extend from west Texas to the Houston area. Both companies are investing $600 million in this venture, which will transport 300,000 barrels/day of oil. The project is scheduled to be completed by the mid-third quarter of 2014 and is in the final stages of construction. The project will pay for itself in eight years, with a 12.5% rate of return.
Best Stocks Now Analysis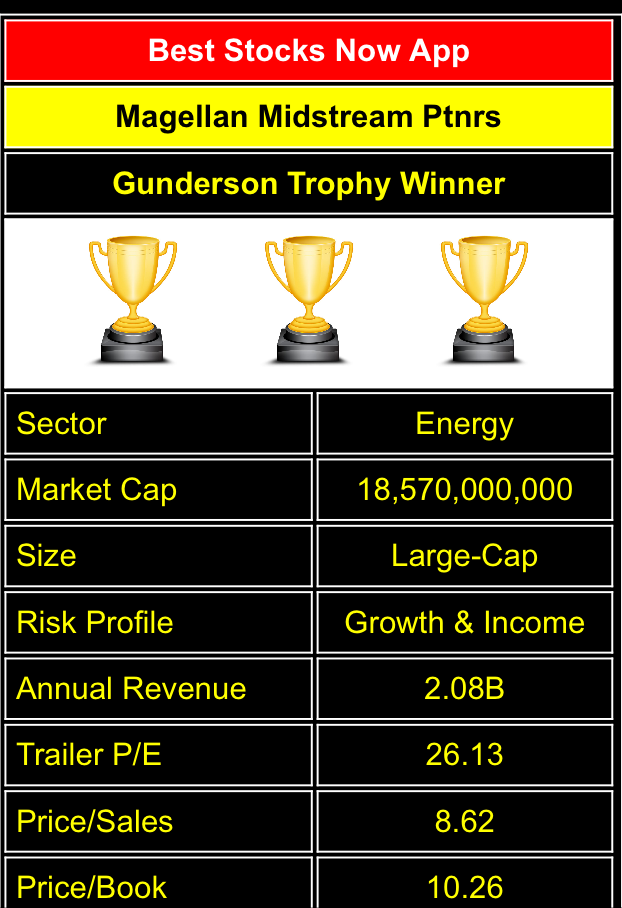 Data from Best Stocks Now app
Magellan Midstream Partners has the honor, due to its stellar record of investment performance, to be a Gunderson Trophy Winner. Few stocks in the 3800+ stock universe receive this distinction. Magellan Midstream is a large cap energy stock with a market cap of $18.6 billion.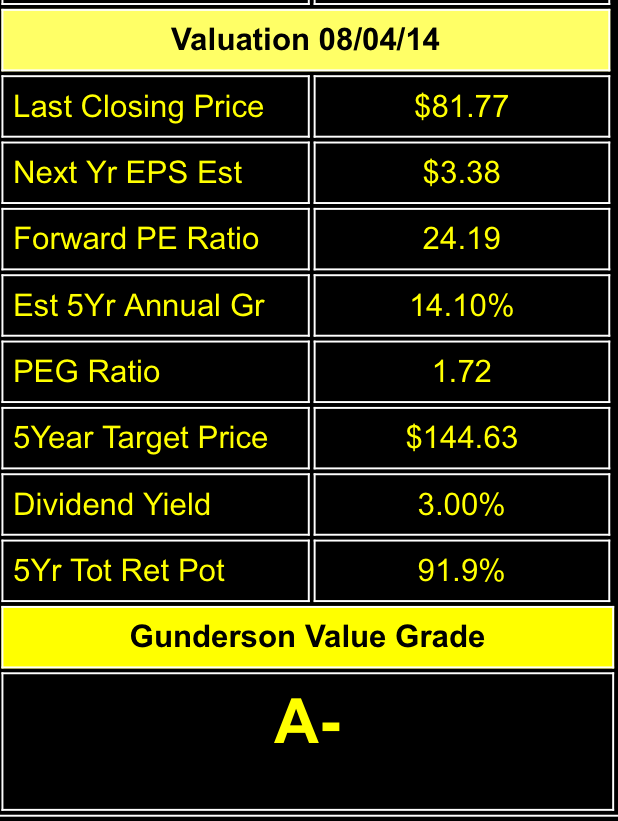 Data from Best Stocks Now app
The stock is appropriate for Growth and Income investors and currently pays a 3% yield. The stock trades at a forward PE of 24 but still receives a Value Grade of A-.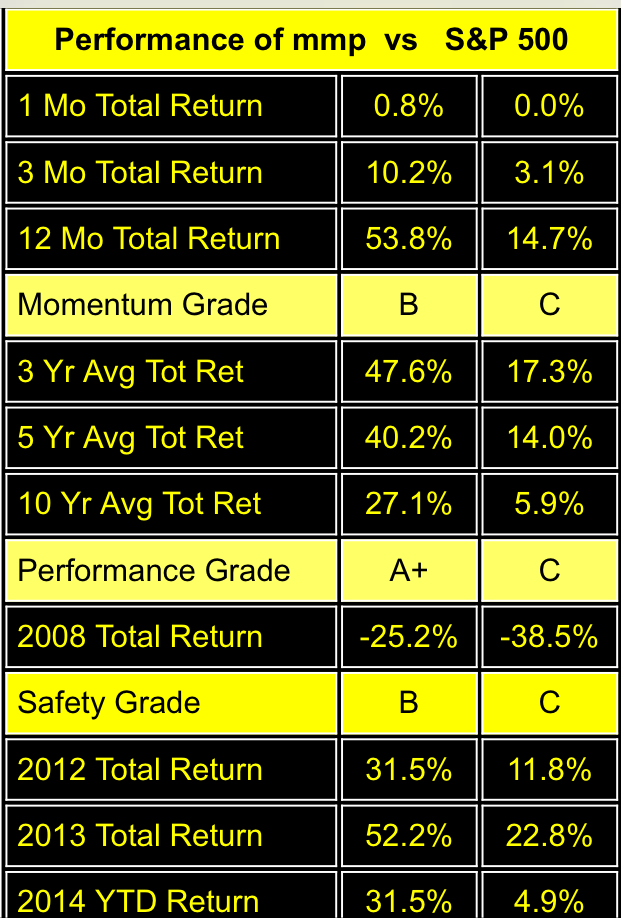 Data from Best Stocks Now app
Magellan Midstream has been a consistent outperformer, up 31.5% this year with a 3-year average return of 47.6% and a 5-year average return of 40.2%.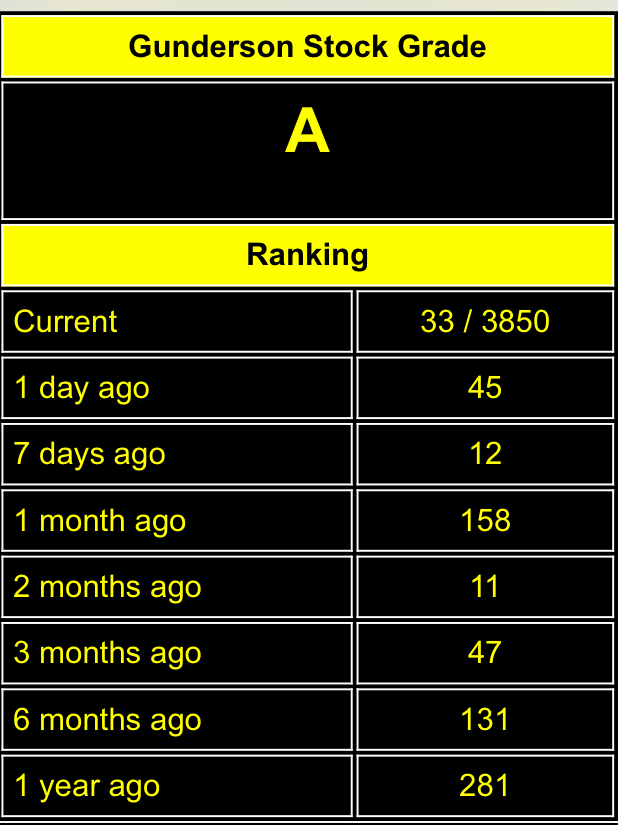 Data from Best Stocks Now app
Magellan Midstream currently ranks #33 out of my 3850 stock universe and receives a Grade of A.
The company reported Q2 earnings on August 5th that were below consensus due to the unfavorable impact of a cash impairment charge. If not for that charge, results actually came in ahead of expectations due to continued strong demand for refined products and higher crude oil shipments during the quarter.
MLPs like Magellan Midstream are a great way to leverage the domestic energy renaissance that is underway in this country, but with less exposure to volatile oil prices. As a pipeline operator, it generates most of its business from fees charged to access its pipelines. Given the serious shortage of pipeline capacity in this country, the company has tremendous pricing power regardless of spot oil prices.
And as an MLP, Magellan's payouts are impressive and growing. The company has a long history of raising its distribution having done so for 48 consecutive quarters. Magellan Midstream has been a consistent winner in the past and remains a best stock for right now.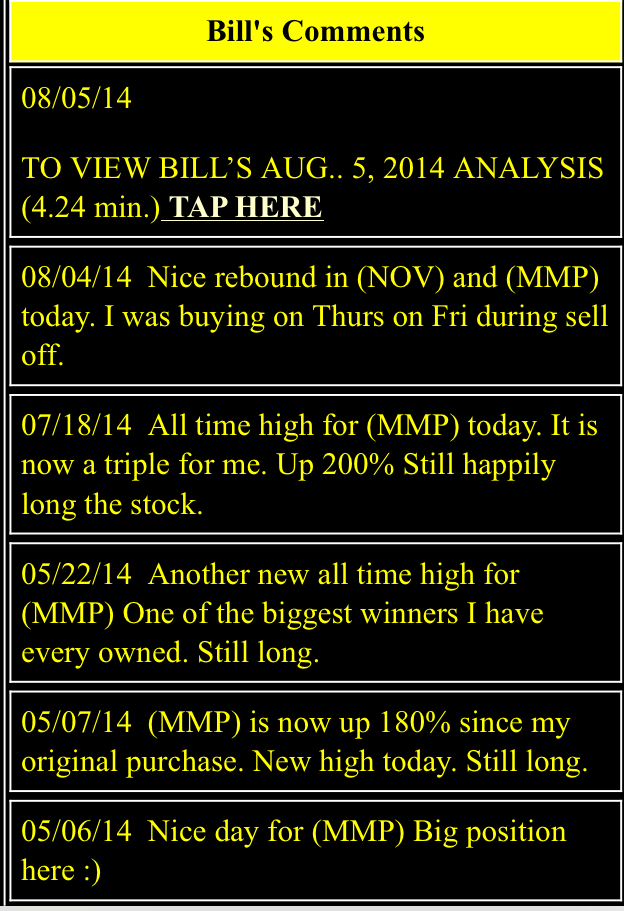 Follow me on Twitter @billgunderson for a change of opinion on this stock.
Disclosure: The author is long MMP. The author wrote this article themselves, and it expresses their own opinions. The author is not receiving compensation for it. The author has no business relationship with any company whose stock is mentioned in this article.