Atlas Energy: A Diamond in the Rough
Atlas Energy (NYSE: ATLS) is cheap and pays a solid, rising dividend. This is a contrarian value play for patient investors willing to wait until the market fully appreciates Atlas' over-performance.
Atlas develops and produces natural gas, crude oil and natural gas liquids. It also sponsors and manages tax-advantaged investment partnerships. The shares are down over 10% this year after falling off sharply recently. At these depressed prices, it represents a good value on this weakness, especially considering Atlas's rising dividend.
Current State of Play
Atlas reported earnings after the close On 7 August 2014. It reported a loss of (.19) per share, beating by .01. It had revenues of $851.9 million, a 32.3% increase from last year.
Atlas is the general partner for two other MLPs: Atlas Resource Partners, L.P. (NYSE:ARP) (28% stake) and Atlas Pipeline Partners (NYSE:APL) (6% stake). It is the only publicly traded general partner with a stake in both a production (upstream) MLP and a pipeline (midstream) MLP. Atlas' prospects depend on the performance of ARP and APL.
ARP is an independent developer and producer of natural gas, crude oil and natural gas liquids, with operations in basins across the United States. It is a midstream energy service provider engaged in natural gas gathering, processing and treating services in the Anadarko and Permian Basins of the United States. During the earnings call, the company said that ARP oil production grew organically over 30% during the quarter, and over 60% over the same period last year. It is "growing geometrically." APL also did well, reporting record processed gas volumes and expanding its processing capability by over 20% during the quarter with new plants in Oklahoma and Texas.
Atlas has incentive distribution rights, so that as the distributions in ARP and APL rise, ATLS as the general partner gets a greater percentage of the cash flow from them. In other words, as the ARP and APL do well, Atlas does even better - and they are doing well.
ATLS is a master limited partnership that has special tax implications for your portfolio, so you should consult with your tax adviser before investing in it.
Good Growth
Atlas showed strong revenue growth and good cash flow during the quarter. Total revenues for the June 30 quarter in 2014 were $851,889,000 vs. $643,795,000 in 2013, a 32.3% increase.
With all this growth, you would think that the stock price would respond, but it hasn't. When that happens, though, folks in the industry notice. ATLS has compelling value that the market has refused to recognize, but someone else might. Jim Cramer on CNBC has been openly touting Atlas as a possible acquisition because of this unappreciated value:
"We've seen a lot of M&A activity in this space lately. I wouldn't be at all surprised if Atlas Energy, which has a relatively small enterprise value of $5.2 billion, turns out to be a possible takeover target."
Chairman/CEO Cohen also referred to the great unrecognized value of APL and ARP during the earnings call, referring to "The enormous value that's been unleashed by situations like Devon" - apparently referring to the DVN/XTEC deal last year which sent DVN's stock price soaring. He added that "obviously those situations suggest the true underlying value that our assets both at ARP and at APL have" and the hope that "shareholders would take that into consideration in valuing our company."
Another tailwind in the longer term for ATLS could be rising energy prices. The market could start responding to the economic saber rattling between Ukraine and Russia, for instance. The media has focused on Vladimir Putin in Russia turning off the taps to Western Europe, which gets 24% of its gas from Russia, but that is only part of the story. Half of that gas - 80bcm a year - flows through Ukraine, and it has the power to shut down those pipelines, too.
As an example of the willingness of everyone to use that gas to their political advantage, on 8 August 2014, Ukrainian Prime Minister Arseniy Yatsenyuk told reporters in Kiev that his country could halt natural gas flows from Russia on its own initiative. The country, he said, was considering imposing sanctions of a "complete or partial ban on the transit of all resources" from Russia. He obviously was talking about natural gas, since pretty much everything else from Russia can easily be shipped by other routes. That part of the world has been unstable for some time, and the natural gas weapon remains on the table.
Ukraine previously shut down the gas pipeline for two weeks in 2009 and could do so again. A short-term disruption won't do much damage, as Europe has large reserves and other alternatives. All these threats, though, make alternative gas resources in the U.S. and elsewhere more valuable in the long term.
Rising Dividend
The best reason to own ATLS is the rising dividend, which pays you to own this undervalued stock until the market recognizes its underlying value.
After three quarters of no change in its distribution, ATLS just increased its cash distribution from $0.46 to $0.49, a 6.5% increase. With a $1.96 annual distribution looking forward, that gives ATLS a dividend yield of 4.67%.
Some think the dividend is shaky, but as a general rule of thumb, the best time to bank on a dividend continuing is when it recently has been raised. Asked about the dividend increase on the call, Cohen said that the company has "Good line of sight and our Board took everything into consideration. We are satisfied that it was a safe and secure decision to make."
Leon Cooperman has liked Atlas for some time. He thought it was undervalued at $45 last October, and it has dropped lower since then after temporarily trading higher. He selected Atlas as one of his top 12 picks under the income and growth category for the next twelve months at the July 2014 Delivering Alpha conference. He thinks the stock could rise 28%. Cooperman has a good track record with his annual picks at that conference, with all of his 2012 picks rising over the following year and 8 out of 10 of his 2013 picks rising.
In terms of valuation relative to its peers, ATLS is cheap. In fact, it trades for a 25% discount to its peers. Williams Companies (NYSE:WMB), for instance, pays a $1.70 annual dividend and is priced at $54. Western Gas (NYSE:WGP) only pays a $1 annual distribution and is priced around $55. Meanwhile, ATLS will be paying $1.96 and is priced at $40.98. Value investors should take notice and send this stock to the $50 range to join those companies and where ATLS has traded before.
Chart
As the chart shows, ATLS is in one of its typical severe cyclical downswings that it goes through periodically. MACD and RSI show the stock as oversold. We look for a bounce back above the 200 day moving average just as happened in July 2014, assuming the overall market cooperates.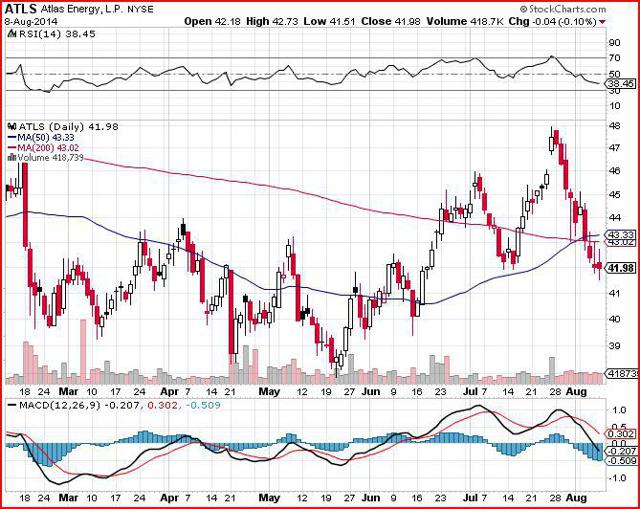 Source: Stockcharts.com
ATLS certainly could go lower still. However, as the chart shows, it has found good support at the 39-41 level over the past year. If ATLS is forming an inverted head and shoulders pattern on the chart as it appears, with its head in May and the left shoulder 40-41 region, then it is swiftly approaching the neckline, which should provide technical support.
Short sellers like ATLS, no question about it, and have helped frustrate longs for some time. As of July 15, the days to cover figure was a relatively high 5.4 days, so there is a lot of negative sentiment out there about this stock. The shorts, though, eventually have to cover, and a positive catalyst easily could create a short squeeze. A rising dividend such as ATLS' is never a short's friend, as they have to pay that out to longs. Shorts are seriously pressing their luck if they think they will force Atlas down through the heavy chart congestion around 40-41, but anything is possible.
Conclusion
Contrarian investors buy stocks when they are down and out. This is a value play for dividend growth investors who are willing to be patient as they collect their rising dividend and wait for the market to recognize the company's underlying value. If you are looking to use current weakness to your advantage, consider Atlas Energy.
Disclosure: The author has no positions in any stocks mentioned, and no plans to initiate any positions within the next 72 hours. The author wrote this article themselves, and it expresses their own opinions. The author is not receiving compensation for it (other than from Seeking Alpha). The author has no business relationship with any company whose stock is mentioned in this article.