National Oilwell Varco (NYSE:NOV) is gaining momentum in terms of strategic initiatives, financial situation, and returns for investors. Its share price has been increasing ever since the company announced its first quarter results; and then after its announcement of spinning-off of its distribution business and a gigantic increase of 75% in its dividends. However, the company lost share price in the past few days with the market correction, which started to occur over the past two weeks. I believe the current fall in the company's share price is presenting an attractive opportunity for investors to pick NOV's stock as it appears that the company is set to make big profits.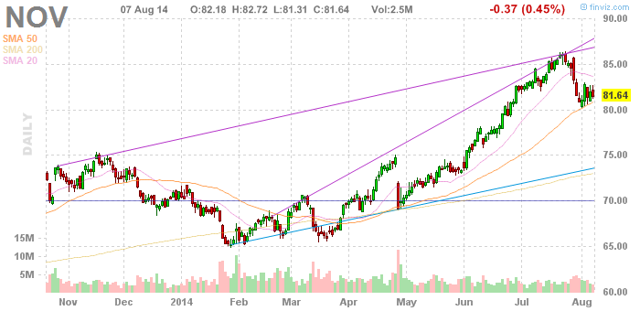 Let's take a brief look at how National Oilwell Varco is set for big profits. Recently, the company announced second quarter results of this year based on its new business model and operating segments after the spinoff. The company has posted $5.2B in revenues, an increase of 7% from the Q1 and 12% from the past year's quarter. Its earnings per share stands at $1.44/share compared to first quarter of $1.37/share. These are very attractive figures and signify that the company's business strategy of focusing on its high growth business and separation of low performing distribution business is right.
Moving forward, NOV has gathered a huge backlog of $15.39B at the end of the second quarter for its Rig Systems segment and $2.14B for its Completion & Production Solutions segment. Further, the company is seeing very strong demand for its completion, drilling, and production equipment. With the big shift towards liquid play and oil production, energy sector particularly integrated oil and gas companies and exploration and production companies are making massive investments which are growing demand for oilfield services companies.
Long-term fundamentals look strong for National Oilwell Varco's business and it will keep positing higher results in the coming days with the massive order backlog, continued focus on organic growth, better technologies, research and development, products, investments, and more efficient production and operational excellence, as well as expanding market share into new regions. Looking at the cash position will reveal more facts about the company's potential to make investments, ability to return cash to investors, and any risks associated with it.
NOV's cash generating potential looks strong enough to support future investments and the returning of cash to investors. At the end of the most recent quarter, it had generated $871M in operating cash flows when capital expenditure was standing at $169M, and thus free cash flows were at $702M. Its free cash flows are still very much higher than its 75% increased quarterly dividend payment of $198M. I believe the company has not only potential to sustain its dividends, but also has room for further increases. Going forward, as the company is expecting strong demand for its products and services; it's likely that its cash generating potential will remain strong.
The company's cash position shows that it has no risk of liquidity and its dividend is sustainable. Let's take a look at its business outlook to reveal any other risks associated with the company. NOV is operating in the oil field services industry which is gaining momentum with the healing of the economy. Most of the Exploration & Production and Integrated Oil and Gas companies are moving towards liquid and oil plays which are forcing them to accelerate investments. This in turn enhances the demand for oilfield services providers. Further, long-term fundamentals are also strong as the demand for energy resources are growing both in developed and developing economies.
In Conclusion
National Oilwell Varco has made a very smart decision in the separation of its distribution business as this will allow it to focus more on its other two high profit generating businesses. In addition, in order to capitalize on the growing demand, the company has further simplified its remaining two segments into four business segments which I believe give more strength to the company's management to focus in depth on each business they are operating. Moreover, its decision to increase dividends has increased investors' confidence and it has strong potential to sustain dividends and offer investors more growth in dividends. At the moment, the company is offering an attractive entry point and it is trading at attractive valuations.
Disclosure: The author has no positions in any stocks mentioned, and no plans to initiate any positions within the next 72 hours. The author wrote this article themselves, and it expresses their own opinions. The author is not receiving compensation for it (other than from Seeking Alpha). The author has no business relationship with any company whose stock is mentioned in this article.