Most investors know that patent lawsuits can impact corporate valuations in the pharmaceutical and high-tech industries, but other industries can be impacted as well.
Case in point: Yesterday, the Court of Appeals for the Federal Circuit issued its decision in a case between Western Union Company (NYSE:WU) and Moneygram International (NYSE:MGI) and there was an instant impact in the market.
Back in September 2009, a Texas jury found that Moneygram was guilty of infringing four different Western Union patents relating to systems for performing money transfers. The Court of Appeals yesterday reversed that verdict, finding that all of the Western Union patents were invalid. Faster than you can transfer $100 to your aunt in Idaho, the market boosted Moneygram's stock about 8% (see chart below).
Western Union hasn't moved on the news, most likely because it has a much larger market cap than Moneygram (12B v 220M) and because this case didn't put its revenue stream at risk.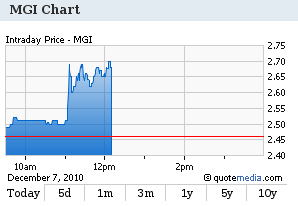 Disclosure: I have no positions in any stocks mentioned, and no plans to initiate any positions within the next 72 hours.