Recent News
When McDonald's (NYSE:MCD) reported earnings for its second quarter last month, the chain did see some positives like revenues climbing 1% to $7.18 billion, despite showing poor same-store sales performance overall for yet another quarter.
This past week, though, McDonald's issued its worst monthly sales report in over a decade.
In the month of July, same-store sales in the U.S. fell a dismal 3.2%, while same-store sales globally dropped 2.5%. While expectations for domestic sales have been low for almost a year, global sales unexpectedly took a huge hit from the China supplier dilemma that occurred at the end of July. As a result, the Asia/Pacific, Middle East, and Africa (APMEA) segment dived 7.3%.
July's sales performance marks the ninth straight month of either negative or flat same-store sales within the U.S. - the longest streak since 2003. What makes matters worse is that McDonald's only had 10 negative months of same-store sales in total between 2003 and 2013. Below is McDonald's U.S. same-store sales performance so far this year.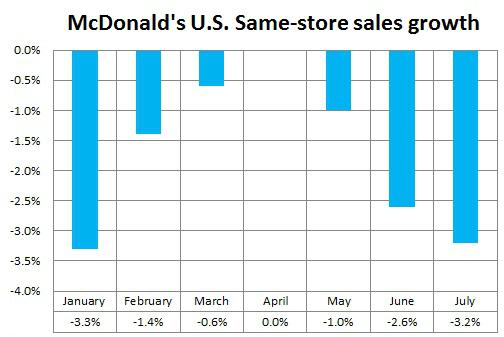 Source: McDonald's monthly and quarterly sales reports for 2014
Why McDonald's Is Still Not a Buy
Right now McDonald's is hovering around its 52-week low as a stock. Every monthly sales report and every earnings report in recent months continues to chip away at the stock price. While some might see this as a buying opportunity, there are numerous reasons why it may not be.
Looking at the April peak in same-store sales performance in the chart above, this is about the same time the chain said it was testing do-it-yourself seasoned fries in select markets. The problem with this is that one of McDonald's long-time goals is product consistency. The same burger should have the same taste, quality, and look no matter where you buy it. Having customers season their own fries looks like a quality problem waiting to happen.
A couple of months ago, McDonald's reported that it plans to issue up to $20 billion in shareholder payouts over the next 3 years. Even though there is nothing wrong with giving back to shareholders, the move seems to be a double whammy.
First, it seems like a desperate attempt to keep the stock price from falling further over the next few years as the chain struggles to produce growth domestically, and now, globally. Second, it seems like it could have used that money to improve a number of things that are wrong with the chain.
When it comes to technology and taking advantage of mobile space, the chain appears behind the competition. Many other quick serve restaurant chains have already implemented options for customers to pay online or with their smartphones.
Burger King (BKW) on the other hand has already evolved its ordering capacity by implementing delivery options. After success in over a dozen major metropolitan markets including New York and Chicago, Burger King has most recently added delivery options in Atlanta and Fresno, California.
Pessimistic franchisees may foreshadow underlying problems with McDonald's at the corporate level. In a recent survey, a group of operators representing 231 domestic locations stated that the money spent by the company on rebuilds and rebranding have done nothing. These operators state that the menu is the biggest problem and competitors with simpler menus are doing much better.
Burger King credits its recent second quarter performance on menu consistency and simplicity. Unlike McDonald's, Burger King saw same-store sales climb across all of its four regions including a 0.4% gain in its U.S. and Canada region. Burger King's recent success is closely tied to its stock performance against not just McDonald's but the S&P 500 index over the past year as shown below.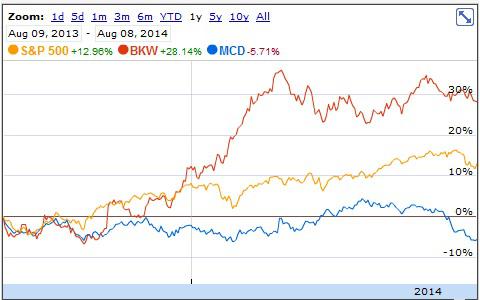 Source: Google Finance
Speaking of menus, McDonald's credits a few of its core products for about 40% of its sales which includes its Big Mac and prized Egg McMuffin. However, the current menu has 185 items on it which includes sides, desserts, lattes, snacks, as well as multiple varieties of sandwiches, burgers, and wraps. All these items cost money to maintain and may be a big reason why the company continues to struggle. Less may be more when it comes to menu size.
Trust is also a problem for McDonald's. In the same week, McDonald's went from separating itself from the Chinese food supplier involved in the food scandal, to going back on its word and staying with the company. Burger King, one of the other chains involved, has maintained its split from the company.
Most recently, realistic goals, or lack thereof, were highlighted when McDonald's stated it was going to try to have a 60-second drive thru guarantee in Florida. The issue with this goal is that in a study done late last year, McDonald's tested at over 189 seconds. It was the chain's worst performance in the study's 15-year history. Therefore, the chain reporting a 60-second goal now in Florida looks like it will only add to order inaccuracies and less satisfied customers.
Losing Favor Among Customers and Shareholders Alike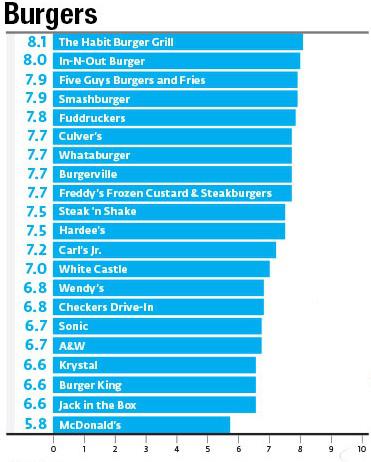 Source: Consumer Reports
Consumer Reports, as shown above, revealed that customers are putting McDonald's in dead last when it comes to tasty burgers - even coming in behind arch rival, Burger King.
In Australia, after continual weak sales, McDonald's looks like it is waving the white flag when it recently announced it will be using social media voting to create new burgers. The McDonald's of a decade ago would never show such desperation.
Long-term, the situation looks less optimistic for McDonald's. Not only are consumer trends pointing to healthier meals and other dining options like fast casual chains, but they are turning away from burgers - at least those at McDonald's. Chicken sandwich chains like Chick-Fil-A continue to take market share away from its competitors. Chick-Fil-A had just 8.7% of the chicken segment in 1999, but had 26.3% in 2013.
Conclusion
If McDonald's continues to gradually decline, it will undoubtedly become more attractive to shareholders looking to get on what appears like a long-term buy. However, if we look beyond the stock price and find out some of the problems the chain is facing, going uphill looks a lot more difficult than going downhill at the present time.
What's happening in China could have long-term consequences for the chain and its impact should not be underestimated since it is McDonald's third biggest market in terms of restaurant count. In the second quarter, same-store sales in the country increased 8.8% before tumbling at the end of July.
However, China is just one of many problems facing McDonald's, and because of this, McDonald's is still not a buy at these prices.
Disclosure: The author has no positions in any stocks mentioned, and no plans to initiate any positions within the next 72 hours. The author wrote this article themselves, and it expresses their own opinions. The author is not receiving compensation for it (other than from Seeking Alpha). The author has no business relationship with any company whose stock is mentioned in this article.