Pacific Drilling S.A. (NYSE:PACD)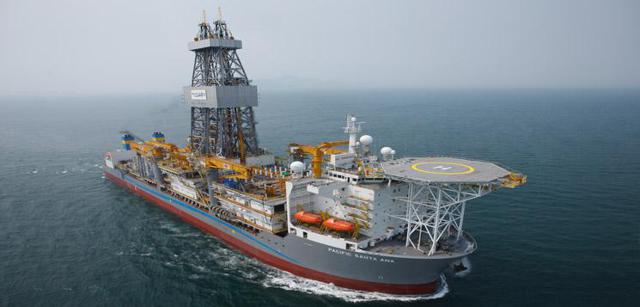 Click to enlarge
Pacific Drilling is a new offshore driller contractor specialized in ultra-deepwater high-specification drillships 7th generation. It contracts its UDW rigs on a day rate basis following a similar business model of the offshore driller industry that I have covered extensively.
As of August 6th, 2014, the company fleet is composed of a total of eight drillships with two rigs still under-construction to be delivered in 2014 and 2015.
The first four UDW drillships were ordered in 2008, and PACD took the delivery of Pacific Bora in October 2010. In 2011, the company took delivery of the three other rigs and ordered two more. In 2012, the company ordered its seventh drillship scheduled to be delivered in Q4 2014. In 2013, the company ordered its eighth drillship scheduled to be delivered in March 2015.
From PACD's latest presentation on May 12th, 2014, we can see that PACD has one of the most-recent fleets in the industry very comparable to Ocean Rig UDW (NASDAQ:ORIG).
The company was founded in 2006 and is based in Luxembourg. Pacific Drilling S.A. is a subsidiary of Quantum Pacific Ltd. based in Gibraltar.
Quantum Pacific Ltd. is the majority shareholder and is represented on PACD Board of Directors by three board members.
The company has over 1,500 employees worldwide.
CEO Chris Beckett said, "Despite the challenging market conditions, this quarter was the best in

our company's history. We continue to deliver exceptional financial results driven by our outstanding operational performance and ongoing fleet growth."

Source: Pr release second-quarter results.
Furthermore, Chris Beckett said at the last conference call:
So turning to operations, for the sixth consecutive quarter, we grew our revenue to a new company record of $260.8 million, which represents a 48% over the second quarter of 2013. EBITDA grew to $137.9 million which also recorded 61% increase over last year's 2Q adjusted EBITDA and represents a 52.9% EBITDA margin, which we are pretty proud of. So this quarter extends our demonstrated history of growth, strong operating performance and margin delivery, and in our view validates our fundamental assumptions about the structural benefits of a homogeneous high specification fleet.
Complete fleet analysis and status as of August 6th, 2014.
The company owns 100% Ultra-Deepwater, high-specification modern Drillships compared to 82% for Ocean Rig UDW. The numbers indicated are from the fleet status on August 6th, 2014.
Here is a good comparison with few others Offshore drillers (ORIG, SDRL, ATW, RIG, DO, ESV, NE). Source: Pacific Drilling SA. last presentation.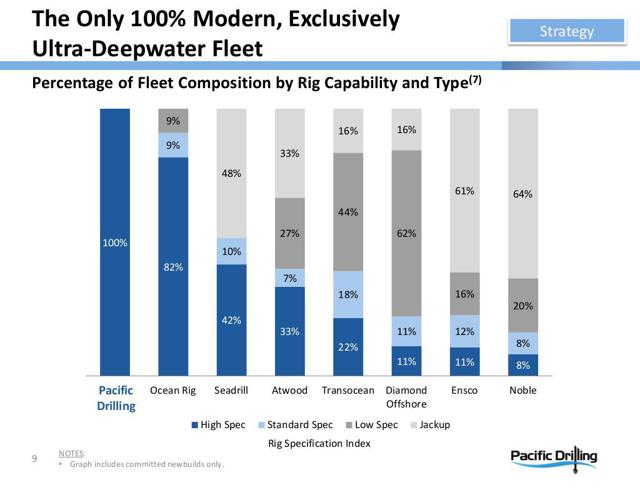 Click to enlarge
Fleet status:
N
Name

Year

Built

Specification

UDW

Contract

End

Day Rate

K $

Client

Location

1
Pacific Bora
2011
Samsung 10,000 design

8/16

586

Chevron

Nigeria

2
Pacific Mistral
2012
Samsung 10,000 design
2/15
458

Petrobas

Brazil

3
Pacific Scirocco
2011
Samsung 10,000 design

1/15

499

Total

Nigeria

4
Pacific Santa Ana
2012
Samsung 10,000 design
3/17 + 38 days extension
489.53

Chevron

US Gulf of Mexico

5
Pacific Khamsin
2013
Samsung 12,000 design
12/15
660

Chevron

Nigeria

6
Pacific Sharav

2014

Samsung 12,000 design

Arrival in GOM by September 2014

3Q/19

555

Chevron

US Gulf of Mexico

7
Pacific Meltem

Delivery

Q4 2014

Samsung 12,000 design

Available Starting Q1 2015

(Current negotiation in-process)

-
-
8
Pacific Zonda

Delivery

Q2 2015

At the earliest

Samsung 12,000 design
Available
-
-
Note 1: Q2 2014 operating fleet average revenue, efficiency was 97.1% compared to 82.7% in Q1 2014. As we recall, the company had few start-up problems during Q1 with its newbuild Khamsin, however, it seems that all is fine now.
From the conference call:
Our rigs continue to deliver very strong up time and safety performance with the Pacific Khamsin completing its shakedown period in three months and significantly exceeding our stated target for a rig in its second quarter of operation.
From the conference call about the newbuilds:
With respect to the newbuilds, I can tell you that the Pacific Meltem and the Pacific Zonda are currently both green marketed and considered for several multi-year opportunities that will start in the next 12 months. With near-term availability our primary focus is in Meltem which is well-positioned to start working in Q1 2015 and is the subject of a direct negotiation.
Fleet and second-quarter 2014 results snapshot.
YTD chart: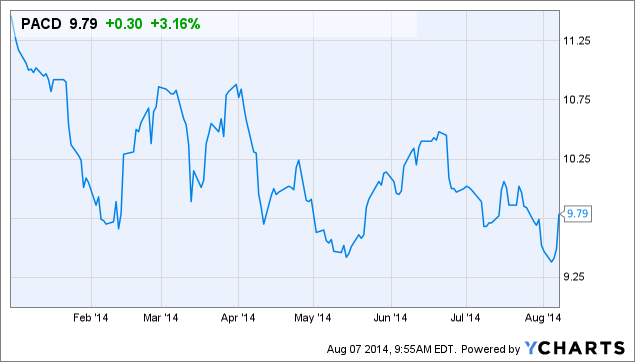 Important links:
1- Conference call on August 7, 2014.
2- Second-quarter 2014 results press release August 7, 2014.
| | | |
| --- | --- | --- |
|   | Q2 2014 | Q1 2014 |
| Revenue in $ Million | 260.8 | 225.6 |
| Net Income in $ Million | 49.9 | 22.2 |
| Contract drilling expense in $ million | 108.0 | 111.0 |
| Direct rig-related daily Opex $ K | 177.8 | 183.8 |
| Earnings per share in $ | 0.23 | 0.10 |
| G&A in $ million | 13.8 | 12.5 |
| Interest expense in $ million | 28.6 | 26.0 |
| Shares Outstanding basic in Million | 219.52 | 217.47 |
| Cash and Cash equivalent in $ Million | 149.6 | 236.5 |
| Long-term Debt $ Billion | 2.8 | 2.44 |
| Stock price August 7, 2014 in $ | 9.78 | 9.90 |
| Enterprise Value $ Billion | 4.8 | 4.6 |
| EBITDA $ Million | 137.9 | 100.9 |
| EV/EBITDA | 8.7 | - |
Commentary:
Pacific Drilling S.A. is another mid-tier offshore driller that recently entered the UDW market quite successfully with a small and an impressive state-of-the-art rig fleet.
If we look at the rig fleet in-depth, we are forced to admit that PACD has the most modern fleet among its peers, with six working rigs and 2 coming on-line soon. One company we can compare with is Ocean Rig UDW Inc., with its 13 UDW rigs of 6th and 7th generation, including 9 working rigs and 4 rigs under-construction.
The company has a strong backlog for its five rigs reaching $3.3 billion, compared to ORIG, which has $4.8 billion.
It is important to notice that PACD and ORIG have had some similar BOP issues with their new drillships during the first-quarter, however, the second-quarter had much less technical problems.
These BOP issues during the start-up of the Pacific Khamsin have reduced PACD's utilization rate and efficiency for the first-quarter, thus a loss in revenue. As we can see in the table above, revenues for the second-quarter were 15.6% higher than the first-quarter 2014.
ORIG Fleet operated at 96.3% utilization rate, which is very close to the company's average which was 97.1%.
Per the 6K filing.
Updates to 2014 Guidance We reiterate our guidance on revenue efficiency provided with our fleet status report posted today, Aug. 6, 2014. The average revenue efficiency ranges

of 91-95 percent for third-quarter 2014 and 90-93 percent for full-year 2014 include our expectations for unplanned downtime as well as planned events mainly related to export and reimport of rigs in Nigeria, completed in first-quarter 2014. The guidance is also reflective of required inspections across the fleet and the initial stages of the shakedown process for the Pacific Khamsin and Pacific Sharav, during which we expect their revenue efficiency to lag current levels of our first four operating rigs
Comparative table between PACD and ORIG.
| | | | | | | | |
| --- | --- | --- | --- | --- | --- | --- | --- |
| Name | Working UDW Rigs | Rigs under-construction | Backlog in $ billion | Long-term debt $ billion | Q2 Revenue $ million | EBITDA $ million | Day rate average $ K |
| PACD | 6 | 2 | 3.3 | 2.8 | 260.8 | 137.9 | 563 |
| ORIG | 9 | 4 | 4.8 | 4.40 | 441.4 | 231.8 | 574 |
* ORIG has also 2 semi-submersibles included in the UDW above.
Comparisons YTD chart between PACD and ORIG.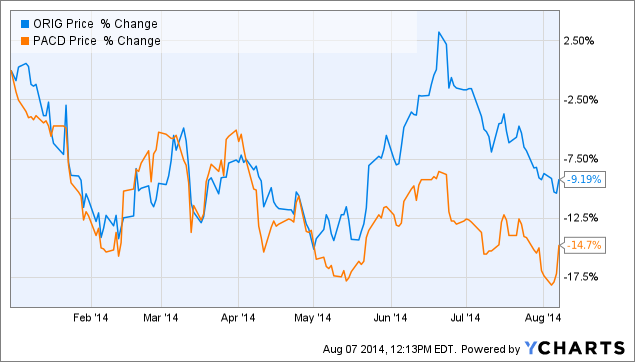 Pacific Drilling as well as Ocean Rig UDW are two impressive new offshore drillers with a lot of potential for future growth. A simple look at the fleet under contract for the next three years is very telling for both.
| | | | |
| --- | --- | --- | --- |
|   | 2014 | 2015 | 2016 |
| PACD | 100% | 68% | Not known |
| ORIG | 100% | 72% | 39% |
Finally, the demand for ultra-deepwater rigs is expected to be healthy and will not exceed supply until 2016. Michael Acuff, SVP sales, said at the conference call:
And though the results show a less favorable market than our previous forecast back in December, we continue to expect demand for ultra-deepwater rigs to stay roughly in balance with supply through 2016 with a forecast of 192 ultra-deepwater rig years of supply in the global fleet by year end 2016 versus an expected demand for 193 rig years.

First, taking a look at the supply, we're forecasting additional 53 ultra-deepwater newbuilds to be delivered by the end of 2016. Of these additional 53 rigs, 23 currently remain in uncontracted. However, 2016 forecasted supply will likely be less than predicted as contractors continue experiencing newbuild delivery delays from shipyards sometimes exceeding three months and we expect this trend to continue for the foreseeable future.

Additionally, there have not been any recent ultra-deepwater newbuild announcements in the market. So effectively, any additional orders at this point are scheduled for delivery in the 2017 timeframe.
I recommend reading the recent conference call and notably, the general comment made by Chris Beckett, CEO, regarding the overall UDW market.
One only slight negative note so, is that PACD is not serving any dividend at the moment, whereas ORIG is paying 4.6% since Q1 2014.
However, Earlier this year, PACD shareholders approved a proposal for a possible dividend commencing with an initial payment in the first-quarter 2015; a cash distribution of up to $152 million, at the board's discretion.
I am rating PACD as a BUY as well as ORIG that I have recently covered.
Disclosure: The author is long ORIG. The author wrote this article themselves, and it expresses their own opinions. The author is not receiving compensation for it (other than from Seeking Alpha). The author has no business relationship with any company whose stock is mentioned in this article.
Additional disclosure: I may initiate a long position with PACD soon depending on my cash availability.