Why is it so difficult to get excited about pumps, valves and seals? Take one view of a petroleum refinery plant and the excitement will commence. Pumps, valves and seals, galore. Flowserve (NYSE: FLS) is a $6 billion company by market cap, and they mean business in the diversified machinery industry.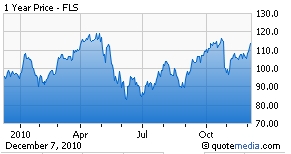 What company outperforms 80% of the industry in ROE (TTM) at 20.72 percent? Flowserve. What company outperforms 93% of the industry in EPS growth over the past five years at 71.2 percent? Flowserve…AGAIN. The performance can be attributed to the ongoing service the company provides to clients. There is the sale, and then there is service after the sale.
The company has an ongoing relationship with several big name companies in the oil services industry. Flowserve released information regarding a deal with Shell (NYSE:RDS.A) on December 2 to be the sole supplier for control valves and related goods. The agreement has an option that would make Flowserve the go-to company for Shell over the next 10 years. A deal announced two days prior with Abu Dhabi Company for Onshore Oil Operations (ADCO), was booked at $7.5 million in pump equipment. Shell and ADCO are just two of over 10,000 companies Flowserve sells and services to. Oil and gas accounts for 36% of bookings, power generation 20%, general industries 19%, chemical 18% and 7% in water management.
Flowserve is up over 12% this year and closed Friday +$1.98 (+1.81%) at $111.32. A gross margin of 35.57% is near the top in the industry and leads to 9.45% profit margin. Using a metric that takes any one-timers out of the equation, ROIC is pretty impressive at 13.69 percent. Revenues are $4.09 billion for the TTM with gross profits of the comparable time at $1.55 billion.
Time will tell if the purchase of Valbart this past July justifies the $200 million purchase price. This acquisition intends to expand the company's sales support. Flowserve also has no significant payments on its $540 million bank loan until the fourth quarter of 2011. The company updated its 2010 full year EPS target to $6.70-7.15, slightly revised on the lower end from $6.35. Currency risk is a known exposure for a global company and Flowserve is no exception. North American business accounts for 32% of sales/service followed by Europe at 25% and the Middle East, Africa, Latin America and the Asia Pacific totaling 43 percent.
Disclosure: I have no positions in any stocks mentioned, but may initiate a Long position in FLS over the next 72 hours.