Despite news breaking on August 8 that McDonald's (NYSE:MCD) posted negative comparable store sales results for the month of July in two of its three major regions, shares of the restaurant conglomerate inched up a fraction of a percent for the day. It seems, based on Mr. Market's response, that the mega chain is immune to fundamental changes in its operations even in the face of competition from smaller companies like Chipotle Mexican Grill (NYSE:CMG) and Panera Bread Company (NASDAQ:PNRA). In light of these developments, is now the time to buy McDonald's, or is the world's largest restaurant business riskier than its share price is letting on?
Results were all around poor
For the month, McDonald's reported that its comparable store sales declined a jaw-dropping 7.3% in its Asia/Pacific, Middle East, and Africa (a.k.a. APMEA) segment. Although this looks disastrous, investors should keep in mind that the business, along with rivals like Yum! Brands (NYSE:YUM) were negatively impacted by a food scare in China centered around Shanghai Husi Food Co., a major supplier to both businesses in the region. Excluding this impact, McDonald's estimates that its comparable store sales in its APMEA segment would have declined a more modest 0.3%.

After accounting for this anomaly abroad, McDonald's worst area of operations was in the U.S. Compared to the same month last year, comparable store sales are down 3.2% due to "continuing broad-based challenges". The most likely explanation here is that the company is having its lunch eaten by new entrants in the restaurant industry; namely Chipotle and Panera.
Over the past five years, sales of Panera have shot up 76% from $1.35 billion to $2.39 billion, much faster than the 24% increase in revenue reported by McDonald's from $22.74 billion to $28.11 billion. Chipotle has done even better, with its revenue skyrocketing 112% from $1.52 billion in 2009 to $3.21 billion by the end of the company's 2013 fiscal year. Unlike McDonald's, whose sales growth has come largely from store expansion, both Panera and Chipotle have demonstrated significant improvements in comparable store sales over this timeframe.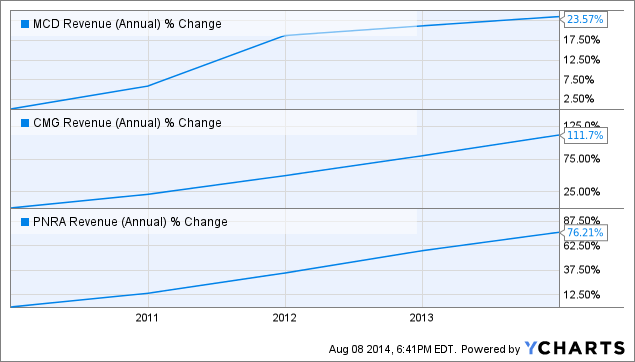 MCD Revenue (Annual) data by YCharts
The only area that was inarguably good for McDonald's was Europe. For the month, comparable store sales inched up 0.5%. This came in spite of poor performance in Germany and the U.S. and was driven, for the most part, by growth in the company's France and U.K. operations.
Takeaway
Right now, the picture is anything but pretty for McDonald's. In addition to seeing an at-least temporary pullback in its APMEA segment, the business is facing downside pressure in the U.S.. Whether this trend will continue moving forward is something investors will only know with time, but with competition coming from fast-casual chains like Chipotle and Panera both it and rival Yum! should be watched very closely by any investors who decide to take a stake in them.
Disclosure: The author has no positions in any stocks mentioned, and no plans to initiate any positions within the next 72 hours. The author wrote this article themselves, and it expresses their own opinions. The author is not receiving compensation for it (other than from Seeking Alpha). The author has no business relationship with any company whose stock is mentioned in this article.