CVS Caremark Corporation (NYSE:CVS) is a leader in the drug retail business in the US and operates from over 7,600 locations. It holds the number one or number two position in the top 25 markets in the US with a 21% share of the overall US pharmacy market. CVS's extensive reach is witnessed in the 5 million customers the company serves every day.
Outperforming the industry
CVS has achieved 27% script growth compared to the 9% growth achieved by the total retail industry and 5% growth achieved by other drug chains.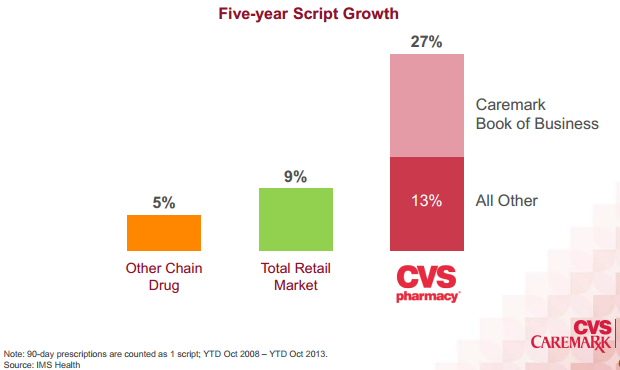 Source: CVS investor presentation
Stable Financial Performance
CVS has consistently reported positive financial performances and growing profits. Over the last decade the revenue grew at a CAGR of 17%. Gross margins decreased over the years from 26.3% in 2004 to 18.8% in 2013. However, it's good to see that the operating margins increased over the same period from 4.8% in 2004 to 6.3% in 2003. Top-line growth flowed down to the bottom line and net income increased at a CAGR of 20% while EPS grew at a CAGR of 15%. This healthy growth is the result of efficient operations and the financial discipline of CVS.

Click to enlarge
Sharing Success with the Shareholders
The company shared its success with its shareholders by paying out dividends and buying back shares. Dividends grew at a CAGR of 24% over the past decade and the dividend consistently grew each year. Dividend paid was $0.13 in 2004 and has now grown to $0.95 in the trailing twelve months.
CVS aims to use the $40 billion cash available to enhance shareholder value. CVS want to increase the dividend payout ratio that currently stands at around 24% to 35% by 2018. CVS also plans to repurchase shares worth $4 billion to $5 billion per year.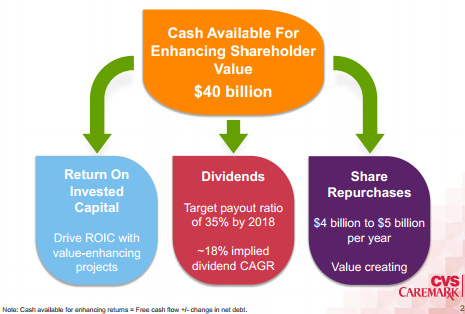 Source: CVS investor presentation
In 2014, CVS is paying out $1.10 dividend per share. This is an increase of 22% compared to last year's dividend of $0.90. CVS also plans to complete a share repurchase plan worth $4 billion. The board of directors has approved a new, multi-year repurchase plan worth $6 billion.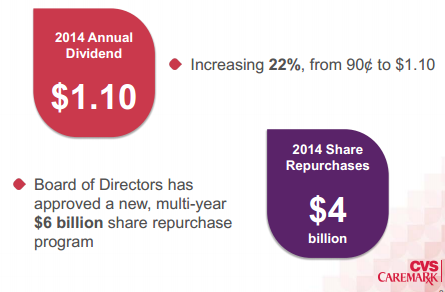 Source: CVS investor presentation
The company has produced strong growth in operating cash flows that grew at a CAGR of 22.5% over the last decade. Free cash flow grew at a CAGR of 17% in the last six years. Cash flow growth in line with growth in net income is a sign of financial discipline and operational efficiency.

Click to enlarge
Aiming for Growth
CVS is aiming to achieve net revenue growth at a CAGR of around 9% to 13% from 2013 to 2018. The company aims to grow the operating profit to between 7% and 9% and grow the preliminary adjusted EPS to between 6% and 8% during the same period. After the contribution of the share repurchase, the final adjusted EPS is projected to grow between 10% and 14%.
Source: CVS investor presentation
Growth Opportunity in Store Brand Sales
CVS has grown the percentage of high margin store brands sales as a percentage of total front store sales. Store brands sales were 15.6% of the total sales in 2009 and grew to 17.8% in 2013. There are opportunities for CVS to invest in its own brands and increase profitability. CVS aims to increase the store brands sales to 20% of the total front sales.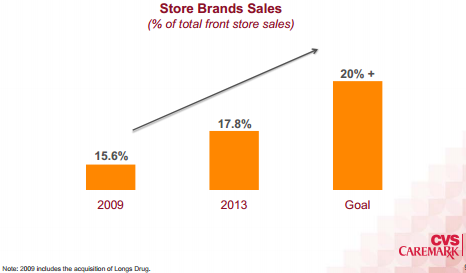 Source: CVS investor presentation
Growing Chain of Retail Clinics
CVS owns the largest and fastest growing retail clinic chain. The company has over 800 clinics operating in 28 states. These clinics provide cost-effective health care and with service seven days a week these clinics are easily accessible. The clinics have provided health care to more than 20 million patients so far. Nearly 2,200 nurse practitioners serve patients in these clinics. With the growing shortage of primary care physicians, the service provided by CVS retail clinics is valued by walk-in patients with minor illnesses. The clinic chain is expected to expand in the coming years and contribute to the top and bottom lines.
CVS's book of business is growing as each year passes. PBM total adjusted claims have grown to 1,057 million from $742 million in 2008 reflecting a growth of 42% over five years. Going forward this is likely to increase further as CVS is well positioned to capture potential growth opportunities.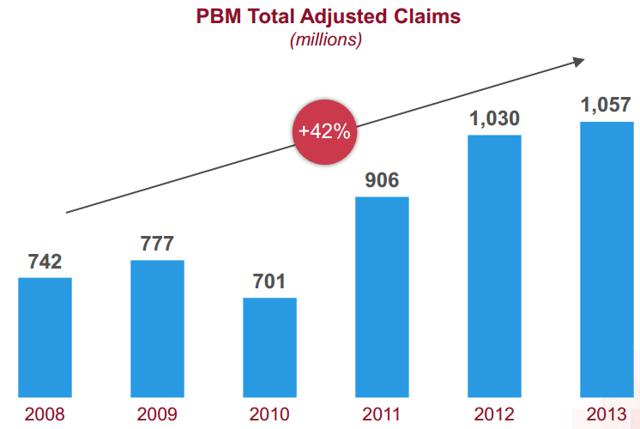 Click to enlarge
Valuation
If we analyze the valuation made by 23 brokers, we see a mean target value of $81.39 and a median target price of $82. This presents a price return of about 6.5% on the current price. The most optimistic valuation expects a return of about 18% and the most pessimistic valuation expects a downward potential of -13.7%.

The P/E multiple shows that the stock is comparatively over valued compared to industry and the S&P 500. Incorporating the expected growth into the P/E analysis through the PEG ratio shows that CVS's stock is undervalued compared to the sector and S&P 500. On the whole, CVS's stock appears to be undervalued at its current price.

Conclusion
CVS is a strong player in the retail drug business and has a strong presence in the US. It has shown consistent growth in its top and bottom lines and has successfully generated healthy growth in its cash flows. CVS is in a very good position to capitalize on future growth opportunities. It is currently underpriced and makes an attractive, stable investment if seen in combination with dividends and share repurchase plans.
Disclosure: The author has no positions in any stocks mentioned, and no plans to initiate any positions within the next 72 hours. The author wrote this article themselves, and it expresses their own opinions. The author is not receiving compensation for it (other than from Seeking Alpha). The author has no business relationship with any company whose stock is mentioned in this article.