I last wrote about LeapFrog Enterprises (LF) late last year and in the process rating it a buy. I have also been accumulating the shares at a high of US$8.50 till now. While the stock has taken a beating, the reasons why I invested has not. Here's a recap of why I bought and wrote about the stock.
1. LeapFrog is a great brand and parents identify the brand with quality and good educational content. In fact, I stumbled upon LeapFrog when my friend bought the LeapReader for his 3 year old daughter.
2. LeapFrog's products remain relevant despite rising competition from tablet makers such as the iPad and the Samsung Galaxy Tabs Kid edition entering an already crowded market.
3. LeapFrog is inexpensive and has a strong balance sheet. This statement may raise eyebrows to readers who refer to management guiding a full year loss to $0.10 gain for a $6 stock. Although the P/E is high, the company trades near to book value and has plenty of cash.
The same three reasons were stated in my previous article while the stock traded at $8.50 and now I think LeapFrog is oversold and it is time to accumulate.
Negatives
1. In my opinion, management has not been able to anticipate or forecast demand, leading to the build up in inventory and subsequent sales at discounted prices to clear out old stocks.
2. I view management's vested interest as a strong indication of how management's interest is aligned to shareholders. Insiders have been selling the stock over the past 12 months. It would certainly be nice to see some buying interest from management at some point in time.
3. One gripe I have is LeapFrog does seem a platform or product company rather than a true content company. This means that LeapFrog has to constantly innovate and compete with large consumer product companies like Apple and Samsung in converging spaces such as tablets. This is where I feel content differentiation is very important. Hence, it would be good to see LeapFrog build on its portfolio of characters and its Letter Factory franchise. At the moment though, the frogs in Letter Factory is nowhere near well known characters from Disney or Mattel. In the meantime, I assume LeapFrog will continue to license in recognizable content to attract parents and children to purchase and use the products.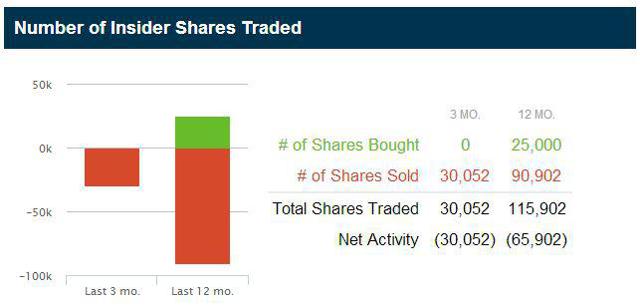 Source: Nasdaq.com
Investment Thesis
LeapFrog is facing problems working through its inventory amidst intense competition. However, its products still generate good reviews, attesting to its quality.
Amazon ratings for the LeapPad 3 has mostly 5 star ratings with the occasional 4 star rating.
The LeapBand has 20 reviews, scoring 4.2 out of 5 and 10 of the 20 reviews have 5 star ratings.
While quality has not yet translated into sales, and bearing in mind these are new products (and the Leap TV still to come), it will be a matter of time that LeapFrog is rewarded for their innovation and quality.
From the balance sheet perspective, LeapFrog remains healthy and its Net Book Value per share is about $5.80 based on the latest quarter ending 30 June 2014.
With current share prices hovering near Net Book Value, LeapFrog is worth investing into for the patient investor.
Disclosure: The author is long LF. The author wrote this article themselves, and it expresses their own opinions. The author is not receiving compensation for it (other than from Seeking Alpha). The author has no business relationship with any company whose stock is mentioned in this article.