Women's clothing retailer Talbots Inc. (NYSE:TLB) has forecast a far weaker fourth quarter than expected due to losses from continuing operations amid lower holiday sales, sending its shares down more than 22 %. Irrespective of a weak third quarter and a not ideal Q4 forecast, the company seems to be working around the problem by exploring the proposal of offering more discounts during the holiday season to sell more clothes and enhancing its promotional activity.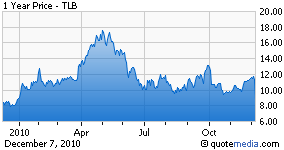 Talbots Inc. Q3 Results
Talbots' income from continuing operations was $17 million or 24 cents a share in the third quarter that ended Oct. 30, compared with income from continuing operations of $15.5 million, or 28 cents a share, a year earlier. Sales at stores open at least a year, or same-store sales, fell 7.1 percent in the third quarter. Operating income was $19.8 million, or 6.6% of net sales, a decrease of $2.6 million, compared with prior year's operating income of $22.4 million. Net sales decreased 3.2% to $299.1 million, compared with $308.9 million in the same period last year while store sales decreased 5.2% to $242.1 million, compared with $255.4 million in the same period last year, and comparable store sales decreased 7.1%.
Direct marketing sales, including catalog and Internet, increased 6.5% in the quarter to $57.0 million, compared with $53.5 million in the same period last year while cost of sales, buying and occupancy as a percent of net sales improved 280 basis points to 57.3%, compared with 60.1% in the same period last year.
Q4 Forecast
For the fourth quarter, Talbots Inc. forecasts a loss of 5 cents a share to a profit of 3 cents per share from continuing operations, with sales flat to down in the low single digits. Analysts on average forecast earnings of 14 cents a share. According to Trudy F. Sullivan, Talbots President and Chief Executive Officer, based on current trends in the business, the Company anticipates fourth quarter top-line sales to be in the range of flat to down low single digits compared vs. last year. Ms. Sullivan concluded customer traffic and sales demand from Thanksgiving through Cyber Monday improved greatly and expressed confidence in the company's overall strategy and ability to achieve long-term objectives.
High End Retail Outlook Negative
With the trend in high-end consumer retail moving toward outlet stores and any other methods of pushing discounts, the luxury market will not look like what it did during its heyday for many years. Although it's true that risk of any struggle in growth out of the recession could threaten the company, the company needs consistent growth to see continual growth.
Disclosure: I have no positions in any stocks mentioned, and no plans to initiate any positions within the next 72 hours.