By Patrick Crutche
After gaining over 50% since last month's "buy on rumor sell on (misreported) news" event, investors in Aastrom Biosciences, Inc (ASTM) are wondering, "Has the market started to finally recognize ASTM's true value?"
After their recent unveiling of Phase 2b RESTORE-CLI clinical trial data, we reached out to Aastrom management to help us further understand the facts and outlook for Phase 3 in critical limb ischemia (CLI).
Investors seemed a bit underwhelmed by the results after a misinformed reporter for a major news wire focused on data points which were neither critical factors or components of the main trial design. Many followers of the stock were perplexed by fact that the recent study achieved statistical significance for the primary endpoint and was clinically meaningful. Recent appreciation better reflects Aastrom's value going forward, and we join other analysts who continue to feel the stock is undervalued.
Quotes delayed at least 20 mins.
(Click to enlarge)
In our opinion, the data demonstrated a significant efficacy signal that should be investigated in Phase 3. The Phase 2 study met the primary endpoint, since it was powered to detect a difference in the time to treatment failure between Aastrom's treatment and rehabilitation center (TRC) treatment and the control arm. Looking at the time to first CLI event, you can see there is certainly clinically meaningful improvements in patients. (See the slide below article) It's also important that the TRC's demonstrated consistent results between analyses. The results from this trial should help guide them in designing a successful Phase 3 program. We look forward to seeing the 1-year data in 2011.
Why wasn't amputation free surival (AFS) statistically significant? We have to remember that the Phase 2 trial was not designed to detect a difference in AFS. Looking at the survival graphs, we notice how the control population seems substantially different between analyses. Suppose the control event rate been similar to the 1st interim analysis, we'd be singing a different tune right now. We believe the 1-year data could shed more light on the TRCs effectiveness.
They only added 10 patients between the 1st and 2nd interim update in the control arm. None of those 10 patients had a major event (amputation or death) in the 12 months. That's pretty rare when you consider that critical limb ischemia patients have a 1-year amputation rate of 30% and a mortality rate of 25%. Based on Sanofi-Aventis' (NYSE:SNY) Phase 2 and 3 trials of NV1FGF in CLI, the control event rate would appear to be between 33-50% (see articles below). If ASTM had seen a 35-40% control event rate, a difference in AFS would have likely been a statistical success. We also note the difference in survival functions makes it clear these control patients in the 2nd interim analysis are not similar to the 1st group of controls.
Investors shouldn't forget that Aastrom has two key upcoming catalysts. Aastrom hopes to have a Special Protocol Assessment agreement with the FDA for the Phase 3 design in CLI over the next 4-5 weeks (estimate), so that it can begin enrolling patients in Q1 2011. We will also be hearing about the Phase 2 IMPACT-DCM data in dilated cardiomyopathy (DCM). Investors should read this local news story on how ASTM's treatment has helped out several patients. Hopefully these positive stories about DCM patients treated with TRCs are a precursor to overall positive results in the study.
We posed some questions for management at Aastrom to help clarify some points for investors. We reached out to President and CEO, Tim Mayleben, as well as Vice President of Clinical and Regulatory, Dr. Sharon Watling, for answers. The following is a transcript of that interview:
BioMedReports: Can you tell us about the statistical design for this Phase 2 study? The study met it's primary endpoint- time to treatment failure (TTF), yet some were disappointed in the secondary endpoint, amputation-free survival (AFS), was not significant. As a statistician, I realize why, but I don't think the average investor understands this.

ASTM: The Phase 2 study was designed to have a reasonable opportunity to achieve statistical significance with the TTF endpoint (the primary efficacy endpoint) or time to first occurrence of treatment failure. This endpoint captures more events — all which are clinically meaningful (amputation, death, doubling of wound size, and de novo gangrene) due to their impact on patients. For example, new gangrene and inability to heal wounds are important progressive, clinical aspects of CLI that lead to hospitalization and can later lead to amputation and death. The TTF endpoint was developed in partnership with physician experts in the field.

It's important to note that the results from both the 1st interim analysis and the 2nd interim analysis showed a consistent treatment effect — p=0.005 and p=0.0132 respectively. It is also important to note that for every component of the composite TTF endpoint - death, amputation, de novo gangrene and doubling in wound size — the treated group had a much longer time to their first event. Based on both of these factors, we believe that our therapy is having a profound therapeutic effect in this patient population and that provides great confidence as we move into our Phase 3 program.

As you note, some investors seemed disappointed that the Amputation Free Survival (AFS) did not reach statistical significance in the 2nd interim analysis. The primary issue is that the Phase 2b clinical trial was not powered (sized) to reach statistical significance. Secondly, while the treatment group event rate was consistent (22% in the first interim analysis and 25% in the second interim analysis), the control group event rate surprisingly dropped from 50% in the first interim analysis to 29% in the second interim analysis. We don't believe that either control group event rate is a true reading of the control group event rate that we will experience in our Phase 3. Importantly, we have powered our Phase 3 program assuming a conservative control group event rate of 35%. This control group event rate assumption is consistent with other recent, large clinical trials in the CLI patient population.

Finally, we learned some very important things from the Phase 2b program: we now better understand the key aspects of event rates and design issues that will provide confidence for our well-designed Phase 3 program.

BioMedReports: Any explanation on why the control event rate was so low in the 2nd interim analysis? The control population seems substantially different between analyses. In your initial Phase 2 planning, what did you expect the control rate to be? Based on SNY's large Phase 3 trial, the control event rate would appear to be around 35-40%?[33% control rate in the TAMARIS study (n=525). Results are linked at the bottom].

ASTM: Overall, we can say that the literature suggests a control group event rate of between 30-40%. Our Special Protocol Assessment submission incorporated a conservative 35% control group event rate. Note that the Talisman Phase 2 trial had a 50% control group event rate while the recently completed TAMARIS Phase 3 trial had a 33% control group event rate (unfortunately, the TAMARIS trial treatment group event rate was 37%). Still, the decrease of the control group event rate to 29% at the 2nd interim analysis causes us to be slightly more conservative in our control group event rate assumptions for the Phase 3 program.
We will likely slightly increase the planned size of our Phase 3 program (approximately 10 – 15%). Note that we will also have a Data Safety and Monitoring Board-driven interim analysis in the Phase 3 program to further hone the event rate midway through the Phase 3 program.

BioMedReports: If the control rate had been in the 35-40% range, does ASTM believe that the difference in AFS would have been statistically significant? Obviously the 1-year data could still show a significant difference. (This is more of a question for the clinical statisticians and hypothetical).

ASTM: We actually did the calculations regarding change in event rate and just a few more events (there were zero events in the control group between interim analysis 1 and 2 would have yielded statistical significance in AFS. Clearly at the original 50% event rate we would be significant and quite close with 40%. We did these calculations using Fisher's Exact rather than survival analysis, Fisher's Exact is less powerful, but this gives a sense of how a few events makes a big difference.
Yes, the supposition that at 12 months we may have more events is correct and therefore the trial may yet again attain statistical significance. Note that 5 control patients have not yet completed 12 months of follow up. Only time will tell.

BioMedReports: TRCs appeared to be effective and safe. Any explanation for the increase in 'pain in extremity' in the TRC arm vs. the control? Can you talk about the safety profile a little?

ASTM: So if you think about how safety data are collected, this is a summary and this `pain in the extremities' summary covers different types of "pain"; reported pain can range from injection site pain to pain leading to an amputation. We wonder if it's a good signal that patients have more blood flow and therefore are more able to feel, but the numbers are too small to be able to conclude anything with confidence.

One other note: We continue to be struck by the amount of cellulitus and gangrene in the control group suggesting ongoing and progressive disease, but these patients have not yet progressed to the amputation stage. We are continuing to follow these patients for the remainder of the trial and report out the results in Q2'11.Overall the safety profile is very good and the TRC experience is similar to the control group.

BioMedReports: Will a majority of the centers that participated in Phase 2 likely be a part of the Phase 3 program? Will the Phase 3 study be an international study or specific to site in North America? Controlling variability between treatment centers will be important for the pivotal trial.

ASTM: We plan to conduct the Phase 3 program in North America to limit patient and treatment variability, which we believe is critical to a successful Phase 3 program in CLI. We will also plan to adjudicate patient entry in to the trials via centralized adjudication process.

BioMedReports: Assuming the primary endpoint for the Phase 3 study is AFS, what will the power of your study likely be?

ASTM: We are still in negotiations with the agency regarding statistical powering and trial design specifics, so we can't comment on this at this time.

BioMedReports: Are there any ways in which Aastrom hopes to control for variability? Obviously the notably low control event rate in the 2nd interim analysis had an effect on the AFS.

ASTM: We are planning a four-step process to ensure appropriate patient enrollment some of which we mentioned earlier:
Principal Investigator review;
Concurrence of no-option or low-option designation by a vascular specialist;
Review of clinical history and angiography by 3rd party adjudicator; and
Monitoring of sites by the adjudicator and follow-up by lead investigators to ensure that a site is enrolling the appropriate patients.
We also plan to conduct the Phase 3 program only at North American sites to control for geographical and treatment variability.
BioMedReports: What is the comparator arm likely to be for Phase 3?
ASTM: The comparator arm will be placebo controled. All patients will be aspirated at baseline and given a "sham" treatment.
Sanofi Phase 3 final results in CLI
March 1, 2010 "Doctors using stem cells to repair failing hearts"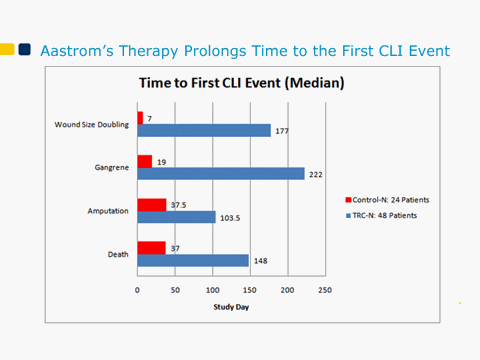 Disclosure: Long ASTM