With the year half gone Linn Energy (LINE) and hence LinnCo's (LNCO) strategy this year is becoming clear. It is to trade in high maintenance cost, high decline rate properties for low maintenance cost, low decline rate properties. Management is also trying to make sure that the new properties fit well geographically into LINE's portfolio of properties. The obvious target of this is to make the distribution coverage ratio healthy for the long term.
If this is the target, is the distribution coverage ratio bad now? For Q2 2014 the distribution was $240,510,000 out of net cash of $481,153,000 provided by operating activities. The excess of net cash provided by operating activities was $32,056,000. Hence the distribution coverage ratio was 1.13x, which was a solid, healthy result.
After the Berry Petroleum acquisition in December 2013, LINE announced that it intended to acquire or trade for $4B - $5B of long life, low decline assets. It said it intended to trade or sell about $4B - $5B of higher decline, more capital intensive assets to fund the acquisitions of the aforementioned shorter decline assets mentioned. LINE hopes to do most or all of the new acquisitions through 1031 exchanges. LINE expects completion of all of the announced transactions, including selling the Granite Wash and Cleveland assets and the remaining Midland Basin assets in the Permian Basin, to reduce its capital expenditure run rate by $300 million to $400 million. That is, LINE intends to do less development because it will have to do less maintenance development when the decline rate of its assets is lower. The above actions should lower LINE's decline rate to 15% per year. This should make for a more stable asset base. Plus it should increase the distribution coverage further (due to less capital spent on maintenance), which should make investors very happy. It may mean that investors will see an increase in the distribution sooner.
LINE has announced a number of acquisitions and sales that fit into this plan:
LINE guided upward on production in its Q2 earnings report. It increased its Q3 2014 guidance to 1,210 to 1,2600 MMcfe/d. It increased its FY2014 guidance from the previous range of 1,075 to 1,135 MMcfe/d to 1,217 to 1,268 MMcfe/d. the engineers are executing well too.
Hopefully all of the 1031 swaps will work out well. LINE seems to be refraining from comment until those deals are consummated. However, management does seem to be making moves that are good for the investor. They should also be good for the long term health of the company, especially if natural gas prices rise in future years as many people expect.
LINE is a buy on good execution, good management of the distribution coverage and alignment of assets, and its 9.3% dividend. However, it is a sell on greater lease operating expenses, greater transportation costs, and greater taxes. The compromise rating is then a hold. This makes LNCO with its 9.6% dividend a hold also. I am not sure how long the extra costs will persist, but they are significant; and I want management to show me that they can do away with them. They didn't explain that to my satisfaction in the earnings release.
The two year chart of LINE provides some technical direction for a trade.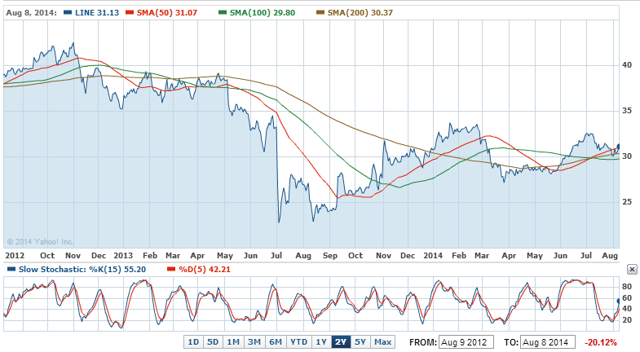 Click to enlarge
The two year chart of LNCO provides some technical direction for a trade.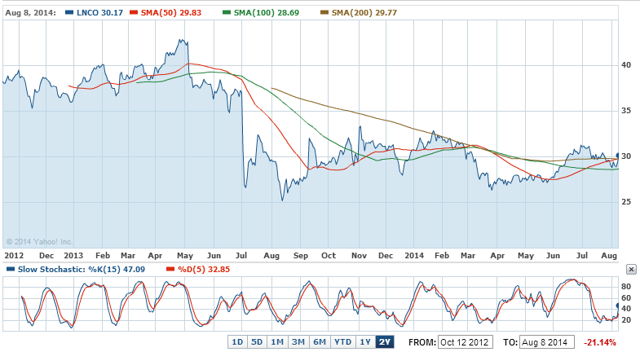 Click to enlarge
The slow stochastic of each chart above indicates that neither stock is overbought nor oversold. The main charts shows a sideways consolidation pattern. The guide higher on production, the 1.13x distribution coverage for Q2 2014, and the management intent to both decrease the average company production decline rate to 15% and the capital expenditure run rate by $300 million to $400 million in 2014, all argue for the stock to go higher or at worst sideways some more. They should mean a stable distribution of about 9.3% for LINE and 9.6% for LinnCo. The increased expenses argue for the stock to go sideways or downward. It sounds like sideways may be the compromise until the company makes the situation clearer.
Some think LINE has been acquiring too much natural gas recently. However, for Q2 2014 it still had a well distributed production breakout of 44% natural gas, 39% oil, and 17% NGLs. LINE/LNCO also has significant hedges to protect its revenue stream. LINE and LNCO are both holds. You really have to admire the management's tack this year. They are trying to both align and streamline. It looks like that will be a success for the company and for the investors. I am still unsure what will happen with all of the extra costs seen in Q2 2014 compared to Q2 2013.
NOTE: Some of the information above is from Yahoo Finance.
Good Luck Trading.
Disclosure: The author has no positions in any stocks mentioned, and no plans to initiate any positions within the next 72 hours. The author wrote this article themselves, and it expresses their own opinions. The author is not receiving compensation for it (other than from Seeking Alpha). The author has no business relationship with any company whose stock is mentioned in this article.