Gold snapped a three-week losing streak and saw solid gains last week as a result of renewed safe haven demand, but silver registered losses for the fourth straight week, following the broad commodity market lower. A stronger U.S. dollar has been a key factor in limiting recent gold price gains and, with the eurozone economy now stumbling badly, the strong inverse correlation between the two could continue to hold metal prices in check.
U.S. stocks and bonds both rose last week and this too limited the upside for gold while the latest ETF flows indicate U.S. investors may again be souring on the metal, due in part to its inability to break free of its recent trading range. Physical demand in Asia remains weak during this seasonally slow time of the year, but with prices still relatively low, gold buying in India and China should pick up in the weeks ahead.
For the week, the gold price rose 1.2 percent, from $1,294.20 an ounce to $1,309.10, but silver moved in the opposite direction, dropping 1.9 percent, from $20.30 an ounce to $19.91. Gold is now up 8.6 percent in 2014, still nearly one-third lower than its record high of about $1,920 an ounce almost three years ago, and silver has risen 2.4 percent so far this year, now 60 percent below its all-time high near $50 an ounce reached in early 2011.
Geopolitical tensions between Russia and the West over Ukraine along with ongoing violence in Iraq and Gaza continue to be about the only supporting factors for precious metals. Absent this safe haven demand, it is reasonable to think that gold and silver prices could be much lower since global demand has been lacking, however, none of these conflicts appear headed toward long-term resolutions and should continue to lend support.
In recent days, U.S. aircraft started bombing Islamic fighters in Iraq and a 72-hour cease fire between Israel and Palestinian militants in Gaza came to an abrupt end with more violence. In Ukraine, another Russian troop build-up on the border came and went at the same time that President Vladimir Putin engaged in escalating economic and trade sanctions with the West, all of which kept the "flight to safety" bid for gold alive and well.
On the negative side, inflation remains a non-threat over the short-term, the Federal Reserve is prepping markets for the end of quantitative easing and interest rate hikes, and the dollar has strengthened. Moreover, investors continue to bet on higher stock prices, shunning precious metals, and all of this has led to a narrowing trading range for gold as shown below via Stockcharts, setting the stage for some potentially big moves this fall.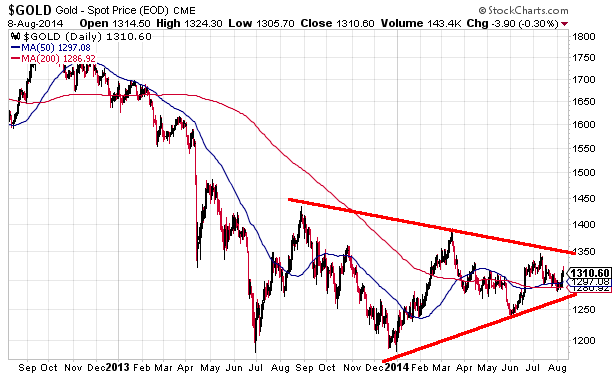 Which direction metal prices go from here remains the key question, but it is likely to be answered before year-end.
One thing seems certain, the gold price can't continue to trade in an ever-narrowing range between $1,275 an ounce and $1,325, a band that it has rarely departed from since very early in the year.
To be sure, the ongoing strength of the trade-weighted dollar should be a big concern for gold bulls.
Last week, positive U.S. economic data that included the fastest service sector expansion in nine years combined with bad news from Europe to send the U.S. dollar index to its fifth gain in the last six weeks, ending at its highest level in almost year.
A very "patient" European Central Bank watched Italy enter a new recession and saw Germany post a sharp decline in manufacturing, making a quick turnaround in the eurozone economy very unlikely.
Since gold and most other commodities rarely rise when the dollar strengthens, this could be a big headwind for precious metals in the period ahead. Commodity prices have now fallen during six of the last seven weeks with the price of crude oil now back below $100 a barrel and, when combined with a resurgent stock market late last week, waning investment interest in the yellow metal is understandable.
U.S. investors saw fit to sell some of their positions in the SPDR Gold Shares ETF (NYSEARCA:GLD) where the "tonnes in the trust" dropped by six tonnes, the biggest weekly outflow since May. This turned a year-to-date inflow of about three tonnes to a year-to-date outflow, indicating a clear lack of buying interest by individual and institutional investors in the West. The holdings of the iShares Silver Trust ETF (NYSEARCA:SLV) were steady at 10,101 tonnes and the premium paid for the Sprott Physical Silver Trust (NYSEARCA:PSLV) rose modestly to 3.64 percent, likely a sign of buyers buying the recent price dip.
Meanwhile, physical markets in both India and China remain quiet during the slow summer months. The latest data from Koos Jansen estimated total year-to-date gold demand in China (based on withdrawals from the Shanghai Gold Exchange) at 1,063 tonnes. This is below last year's record pace, but still indicates healthy demand from the world's biggest buyer, though you wouldn't know it from the premiums being paid at gold retailers that sunk back to zero after rising to several dollars an ounce earlier in the week as reported by Reuters.
Geopolitical concerns have made an otherwise dull summer interesting for gold investors and, given recent developments half-way around the world, this is likely to continue for some time to come. What the events of recent months have shown, however, is that it will take more than the current set of world problems to keep the gold price above $1,300 an ounce and push silver back up above $20 an ounce on a more permanent basis.
The stronger dollar would appear to be precious metals' biggest nemesis at the moment and, in the weeks ahead, this could have a big negative impact on prices since there are few inverse correlations between asset classes as strong as that of the dollar and gold. In fact, gold bugs might need a worsening of conditions in Iraq, Ukraine, and Gaza just to keep prices from falling from current levels in the weeks ahead.
But, come next month, it could be an entirely different situation for gold and silver if the recent equity market weakness turns into something much more damaging to stock investors during their two most dangerous months of the year - September and October. Those buying gold and silver at current prices might find themselves with hefty gains a few months from now if seasonal patterns for gold demand hold and stock investors suddenly become risk averse since, more often than not, the gold price has moved opposite stock prices in recent months.
Perhaps more importantly, as indicated in the chart above, the gold price just can't continue to keep doing what it's been doing. A break-out from the trading range that has persisted for more than a year lies ahead and my guess is that the direction will be higher, not lower.
Disclosure: The author is long PSLV. The author wrote this article themselves, and it expresses their own opinions. The author is not receiving compensation for it (other than from Seeking Alpha). The author has no business relationship with any company whose stock is mentioned in this article. I also own gold and silver coins and bars