BitAuto (NYSE:BITA) will report 2Q14 results before market opens on Monday. Dialing detail for the call is below:
| | |
| --- | --- |
| US: | +1-845-6750-437 or +1-866-5194-004 |
| Hong Kong: | +852-2475-0994 or 800-930-346 |
| Mainland China: | 800-8190-121 or 400-6208-038 |
| International: | +65-6723-9381 |
| | |
| Conference ID: | 71852733 |
Consensus expects $0.39 in EPS (+69% y/y) on $79.4m in revenue (+44% y/y). The stock has gone up ~82% over the past three months, outperforming NASDAQ's 7% advance over the same period as investors bet the success of BITA's recently introduced performance-based EP model. In my view, much of the sentiment has baked into the stock as Q2 is the first full quarter in which BITA rolled out the new EP platforms. The heightened expectation gives BITA minimal room for execution error and I expect at least a 10% sell-off on the stock after the print if the performance EP fails to live up to its hype. Heading into Monday, I will be cautious on the stock and advise long-only investors to buy Autohome (NYSE:ATHM) as a hedge against BITA.
Priced for perfection
BITA's 75% outperformance over the NASDAQ composite is the result of rising expectations on its performance-based EP model. Recall that BITA rolled out two new EP models: P4P and P4T. Under the P4P model, BITA charges the dealer by guaranteeing a set amount of sales lead. This is in contrast to the P4T model under which BITA helps the dealer to promote the inventory and receives a commission once a transaction occurs.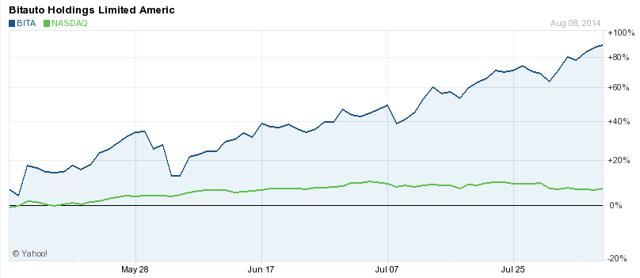 While I do not doubt BITA to successfully monetize the new EP models, I am concerned about BITA's long-term growth due to the rising competition from new entrants such as Alibaba and VIP Shop (NYSE:VIPS). Overtime, BITA's growth could be challenged as the dealers look to expand their ad channels beyond BITA to increase their reach. That said, the current valuation of 41x this year's earnings is too rich for a stock facing both execution and rising competitive risk, and I believe that the stock is priced for perfection heading into the print.
Read-through from Autohome
BITA's main rival, Autohome reported earnings last week with both revenue and EPS beat, and the successful ramp up of its Autohome Mall, which saw >3,000 transactions during the first month of rollout. Guidance was in-line with consensus while operating margin is expected to be stable despite acquiring Baidu's PC Aladdin. Overall, Q2 was a solid quarter for ATHM, which supports the view that growth is on track for China's auto ad market. However, this also could mean that ATHM may have gained some market share at the expense of BITA in the forms of higher traffic volume. In conclusion, I am a seller of BITA heading into the quarter given that I am still skeptical that BITA's newly introduced monetization model could support its rich valuation. In addition, guidance is at risk after losing Baidu's PC Aladdin to ATHM due to potentially low traffic.
Disclosure: The author has no positions in any stocks mentioned, and no plans to initiate any positions within the next 72 hours. The author wrote this article themselves, and it expresses their own opinions. The author is not receiving compensation for it (other than from Seeking Alpha). The author has no business relationship with any company whose stock is mentioned in this article.