EMC (NYSE: EMC) is once again on the spotlight, but this time not for the usual reasons such as new products launches or earnings calls. EMC is eliciting lots of water-cooler talk this time round because one of its top investors, Elliot Management Corp., which owns more than $1 billion stake in the company, or almost 2% of its total value, is agitating for the giant storage equipment maker to spin-off its partially owned subsidiary VMware (NYSE: VMW). Meanwhile EMC investors are salivating at the prospects of a fat inflow of cash from the spinoff, and EMC shares have shot up close to 10% since the break-up rumors hit news feeds.
EMC chief executive and chairman Joe Tucci remains adamant that EMC and VMware are better off as a unit than apart. Current indications seem to suggest that a spinoff is rather unlikely, though it cannot be completely ruled out. So, is it in the best interests of EMC and its investors to sell-off its 80% stake in VMware, or should the status quo prevail?
Creating shareholder value
VMware contributes about 22% of EMC's $23.2 billion 2013 revenue, and accounts for close to 75% of EMC's $59.8 billion value. Elliot Management Corp. is of the opinion that the current structure of EMC has impinged on its stock performance, leading to its shares becoming undervalued. EMC operates as three federated businesses namely: VMware, RSA Information Security, and Pivotal.
The argument about the possibility of unlocking shareholder value by spinning off VMware is not without merit. Many studies have shown that corporate spinoffs more often than not tend to create substantial shareholder value. A good case in point is TripAdvisor, which was spun-off Expedia in 2011. Since the spinoff, shares of both companies have handily outperformed the market. Moreover, TripAdvisor's golden run has propelled the travel review advisory site to a market cap almost 40% bigger than that of its parent company.
Fortune Brand Home & Security was spun-off Beam in 2011. Shares of both companies have easily outperformed the market to-date, with Fortune's shares tucking in close to three times as much as Beam's shares. But not all spinoffs are so gilt-edged. ADT, a leading home security solutions company, was spun-off Tyco International in 2012. Tyco shares have outperformed the market since then, while ADT share have badly lagged the S&P 500. ADT's case is, however, an exception rather than the rule.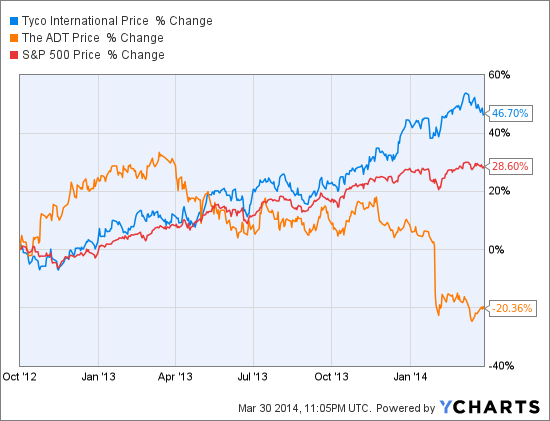 Thus, from a purely technical point of view, it makes perfect sense to split EMC and VMware. But, that's only half the story.
Changing market trends
The argument for breaking VMware from EMC, however, comes apart when you consider a far more potent force: rapidly changing industry trends. EMC's external storage business has lately been in steep decline. The company's external storage revenue fell 8.8% in the first-quarter of fiscal 2014, translating to a $158.24 million shortfall, or an annual run rate of $633 million. EMC and VMware sell what you would call federated, or standalone, point solutions. The industry trend is, however, increasingly leaning towards converged systems. Many large OEMs such as HP and IBM are increasingly offering converged solutions as opposed to point products. As both companies try to adapt to these change, they are increasingly finding themselves in direct competition with each other.
For instance, EMC offers ViPR which seems to be a mirror image of VMware s VSAN. EMC recently bought out ScaleIO to strengthen its ViPR portfolio. Both ScaleIO and vSAN provide hyper-converged storage. VMware customers will probably find ScaleIO a good alternative to vSAN. EMC customers who prefer external storage will, however, probably find ScaleIO a better option than vSAN. ScaleIO, therefore, has the potential to compete in both EMC's traditional hardware market as well as VMware's software-centric market.
VMware is also likely to face increased competitive dynamics from companies such as RedHat. RedHat acquired Ink Tank, an object and block storage company, as well as GlusterFS. Both give it the ability to offer software-defined storage products. RedHat can also leverage its CloudForms products to manage workloads across virtual, private and hybrid clouds.
EMC is currently working on Project Liberty, which is a software-only version of the company's VMX hybrid storage arrays. It's capable of running on commodity hardware-customers will get only the software from EMC, and then run it on their own hardware.
VMware, on the other hand, is also likely to face external competition from the likes of RedHat. You can thus argue that EMC is, ironically, becoming a bigger threat to VMware, and breaking up the two would only accelerate the process. EMC still needs VMware since its own software-defined storage product portfolio is not yet mature enough to offset the company's declining external storage business. And VMware will be happy with one less formidable competitor to worry about.
EMC can buy remaining stake in VMware
Instead of breaking up the two, an even better solution would be for EMC to buy the 20% stake in VMware that it does not currently own. The company would pay a healthy premium on VMware's shares-probably around 20%. At the current share price, EMC would require about $10.4 billion to do that. The company could pay $1.4 billion in cash and finance $9 billion through debt. The combined entity would realize significant SG&A and cost synergies, as well as VMware's earnings, both of which would become immediately accretive to EMC's EPS. The combined entity would sport an EPS of around $2.30, thus bringing the PE valuation down considerably to around 12x. Given the potential for greater cost synergies and accelerated growth, an implied multiple of about 14x would not be unwarranted. It would be a win-win scenario.
A reunification might, however, not happen before fiscal 2016 since the two companies need some time for their products to mature and gain market acceptance.
For instance, EMC's integrated infrastructure revenue grew 100.2% in the first-quarter of fiscal 2014 to $179.9 million. The company also realized $75 million from flash arrays sales in 2013 up from zero flash revenue in 2012, making it the fourth-largest flash arrays vendor. EMC launched a slew of new flash products in June that will consolidate its gains in the rapidly growing flash arrays market (the flash arrays market grew 182% in fiscal 2013 to $667 million).
Gartner estimates the flash market might reach $3.5 billion by 2017. This could, however be a conservative estimate. A comparison between tier 1 PCIe SSDs and flash arrays reveals that flash arrays offer comparable performance to PCIe flash card, but are considerably cheaper.
Flash Arrays vs. PCIe Flash Cards

Performance

400,000 IOPS
<1ms latency
Flash management executed on dedicated CPUs in array

Up to 500,000 IOPS
100s ms latency
Flash management executed on host CPUs

Cost

$5-10/GB usable
(HA + RAID + dedupe)

$10/GB raw, per server
$20/GB HA (either mirrored in a server or between servers)

High Availability and Serviceability

Active/active clustered HA controllers
Hot-swap flash modules and controllers

· HA via mirroring two cards in a server

· No cross-server HA mode

Software

Dedupe, compression, thin provisioning, VMware integration
RAID, HA, data integrity, snapshots
Flash management

Mirroring
Flash management

Suitable Workloads

All major enterprise applications

Small database applications which can fit in the card, and where high availability is not required, or is handled by the application
Non-persistent database files
Source: Pure Storage
Cost is still the biggest limiting factor when it comes to mainstream adoption of flash products in the enterprise. Flash arrays can also be used in wider enterprise applications, making their potential market bigger.
Disclosure: The author has no positions in any stocks mentioned, and no plans to initiate any positions within the next 72 hours.
Business relationship disclosure: This article was written by Alex Kimani, the chief analyst of Syncopy Research. We are not receiving any compensation for this article, other than from Seeking Alpha.