Earlier this week we published an article that provided our insights into the expectations embedded in the S&P 500 index. We concluded that the current expectations for the index are grand relative to what it has delivered historically. Knowing that expectations are high for the entire index makes it increasingly important to be able to identify the best companies to include in your portfolio. Today, we will focus on the sales growth expectations embedded in stock prices for individual companies within the S&P 500 to identify those that have low expectations as well as a few with lofty expectations.
By understanding the sales growth "priced-in" relative to what the company has delivered historically, you can set a "hurdle rate" to determine whether or not expectations can realistically be met. When expectations are low companies tend to be more likely to outperform those expectations and outperform their benchmarks.
The companies from the S&P 500 listed below have been identified as having either very lofty or very low expectations for sales growth relative to what they have delivered historically, and relative to the expectations of their sector and index peers. The companies with low expectations for sales growth also look fairly attractive according to other key investment criteria. The opposite is true for the companies we have identified as having high expectations for sales growth.
click to enlarge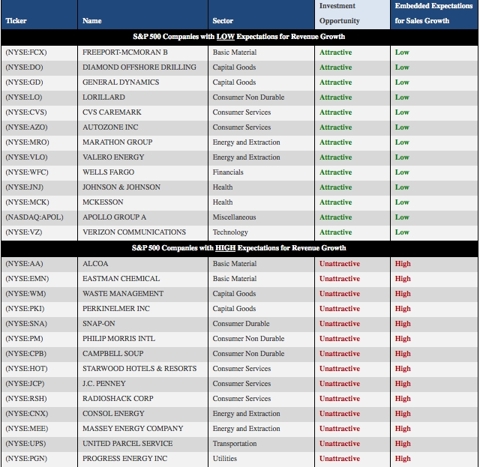 Companies with low expectations embedded into their stock prices are not guaranteed to outperform. Even with low expectations "priced-in", a company's outlook may be even worse. Deciding whether or not a company is a buy or sell takes into account many variables. Discovering the embedded expectations is just one of the important steps.
One company with low sales growth expectations that also looks attractive relative to its sector peers according to The Applied Finance Group's (AFG's) Valuation and Economic Margin metrics is Freeport-McMoran (NYSE:FCX). The chart below illustrates the sales growth expectations that are currently "priced-in" to its $109 trading price. As you can see in the chart, assuming that EBITDA Margins and Asset Turns remain near 5 year historical levels, FCX is priced to grow its sales by -2% over the next 5 years. These expectations seem very low relative to what FCX has delivered in the past as well as what The Street expects for in 2011. Even when the assumptions for EBITDA and Asset Turns are altered to reflect a very conservative outlook, FCX still has low expectations for growth relative to The Street's expectations.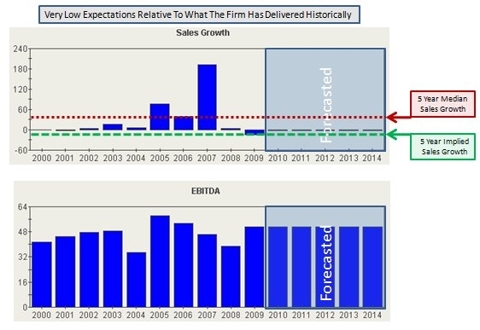 Click to enlarge
Disclosure: None