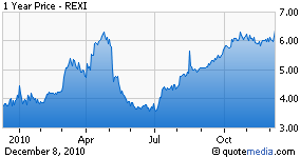 Leasing News has been writing about the serious layoffs at LEAF Financial of Philadelphia, Pennsylvania, and here's one of the main reasons for it: the three month period ending September 30, 2010, for its parent, Resource America (NASDAQ:REXI), shows a GAAP loss of $8.5 million. The balance sheet loss is $7.87 million compared to a profit the same period last year of $126,000. Year-end 2010 results show a $13.5 million loss and 2009 a $14.9 million loss. More than likely, the Cohen's will wind up buying Resource America back as a private enterprise, or most of it. Reportedly, the Cohen shareholders already own 23% of the stock (fully diluted).
Echoing the cutbacks in personnel as reported in previous Leasing News articles regarding LEAF Financial, the three month period ending 2010 for Commercial Finance for Resource America shows September 30, 2010, revenue of $1.85 million, compared to $7.9 million for September 30, 2009. The year-end is not as dramatic but indicates that the trend is continuing downward, as year-end September 30, 2010, is $23.67 million compared to $48.7 million September 30, 2010.
LEAF has no equity of its own, and it never has. It has always gotten its working capital from Resource America and equity for its funds from investors. It has no separate financial statements to show the public, everything that is "blended/consolidated" with the parent. This makes it more difficult to see how LEAF was really doing as a standalone company. Their funds are set up where the investors take all credit losses – not LEAF and not Resource America.
There are many million of dollars of credit losses not showing up on the parent's financials because they are being absorbed by the investors. Even with credit losses not showing as part of Resource America, they are still showing operating losses on their books.
If Commercial Finance is LEAF, they are showing a 81% decrease in revenues, from $9,805 million to $1,853 million, and a loss of $2,493 million compared to a gross profit of $4,690 million (before G&A expenses) for the same quarter last year.
A press release from Resource American noted:
Decreased Borrowings: As of September 30, 2010, the Company reduced its consolidated borrowings outstanding by $125 3 million, or 65%, to $66.1 million from $191.4 million at September 30, 2009. This decrease primarily reflects the repayment and termination of the commercial finance credit facility, which had a $136 5 million balance at September 30, 2009. At September 30, 2010, borrowings include $20.8 million in non-recourse short-term bridge financing for commercial finance, $14.1 million of corporate revolving debt, $14.3 million of senior notes, net of a discount, and $16 9 million of other debt, of which $13 5 million is in mortgage debt secured by the underlying properties.
(September 30, 2010 8K SEC filing)
Disclosure: No position