Many investors have seen so much pain in Greece in the last 5-6 years that they simply look away at the mention of the word "Greece". The country's once high flying financial institutions have been completely slaughtered in the past few years and there is no way you can justify any valuation of these banks given their current state of affairs. These financial institutions, which comprise of roughly half of the total Greek stock market cap, would not have survived if it were not for European Union's assistance via Hellenic Financial Stability Fund (HFSF), which has injected billions of Euros (€) to save Greece's banking system. Below is the stock market performance in the last 5 years of the 3 biggest banks in Greece, namely, National Bank of Greece (NYSEMKT:NGB), Alpha Bank (Alpha.AT) & Piraeus Bank (TPEIR.AT).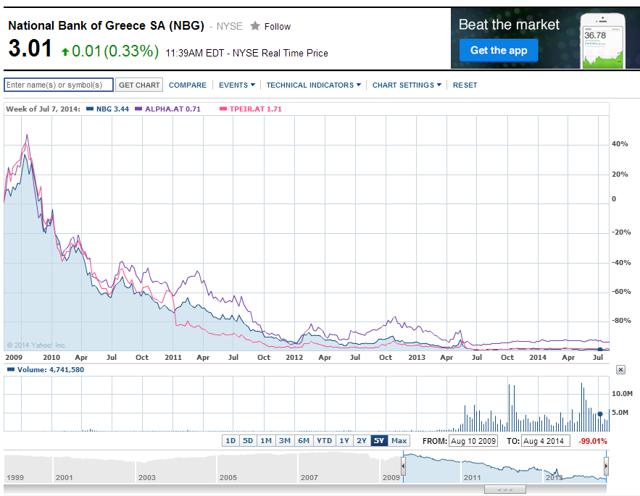 Investors should pay attention to the fact that this is a first world country with the same people and the same infrastructure that used to exist 6 some years ago. Once things started to crumble in this once "stable" economy, it created a sort of downward spiral, which in turn led to further deterioration of confidence among investors that is prevalent to this day.
Investing in Greece has since been seen as more of a timing issue, which is especially true of Greek financial institutions. So much value has been destroyed in the last few years that those who got burnt would probably never invest in Greece again. At the moment, I have to admit that there is no viable way to value banks in Greece. Strictly from valuation perspective, all above mentioned banks should have been bankrupt by now, were it not for EU assistance.
So where do we go from here?
Many investors have been asking this question for at least the last couple of years but clearly there was no single catalyst that could have given investors a green signal to jump into Greece. For example, if you had been reading news about this nation, it had been a mixed bag. All economical data is also mixed where if things improve in one area of the economy, they deteriorate in the other. The banks are barely adequately capitalized with large percentage of home loans still under water. Therefore the massacre in bank stocks continues to this day with a couple of them trading at all time lows (National Bank and Eurobank). But again these two are the least capitalized of the four.
The point of this article is obviously to make an investment case in Greek banks at present time. Currently below mentioned four banks in Greece control about 95% share of the Greek market share, which are as follows:
If you attempt to perform fundamental analysis on each of these banks to arrive at an investment thesis, you would be grossly disappointed. These banks have issued so much equity and destroyed so much value in the past few years that you would wonder who would invest in these banks in their right mind. So first lets accept the fact that what is past is past and we need to look into the future to see if an investment case is even viable. After all, you drive your car looking forward through the windshield, not the rear view mirror.
"But the road is very foggy ahead", you say. Well I understand that but as an astute investor, you need to look for clues when worst is over and if that is the case at present, investment in Greece presents an absolute asymmetrical risk/reward opportunity. This is what is called contrarian investment philosophy, which requires one to think positive in the bleakest of hour. It is well said,
"It is the darkest just before dawn".
But remember, contrarian investing just does not mean to go against the crowd just because you can. After all markets are efficient most of the time and securities become cheap for a reason. So if you find yourself going against the grain, you must have a very good reason to do so, otherwise you might turn out to be the greater fool.
Next, I am going to discuss why I think that investing in Greece (especially in financial sector), at present presents a tremendous asymmetrical risk/reward opportunity, given you have a long-term horizon (say 3-5 years). I believe Europeans look towards United States' financial system as a model whether they openly admit it or not. So when sub-prime euphoria was at its peak in the US around 2007 time frame, Europeans took notice and also began their own sub-prime saga. You see, Europe was behind the US for about 5 years or so. So when subprime bubble was bursting in the US in 2008, the subprime bubble in Greece was just forming. Now as things are fairly stable in the US financial sector since the financial crisis, it can be deduced that things are highly likely to become stable in the Greek financial sector in the next 5 years.
Is today's calm in Greece permanent or temporary:
Greece's financial problems were at their peak in 2012 when bond yields were reaching 30% and Citi's chief economist Willem Buiter was predicting with "90% certainty" that Greece would exit from EU (so much so, a term "Grexit" was coined). Here is what he and his team had to say in 2012:
"We now believe the probability that Greece will leave EMU in the next 12-18 months is about 90%, up from our previous 50-75% estimate, and believe the most likely date is in the next 2-3 quarters. As before, for the sake of argument, we assume that "Grexit" occurs on 1 January 2013, but we stress this is an assumption rather than a forecast of the precise date. Even with the Spanish bank bailout, we continue to expect that both Spain and Italy are likely to enter some form of Troika bailout for the sovereign by the end of 2012."
When that didn't happen, i.e. Greece did not exit EU; the same "pundit" said the following:
"In the euro area, we no longer expect Grexit in 2014 in our base case, although we still believe there is a fairly high risk of Grexit at some stage in coming years because of economic weakness and the escalating government debt ratio. The ECB is likely to cut rates again later this year, but we doubt that this move - and some probable tentative credit easing - will be enough to lift the euro area out of persistent weakness."
Anyway Economists don't have to be right to make a living but you as an investor has to be right in order to make any money in the stock market - therefore you should do your own due diligence instead of relying on these self-proclaimed experts and economists. Even for the purposes of this article, just hear me out and make your own decision in the end.
Things appear to be moving in the right direction for Greece at the moment. There are no more riots and people no longer feel the need to head out into the streets to make a point. Since I am making a case to invest in Greek banks only, I will only be talking about financial sector in this article (which makes about half of Greece's economy anyway).
Positive Catalysts:
There are numerous positive catalysts in midst of turmoil in Greece if you happen to be a long-term thinker. The banks have got their act together and have increased their capital ratios ahead of ECB (European Central Bank) stress tests in October of 2014. There has been significant M&A activity and now only four banks in Greece control about 95% of banking sector's assets. (These are Alpha (OTCPK:ALBKY), Eurobank (OTCPK:EGFEY), National (NBG) and Piraeus (OTCPK:BPIRY). HFSF recently said that fair value of its holdings in Greece's biggest banks stood at €18.5 billion.
Smart money has seen its way into Greece in the past year or so. This is evident with Paulson & Co, Fairfax Financial Holdings and Fidelity injecting €8.3 billion into Greece's four biggest banks in the first half of 2014. Other astute investors such as David Einhorn and Wilbur Ross have taken stakes in Greek banks. Due to these capital increases, Alpha and Piraeus banks are over-capitalized and have been able to retire state preferred shares. Both National bank of Greece and Euro bank has also indicated that they have plans to return preferred shares in future. The later two are the least capitalized of the four; that is probably why they are delaying in order to conserve capital.
Another positive catalyst is Greece's recent €3.0 billion bond issue in April 2014, that was well received by the investors as the issue was over-subscribed. The fact that this 5 year issue originated with a yield of 4.95% is a clear signal that investor's confidence in Greece is returning since the 10 bond yield just a year ago was more than 11%. Furthermore, with this recent bond issue, the yield has decreased to 4.18% just in few months, thus raising the valuation of these bonds. Again a vote of confidence by investors.
The decline in GDP of Greece has slowed down to break-even levels with consensus forecasts for it to grow this year (albeit by only 0.6%). The point here is that the trend of declining GDP is coming to a halt and taking a positive turn. It is well understood that even with this reverse trend, it will still take some time for growth to return to normalcy since overall unemployment in Greece is still hovering around 27-28% with unemployment among youth being at 57%.
The government's austerity program, as harsh as it may sound, has produced tremendous results. The wage cut would only make Greece a more competitive place. This will enable the country to do more business with neighboring EU nations in the future by providing better service at a lower cost. Czech Republic has done this for years for Germany and thus Greece can definitely do the same thing. A recent survey of 1500 households in Greece provided elevated level of optimism towards the economy. This is very important since more consumer confidence will translate into more business within the country borders, further improving country's economy. This would further improve bank's financial position not to mention more loans that banks can issue to households and small businesses. The deposits in Greek banking system were up slightly to €164 billion in June 2014, indicating fourth straight month where balance has increased.
Greece's budget showed a primary surplus of €712 million in the first half of the year from a primary deficit of €1.51 billion in the corresponding period last year, according to the preliminary data released by the Ministry of Finance.
Risks:
Obviously there are certain risks associated with investment thesis in Greece. HFSF is still the dominant shareholder in the banking sector, which is both good and bad depending who you ask. Good in the sense of saving the country from catastrophe, bad in the sense of giving ownership of the country away. However the good news is that due to high level of interest from private sector and injection of capital into these financial institutions, the HFSF's stake in banks has significantly reduced - although it still retains the lion's share in the capital structure. This stake is roughly at 56% in national bank, 69% in Alpha bank, 67% in Piraeus and 35% in Eurobank.
Another very important fact to take into consideration before investing in Greek banks is that most of them are still losing money. Piraeus reported Q1, 2014 loss of €247 million, Alpha Bank €94.1 million and Eurobank €207.4 million. Only National bank posted a profit of €181 million. As the NPL's come down in coming months and economy starts churning, these banks should be on their way to profitability. These four banks are now being called four pillars of the Greek economy, therefore, Greece as well as EU will ensure that these financial institutions become and remain profitable going forward.
Unpaid private debt in Greece is estimated to have reached around €160 billion, which corresponds to 88 percent of GDP. The citizens would only be able to pay off their debts once they get employment and they would only get employment once economy improves. The it becomes a chicken and an egg question; which would come first. But as confidence improves within economy, it would get small businesses humming, which would become a harbinger for job growth.
The unpaid debt is made up by non-performing loans (NPLs), which stood at €77 billion at the end of March (more than 40 percent of the Mediterranean country's gross domestic product), unpaid taxes, which reached €66.4 billion at the end of May, and unpaid social security contributions, which are seen at €16 billion.
Expect some extreme volatility in the stock prices of these four banks ahead of ECB stress tests in October 2014. Since the bank's already raised capital in preparation for these stress tests, the volatility would be more a function of investor emotion than any material change in fundamentals of these banks, so keep this in mind should you decide to invest before the stress tests. Also don't ignore the real possibility that any of these banks that fails a stress test, would see its stock sent to the slaughterhouse. For this reason, you might want to consider Alpha bank and Piraeus bank, the most capitalized of the bunch. The only positive that I can glean from the capital raises is that since these banks are the closest to their own situation, they must have raised enough capital to pass these tests (Not considering extreme value destruction due to dilution). And since the negative effects of these capital raises are already priced in, these stocks would see a significant price appreciation should they pass the tests with flying colors.
Conclusion:
Greece is not completely out of the hot water yet but it is fairly reasonable to deduce that the worst is over for this country. Since investors look for attractive investments in many developing nations (say BRIC countries) that have relatively unstable economies and political landscape, so what's wrong with an investment thesis in this first world country, who has fallen on hard times in the recent past. This was just akin to a storm passing by and leaving its wreckage everywhere. But the good news is that now Greeks can start thinking about the future and rebuilding their country. And since this storm was a creation of humans (extravagant spending with borrowed money), hopefully Greeks have learned their lesson and would avoid such mistakes in future. Looking through the windshield (not the rear view mirror), I see good things in store for Greece and you have an opportunity to participate in the future prosperity of this nation.
Currently Greek banks are priced for bankruptcy but the good news is that they are not going bankrupt and EU (European Union) gives you this guarantee. What better entity than EU to trust? It's like investing in a corporation whose shares are priced for bankruptcy, but you know it will never actually go bankrupt. Furthermore, Greece has already started to put its act together. Typically only richest of all get to participate in such opportunities but here it is presented to an average investor in the form of Greece's financial institutions. What is not to like about this scenario? But make no mistake, this is a long-term opportunity and you should be prepared to give it 3 to 5 years before this investment can bear any fruits for you. But I assure you if you could stomach the short-term volatility, you would have a smile on your face after 5 years.
Notes & Disclosures:
This is not an investment advice. Please perform your own due diligence before making an investment.
The article was written by "Syed Saqib", CIO at Netwall Investments LLC. I don't intend to portray that Netwall Investments LLC is either invested in above securities or going to invest in the future. We can get in & out of a position at any time as we deem fit. This is our foremost fiduciary duty to our clients who have invested their capital with us.
Additional Disclosure:
At the time of this writing, the author has significant investments in Alpha Bank and Piraeus Bank directly via Athens Stock Exchange. Please be aware of trading securities in illiquid OTC markets such as ALBKY, EGFEY, NBG and BPIRY. Their primary listings in Athens, ALPHA:GA, EUROB:GA, ETE:GA, TPEIR:GA, offer substantially better liquidity.
Disclosure: The author is long ALBKY, BPIRY. The author wrote this article themselves, and it expresses their own opinions. The author is not receiving compensation for it (other than from Seeking Alpha). The author has no business relationship with any company whose stock is mentioned in this article.
Editor's Note: This article covers one or more stocks trading at less than $1 per share and/or with less than a $100 million market cap. Please be aware of the risks associated with these stocks.