If you're like me, you've probably been absorbed in the little details of plans for the holidays - which can distract you from the big picture sitting right in front your face. Because the big picture right now is $90 oil.
You might have already noticed higher gas prices at the pump. But don't make the mistake of missing the opportunity to buy high quality oil companies now, while everyone is being lulled and distracted by the hectic nature of the holidays.
I've been talking about the coming surge in oil prices for a while now. Well, they're here. Oil is now above its 24 month highs.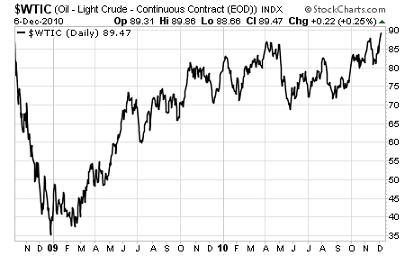 As I said back on October 6:
I sincerely believe energy is THE issue that supersedes all others.

For instance, we know that the Federal Government is broke, and that unemployment is high, and that we have crumbling infrastructure and a housing market in shambles. We have many problems to address - but fixing these issues won't be worth a jar of spit if we don't have access to affordable energy.

Fixing these issues will be difficult WITHOUT cheap, accessible energy, but even if we can manage to solve our debt problems, spur job growth, maintain a healthy housing market, rebuild roads and bridges, cure cancer and send a man to mars - it will be of little solace to us, here in America, if we can't afford the keep the lights on, or drive to the store, or have food shipped to us.
Higher oil prices are going to make everything more expensive. They'll also tend to enrich oil companies. So I recommend casting your lot with theirs.
Today, I'm going to briefly discuss two of the best dividend-paying oil companies in the stock market. These are two of the biggest oil companies in existence. They're both trading for less than 11 times trailing earnings (cheap!) and they both have a history of raising their dividends. And they should both continue to pay healthy dividends with frequent increases in the world of rising oil prices.
Conoco Phillips (NYSE:COP) is a $95 billion oil and gas company. They have worldwide oil and gas production and sales. Notably, they have a 20% stake in Russian oil giant Lukoil (OTCPK:LUKOY).
Conoco sells for less than 11 times trailing earnings and they pay a 3.3% dividend. They have raised their dividend 20 times in 28 years - or about once every year and a half. I'd recommend building a position in this company under $71. That gives you exposure to this world leading dividend payer for less than 12 times earnings. Hard to beat.
The second dividend paying oil stock is Chevron (NYSE:CVX). Chevron is a $175 billion oil and gas company with sales and production throughout the world. Like Conoco, they pay a 3.3% dividend. They're selling for a bit less than 10 times trailing earnings. I recommend picking up shares of Chevron under $92. That gives you exposure to a world leading oil stock dividend payer for less than 10 times earnings. That's almost unheard of.
Though the holidays are upon us, and it's hard to even think about investing when there's shopping to be done, and travel arrangements to be made- I want you to think about picking up a few shares of these companies as a gift to yourself. I think you'll be handsomely rewarded over the next year as $100 oil tiptoes into our lives once again.
Disclosure: No positions