Click to enlarge
Aug. 8 was a great day to own shares of Lions Gate Entertainment (NYSE:LGF). Despite reporting revenue that fell short of forecasts for the first quarter of its 2015 fiscal year, shares of the entertainment giant rose 7.5% to close at $32.63 on news that its earnings came in far better than anticipated. In light of these developments, should investors consider a stake in the firm, or would rival The Walt Disney Company (NYSE:DIS) make for a better play?
Lions Gate's mixed results pleased investors
For the quarter, Lions Gate reported revenue of $449.38 million. This came in far lower than the $485.32 million Mr. Market anticipated and represents a 21% decline from the $569.73 million management reported for the first quarter of 2014. According to the company's earnings release, this decline in revenue was driven by an overall decline in its sales but was, for the most part, due to a 24% drop in revenue from its Motion Picture segment, which plummeted from $438.6 million to $331.9 million.
Earnings Overview

| | | | |
| --- | --- | --- | --- |
|   | Last Year's | Forecasted | Actual |
| Revenue (millions) | $569.73 | $485.32 | $449.38 |
| Earnings per Share | $0.10 | $0.18 | $0.30 |
At first glance, this drop in sales may seem distressing, but management made up for it with strong earnings metrics. For the quarter, management reported earnings per share of $0.30. This represents a 200% improvement over the $0.10 seen last year and was nearly double the $0.18 Mr. Market hoped to see. Although there were multiple factors at play here, the single largest contributor to the company's higher margins appears to be its distribution and marketing expenses, which fell from 30.1% of sales to 21.7%.
Is Disney a better prospect?
Following a steep decline in revenue and adding to it the fact that shares just got more expensive, investors might be more inclined to invest in a more established enterprise like Disney. Whereas Lions Gate had revenue of $2.63 billion during its 2013 fiscal year, rival Disney booked sales in its Studio Entertainment segment of $5.98 billion. Admittedly, this represents a 6% decline in revenue from the $6.35 billion reported two years earlier at a time when Lions Gate's top line shot up 66%, but when you look at profits, there's nothing quite like Disney.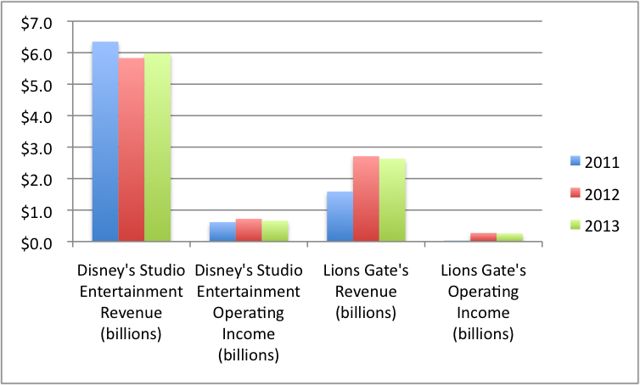 Click to enlarge
Over the past three years, Disney's Studio Entertainment segment saw its segment operating income climb 7% from $618 million to $661 million, with its operating margin averaging 11.1% over this timeframe. In its most recent quarter, however, Disney's segment operating income for this segment hit a high of 22.7% because of the success of Frozen, and its year-to-date margin clock in at 23.5%. Lions Gate, in contrast, saw its operating income average 7.4% during this period. Even after removing 2011's poor performance, the company's operating income averaged 10%, slightly lower than Disney's.
Takeaway
Right now, Lions Gate appears to be doing pretty well for itself. Despite low revenue, management has succeeded in growing the business's bottom line considerably, even as its share count rose 8% year-over-year. Moving forward, the company will have to see some revenue growth if it wants to keep investors pleased, but for now it seems margin expansion is enough.
While this presents investors with an attractive play, Disney might make more sense for those seeking something a bit more conservative. With greater profitability and a much larger library of content to tap into, the 25.7 times last year's earnings Disney is trading for might make it far more affordable than Lions Gate, whose shares can be purchased for 31.4 times last year's earnings.
Disclosure: The author has no positions in any stocks mentioned, and no plans to initiate any positions within the next 72 hours. The author wrote this article themselves, and it expresses their own opinions. The author is not receiving compensation for it (other than from Seeking Alpha). The author has no business relationship with any company whose stock is mentioned in this article.