Jamba Juice (NASDAQ:JMBA) reported Q2 2014 financial results last week on Monday, after market close.
The following day, the stock jumped more than 11%. Even more positively, it has kept trending up on higher than average volume throughout last week: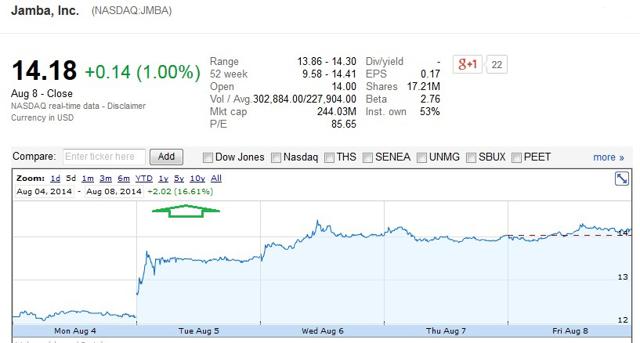 Click to enlarge
Chart from Google Finance, emphasis added
SA contributor Karl Pratt nailed it perfectly in his recent article "2 Recent Developments Make Jamba Worth A Second Look", which was published just before earnings. For an interesting commentary of Q2 results, we suggest you also read his more recent piece: "Jamba - Why The 'Rocket Launch' In Share Price Following Q2 Earnings?"
In this article, we'll try to add our opinion about some of the most recent company developments, and share a few charts highlighting some interesting data about key company metrics.
System-wide comparable store sales back on track
Jamba Juice management succeeded in the most difficult part of the company's turnaround (avoiding bankruptcy), but found an unexpected road bump when it was time to execute on what seemed a much easier task, convince the market that the company was turning into a very profitable growth story.
To shortly resume what happened, let's have a look at a chart summarizing Jamba's system-wide comparable store sales in the last few quarters: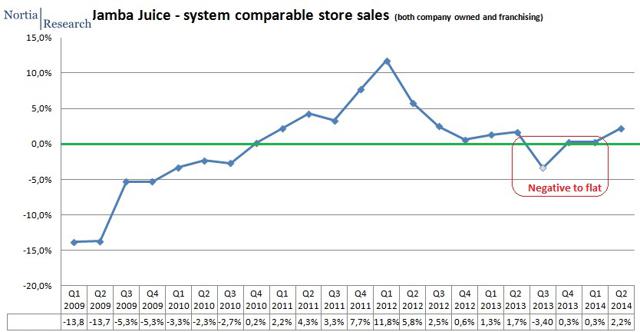 Click to enlarge
As you may notice, after reversing a very negative trend, the company recently stumbled into three quarters of negative to flat (+0.3%) growth numbers, that were received by the market as a sign of weakness of the company's overall offering. Add to this that the re-franchising effort (converting company-owned shops into franchise ones) was leading to declining revenues, and you have a scary combination of numbers for most investors.
Jamba Juice is moving to an asset light business model that targets, over the next 18 months, an 80%-plus franchise to company-owned stores vision. During Q2 2014, Jamba sold 4 shops, along with commitments to open 12 new stores. On a year-to-date basis, 8 stores have been refranchised in 2014.
To put these numbers into context, Jamba owned more than 40% of its shops at the end of 2011, or 307 over a total of 750: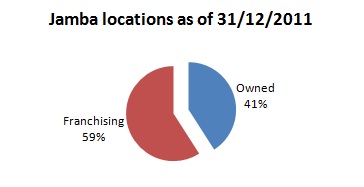 At the end of Q2 2014, Jamba owned 258 stores (30%), over a total of 857 stores globally.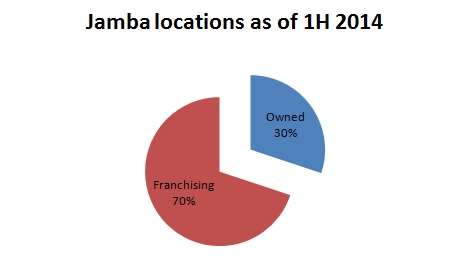 The refranchising efforts, combined with new franchise-owned openings, have obviously had a positive impact on revenues deriving from both franchising and consumer packaged goods [CPG], which represent a relatively small part of Jamba's total revenues, but probably the most interesting metric for investors, as most of these numbers are expected to fall directly to the bottom line.
As Jamba's revenues are quite seasonal, we've prepared a chart showing the trend in franchising and CPG on a yearly basis, over the past few quarters (emphasis on the positive direction added):

Click to enlarge
Once concerns about Jamba's capacity to grow SSS are over, we expect investors to turn their attention to the company's attractive business model, and the value of the brand.
The rollout of a juice and whole food blending platform an inflection point for SSS
At the end of Q1 2014 Jamba Juice had introduced its new juice and whole food blending platform to 132 company-owned stores. The initiative was described as adding 300 to 400 basis points to sales.
Given these first very positive results, in Q2 Jamba Juice accelerated the roll out of the platform, bringing it to a total of 508 Jamba units by quarter end (376 additional stores, both company owned - 120 shops, and franchised ones - 256 units).
While available for only one month during Q2 in most units, the juice and whole food blending platform was described during the conference call as on target to add the expected 300-400 basis points to sales. It was obviously a positive driver for the 2.2% increase in SSS.
Jamba Juice now expects to roll out the platform to about a couple of hundred additional locations in the next 6 to 9 months.
In addition, Jamba's management is also working at a new initiative which should help push sales in the shops while not adding time consuming work to the store's staff:
We are also excited about some other growth initiatives that will drive value. I will start with our new ready-to-drink cold press juices, which we are looking forward to launching later in this year. These juices will offer consumers the great taste, texture and flavor of fresh squeezed made-to-order juices in convenient 12-ounce bottles.

While it's too early to provide details about our line of ready-to-drink juices, we believe there will be significant consumer acceptance and demand.

Ready-to-drink juices offer the opportunity for significant incremental sales in Jamba stores. We expect that one of our other growth initiatives will drive additional gains.
JambaGo trending positively, CPG revenues declining and back to a licensed structure
During Q2 2014 Jamba recorded $1.5 million in revenues from both JambaGO and CPG, compared to $1.1 million in the same quarter last year.
JambaGO revenues were $1 million, compared to less than $0.1 million in Q2 2013. Revenues on a machine unit basis are trending about 10% above previous guidance ($2,000 per unit).
CPG revenues were $0.4 million, compared to more than $1.0 million in 2013. The CPG program is obviously not working as expected, and it is described as going back to a "licensed structure" in an attempt to reverse these numbers.
Jamba's management, unfortunately, tends not to give much color on initiatives that haven't performed according to expectations, so it is quite difficult to understand what went wrong (apparently Jamba's products were distributed to several locations through several partners) and how the trend may be reversed.
Having said that criticizing from the outside is relatively easy and that we must also give management credit for exploring new, successful initiatives like JambaGO, the sales trend, in spite of this set back in pure CPG revenues, remains positive, as shown by this chart resuming franchising and CPG numbers since 2009: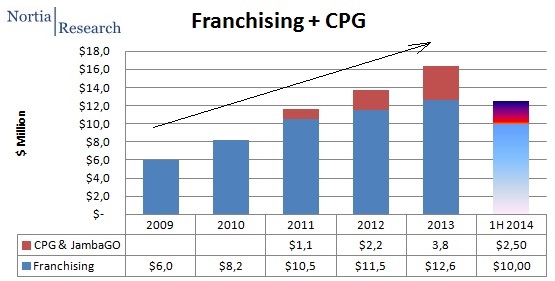 Conclusion
We believe Q2 2014 results may represent an inflection point for the company.
Assuming management can properly execute on some key initiatives like accelerating the number of new openings through its new franchise recruiting push, increasing the number of Jamba Go installations and establishing throughout its system the new juice and whole food blending platform, and may be combine all this with reversing the trend on some less successful efforts like CPG, we expect the market to start looking at Jamba Juice for the value of its brand and its capacity to generate very high margin additional revenues.
Today's market cap ($240 million for a company with no debt and over $32 million in cash) may become relatively soon a thing of the past.
Disclosure: The author is long JMBA. The author wrote this article themselves, and it expresses their own opinions. The author is not receiving compensation for it (other than from Seeking Alpha). The author has no business relationship with any company whose stock is mentioned in this article.