"Homebuilder stocks are insanely overvalued" - Jeffrey Gundlach, the Innovative Alternative Strategies Conference in Denver
I have been maintaining a bearish view of the housing market since the end of January 2013. While the path taken by the homebuilder stocks between then and now has been volatile, based on the level of the Dow Jones Home Construction Index then (515) and today (446), my call to short the homebuilders as a way to express a bearish view is up over 13% (i.e. the DJUSHB has dropped 13.3% since January 29, 2013). This is vs. the S&P 500, which has risen nearly 28% in the same time period. For several reasons, it is now apparent that a wider market audience is starting anticipate a big downturn in the housing market.
As part of the fundamental underpinning in my housing market call, I have been writing about the significant downtrend in mortgage purchase applications. Wednesday's report from the Mortgage Bankers Association further reinforced this trend as its weekly report shows that purchase applications declined 2% from the previous week and 14% from the same week in 2013. Given that historically 93% of all new home homebuyers (documented in several previous articles) use a mortgage to purchase a new home, if purchase applications are not being filed, new homes are not being purchased.
This fact was supported by June's new home sales report, which showed that new home sales dropped 8% in June from May and 11.5% from June 2013. I wrote a detailed analysis of June's new homes sales report in which I suggested that the homebuilder stocks were going to sell off once the market absorbed the report.
With the housing market fundamentals clearly deteriorating, it seems that the secondary agency mortgage market is starting price in a higher degree of risk into the housing market. Per this Bloomberg article on riskier Fannie Mae/Freddie Mac bonds, certain segments of the mortgage-backed bond market dropped in price - increased in yield - during July. While this market action won't immediately affect conventional 30yr-fixed rate mortgages, it indeed suggests that the "sophisticated" institutional money is starting to price more risk into its expectations for the housing market. As a former Wall Street junk bond trader, I have observed that the corporate bond market tends to price in negative economic developments ahead of equities.
In addition to the bond market however, it now looks like the stock market is starting to see a marked fundamental deterioration in the housing market. Since the new home sales report for June was released on July 24th, the Dow Jones Home Construction Index (DJUSHB) has diverged quite negatively from the S&P 500: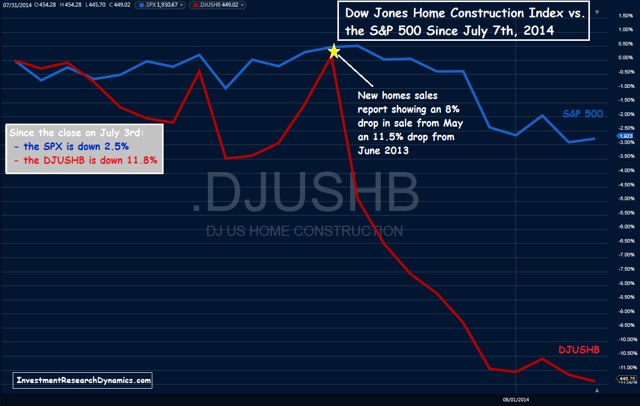 Click to enlarge
As you can see from the above graph, which shows the DJUSHB vs the S&P 500 from July 7 to present, the homebuilder sector has sold off hard relative to the overall stock market since the release of June's new home sales report. (Note: I use the Dow Jones Home Construction Index in my analytic work because it is comprised of new homebuilders, building material suppliers, home improvement retailers and furnishings manufacturers. It is a comprehensive measure of housing industry fundamentals).
The significant negative divergence of the DJUSHB from the market tells me that institutional investment funds are starting to sell down their exposure to the housing market, especially any stocks connected to new construction. While the DJUSHB is down 9.2% YTD vs. the S&P 500, which is up 3.9% YTD, I believe that the homebuilder stocks have a long way to drop in price.
I discuss the fundamentals of on particular homebuilder in a report you can access on my blog (Investment Research Dynamics). In addition, I am short DR Horton (NYSE:DHI), which just released disappointing earnings, KB Home (NYSE:KBH) and Ryland (NYSE:RYL). I also recommend Lennar (NYSE:LEN), Toll Brothers (NYSE:TOL), Pulte (NYSE:PHM) and Beazer (NYSE:BZH) as short-sell ideas. Bear in mind that the DJUSBH is down over 11% in a short period of time. It is likely due for an "over sold" bounce at some point. If you decide to start shorting the homebuilder stocks, I would "leg" into a position slowly using bounces in the sector as points of entry.
Disclosure: The author is short DHI, KBH, RYL. The author wrote this article themselves, and it expresses their own opinions. The author is not receiving compensation for it (other than from Seeking Alpha). The author has no business relationship with any company whose stock is mentioned in this article.