By David Russell
H&R Block (NYSE:HRB) has lunch meat for the bears for months if not years, but now the bulls are looking for a rally.
optionMONSTER's Heat Seeker tracking system detected heavy call buying and put selling in the tax-preparation company, which has been steadily losing market share to software companies like Intuit, the maker of TurboTax. But recent trades reflect a belief the stock is near a bottom and may push higher.
The December 14 calls traded more than 21,000 times, mostly for $0.25 to $0.35, with purchases dominating the activity. Investors also sold about 19,000 December 13 puts for $0.30 to $0.55. Volume was more than 4 times open interest in both strikes.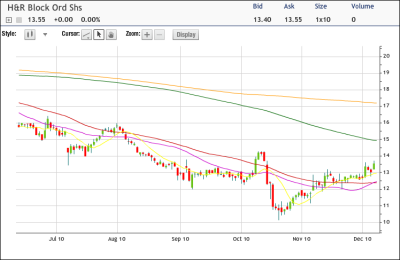 More than 55,000 contracts changed hands overall in the name yesterday, compared with the average of 10,075 per session.
HRB rose 4.07 percent to $13.55 yesterday and is up 34 percent from its depths on Oct. 20, when it bottomed at $10.13. That was its lowest price in almost a decade and suggests that a resistance level from the 1990s is now providing support.
About 13 percent of the float had been sold short as of mid-November, and the company has essentially no net debt. That means bankruptcy is not a risk and now both value investors and shorts may step in as buyers.
The important thing is that HRB has more than 12,000 offices across the U.S. If management concocts a new strategy and introduces new products or services, now could be a great buying opportunity for the stock.
There have been other precedents for such turnarounds: Companies like McDonald's and Apple were also struggling about eight years ago, but revamped their businesses and have doubled and tripled many times since. Even if HRB doesn't have a plan like them, investors might still buy the stock for now and just hope. If they don't we can always buy puts down the road.
Disclosure: No position