In my article titled "The Hail Mary Phone", I had already explained how Amazon.com's (NASDAQ:AMZN) incoming Fire Phone was very likely to flop. This was so because buying that phone required deep ignorance of what the smartphone market is providing, both in terms of choice and pricing. Additionally, the phone had weak mid-tier specifications and yet was priced at the same levels as Apple's and Samsung's flagships. At the time, however, the phone was not yet physically available, so it flopping in terms of pre-orders was not the be all and end all for this argument.
A lot of time has passed, though, and the phone has been available for delivery since July 25. This means that Amazon.com has started taking reviews on the phone, and its best sellers' list now reflects sales instead of just orders. And what has happened? Right at availability time, the phone climbed to 20th or so on that list, which would already be bad. This was helped both by Amazon.com advertising and widespread (if unfavorable) reviews. Ever since, however, the same thing happened as with pre-orders. It started tanking and then tanking some more. It now floats in the lowly 60s-100s in the best sellers' list in electronics.
At these levels, we know the selling is a trickle. The dreams of millions of Fire Phones which analysts wrote about - and which would have a positive earnings impact, given how expensive the phone is - now need to fade. The phone will be lucky to sell 100-200k units over a year, which should be enough to turn it into another unprofitable boondoggle. Finally, how quickly is the phone really selling right now? I can't let this one go. The phone is at times selling slower than the Kindle Fire 1st Gen. The one that Amazon.com no longer makes. The one that you can only buy used. I leave the printscreen of the event, which has happened a few times in the last couple of days (at this point the Fire Phone was outside the top 100). Needless to say, reviews by users have been horrible, with a mean score of just 3.2 stars and complaints about gimmicks, very poor battery life (which I predicted), the phone running hot and a myriad other problems.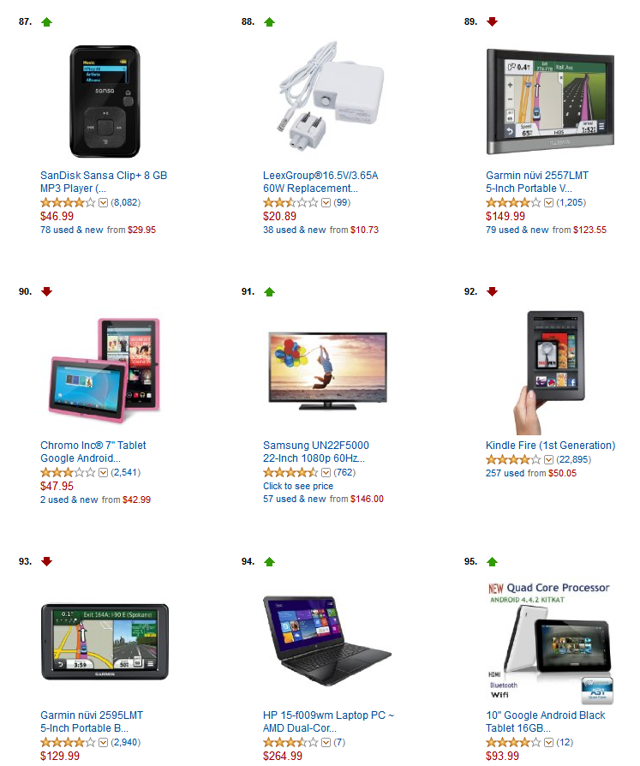 Click to enlarge
Disclosure: The author is short AMZN. The author wrote this article themselves, and it expresses their own opinions. The author is not receiving compensation for it (other than from Seeking Alpha). The author has no business relationship with any company whose stock is mentioned in this article.