Great Panther Silver (NYSEMKT:GPL) recently announced its second quarter earnings. The company reported a loss of $4.5 million on revenues of $14.4 million. Both figures reflect improvements in the company's operations as it brought its production costs down from $33/oz. to $25/oz. and increased its silver equivalent production by 6% from 680,000 to 720,000.
Despite the fact that production is up and costs are down, the two issues that I brought up in my article last August continue to keep me out of the stock. The first is high production costs. While I applaud the company in moving forward on this front, the company continues to lose money at the current silver price as all-in sustaining costs were $25/oz. The second issue is the company's high valuation relative to its resource base. The company has just 34 million ounces of silver equivalents, and as you can see on the following table, most of these ounces are in the "inferred" category, meaning that they have been estimated using indirect methods.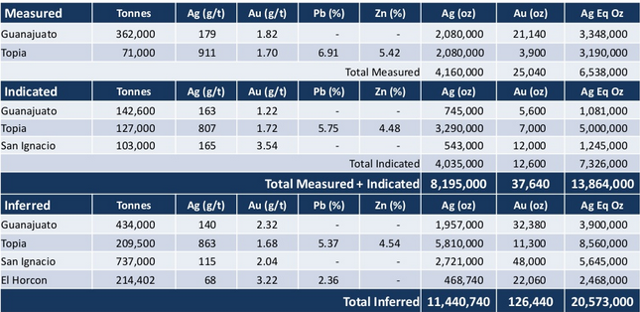 Click to enlarge
(Source: Great Panther Silver's Investor Presentation)
This figure is smaller than other silver producers in Mexico that have smaller valuations such as Avino Silver & Gold Mines (NYSEMKT:ASM) and Golden Minerals (NYSEMKT:AUMN).
Ultimately investors in the company are confident in management's ability to bring costs down and increase its resource base. The company has done a good job at the former, but it hasn't done enough on that front, and the more costs come down the more difficult it becomes to find further places to cut them. Regarding the company's resource base the company should be able to find more silver on its property, but at what cost? As the company burns through its cash hoard as it continues to lose money it will have less capital for exploration, making an investment a race against the clock. It is far too dependent on a rising silver price to be a worthwhile investment, and there are better options available.
Disclosure: The author is long ASM, AUMN. The author wrote this article themselves, and it expresses their own opinions. The author is not receiving compensation for it (other than from Seeking Alpha). The author has no business relationship with any company whose stock is mentioned in this article.