Last month, I wrote about the strong sales activity in million dollar plus homes in Canada that are occurring despite poor jobs growth in the country. It was an interesting study in the growing dilemma facing major central banks who have robust housing markets heating up in slow-growth economies. This dilemma is not surfacing in the U.S. as various combinations of deflationary psychology, a cooling in housing sales, and overall housing activity that has still barely lifted off the post-recession bottom exist across many of America's housing markets. However, the U.S. does have some strong housing markets and home builders are generally trying to focus their businesses on these areas. In at least one of these regions, the greater San Francisco (SF) Bay Area (and the state of California overall), million-dollar plus homes tell a particularly poignant story of how the scales are tipped toward the higher-end of the economic scale.
On July 31st, DataQuick released its latest report on million-dollar homes in the state of California titled "Million-Dollar Home Sales Up Again in the Golden State." Thanks to strong population growth and strong growth in higher-end jobs, California supports tremendous success in higher-end housing. For example, the SF Bay Area reached statistical full employment earlier this year. Sales of million-dollar plus homes are at a 7-year high in California as of the second quarter 2014:
A total of 12,826 homes sold for a million dollars or more during the April-through-June period. That was up 60.4 percent from 7,994 during this year's first quarter, and up 9.1 percent from 11,758 in second-quarter 2013. Last quarter's $1 million-plus sales were the highest for any quarter since 13,681 homes sold for $1 million or more in second-quarter 2007…Newly-built homes accounted for 8.8 percent of last quarter's $1 million-plus sales.
The very high-end of the market is enjoying sales records across the board:
A total of 265 homes sold for more than $5 million last quarter, an all-time high. In the $4-$5 million range, a record 213 homes sold. In the $3-$4 million range, 469 homes sold, also a record. In the $2-$3 million range, 1,595 homes sold, another high.
Another example of the apparent economic boom at the high-end is the way in which these homes are purchased. These are generally not buyers who are stretching themselves and scrambling and pleading with banks for a loan. Cash buyers constituted 30% of sales of California's million-dollar plus homes (certainly some notable share of these cash buyers are from overseas). According to DataQuick, this share tends to go UP the higher the price of the home. Buyers using mortgages to purchase a home paid an average down payment of 30%, well above the 20% benchmark.
At the median, these high-end homes are not extravagant McMansions: "The median-sized $1 million-plus home was 2,400 sq.ft. with 4 bedrooms and 3 bathrooms." High-end buyers are paying substantial price premiums for location, school districts, and sometimes just suffering from a lack of available inventory. DataQuick goes on to note that "the median price paid per square foot for all million-dollar homes last quarter was $729, up 7.6 percent from $678 in second-quarter 2013. For the overall California market, the square-foot median was $226 last quarter, up 13.0 percent from $200 in second-quarter 2013…" (These numbers imply that the median price of the million-dollar plus home in California was about $1.75M in the second quarter).
The current slowing in housing sales is over-weighted away from the high-end. DataQuick reported that across California sales of million-dollar plus homes increased 9.1% year-over-year in the second quarter. However, sales in general declined 7.4%. This differential suggests that a high-end builder like Toll Brothers (NYSE:TOL) likely performed well in California in the second quarter.
Record high-end sales and soaring rents in the SF Bay Area
On a regional basis, the San Francisco Bay Area is leading the charge on a relative basis thanks to its booming high-tech economy: "The 5,734 sales there of $1 million or more represented an all-time high. The previous peak was 5,699 in second-quarter 2005." Strong housing prices and limited inventory are once again causing familiar dislocations in the SF Bay Area economy. This time, soaring rents are limiting the options for people looking for a relief valve or an escape.
For example, last month, the San Jose Mercury News reported on the "relentless rise" in Bay Area apartment rents. At an average $2158 per month in the second quarter, rents in the 9-county spread that is the SF Bay Area set a new all-time record. This is a 20% increase in three years, a 10.3% year-over-year increase, and a 5.6% jump from the first quarter. San Francisco's average rent of $3,229 per month is reportedly the highest among the U.S.'s 25 largest rental markets. The pricing pressures are driving workers to cheaper locales further away from job cores and subsequently driving up rents in previously affordable areas.
Rent pressures across the country
The Joint Center for Housing Studies (JCHS) of Harvard University includes an extensive discussion of America's rental markets in its 2014 report on the state of the nation's housing. The JCHS reports that in 2013 the national rental vacancy rate of 8.9% is the lowest since 2000 (data from the Census Bureau). The growth in renters has occurred across age groups, household income, and household type (number of adults, marital status, and children). In 75% of America's rental markets, rent hikes in 2013 exceeded the inflation rate. The value of rental properties hit a new all-time high in 2013 "exceeding their 2007 peak by 6 percent and far outpacing the recovery in owner-occupied home prices."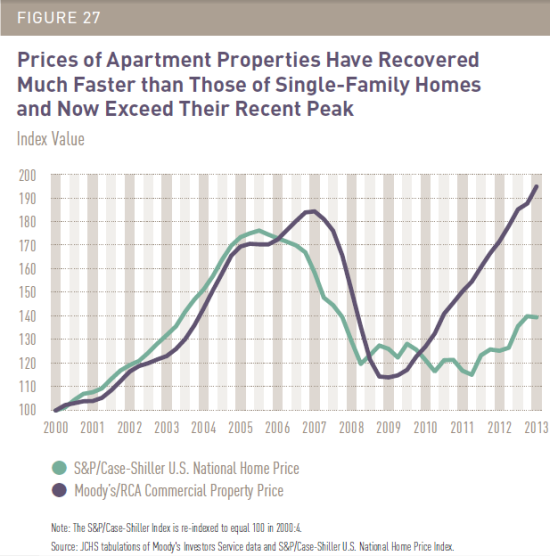 Prices of Apartment Properties Versus Prices of Single-Family Homes
Source: "The State of the Nation's Housing 2014", The Joint Center for Housing Studies (JCHS) of Harvard University
Additions to the rental supply have focused on those most able to pay:
New multifamily construction typically adds units at the upper end of the rent distribution, well out of reach for households with limited incomes. The 2011 American Housing Survey reports that the median monthly gross rent for units built in the preceding four years was $1,052-affordable at the 30-percent-of-income standard only to households earning at least $42,200 a year. Just 34 percent of new units added in that period rented for less than $800 per month or roughly the amount the median renter earning $28,000 could afford. Among the many factors contributing to the difficulty of building new low-cost rentals are the high costs of land zoned for higher-density housing, financing for acquisition and development, and construction materials and labor.
These disparities have created a situation where affordability in the U.S. as a whole has improved for home buyers but not renters. On a median basis, measured from 2001 as a base, incomes of home buyers have declined by a few percent versus a near flat performance for housing prices. Renters have suffered over a 10% decline in median income while rents have increased 5%. These comparisons are of course distorted by the fact that homes are generally more accessible to those at higher-income levels.
SF Bay Area dislocations
For the SF Bay Area these dynamics mean that those workers not enjoying the benefits of the tech-driven boom are making the time-honored trek to move further and further outside the core to find affordable housing and/or find ways to save for a down payment for an eventual home purchase. Even tech workers are moving further out just to save money and/or find available housing. The resumption of this pattern in the Bay Area is a notable cautionary tale for claims in books like "The End of the Suburbs: Where the American Dream Is Moving" by Leigh Gallagher (a book for which I have been meaning to write a review for a very long time) that essentially claim that there is an inexorable return to high-density living in city cores in the U.S. In the SF Bay Area at least, this migration is much more likely and possible for those who are relatively well-off. For most others, the suburbs are increasingly offering the most pragmatic housing options.
Well-positioned home builders
The upshot of all these housing dynamics is that home builders like KB Home (NYSE:KBH), Lennar (NYSE:LEN), and Tri Point Homes (NYSE:TPH) who have high concentrations of their business in California should continue to see good business in the state, and the SF Bay Area in particular. The slowdown in sales of homes priced under $1M seems to be a resulted of extremely scare inventory. In May, San Mateo, Santa Clara, Alameda, and Contra Costa counties only had around two months of inventory. Unless folks stay content renting in those counties, decisions to migrate out where inventory is available should produce better sales numbers.
In many earnings conference calls, KBH talks about the dynamics of California's boom time migrations which feature economic success starting at the coast and then the search for affordability pushing buyers inland. It is positioning itself for strong sales patterns in the suburbs. Lennar has a major development in San Francisco and this year bought 100 acres in Fremont, a town just north of San Jose. San Jose joins San Francisco as having one of the highest median home prices in the U.S.
In far flung towns and areas like Mountain House and Tracy new homes are going up to meet the demand. Tiny Dublin, in the East Bay just over the hills, helped turn Alameda County into the second fastest growing county in California. Oakland, also in Alameda County, jumped past the 400,000 mark for the first time ever partly as workers flee from San Francisco looking for cheaper housing options.
Conclusion
In many ways, the San Francisco Bay Area represents a ground zero for the race for affordability. Given its high-price, low-inventory dynamics, it certainly stands out among the country's housing markets. However, to the extent job growth continues in other metro areas wherever home building remains slow or even depressed, the Bay Area could also be a sign of things to come whenever the economic recovery truly takes hold. A continued sell-off in the shares of home builders will provide good entry points to make bets on this scenario playing out over time.
Be careful out there!
Disclosure: The author is long KBH, TPH. The author wrote this article themselves, and it expresses their own opinions. The author is not receiving compensation for it (other than from Seeking Alpha). The author has no business relationship with any company whose stock is mentioned in this article.